Getting to Know Your Neighborhood: Brookline Village
Unique shops, great restaurants, and plenty of history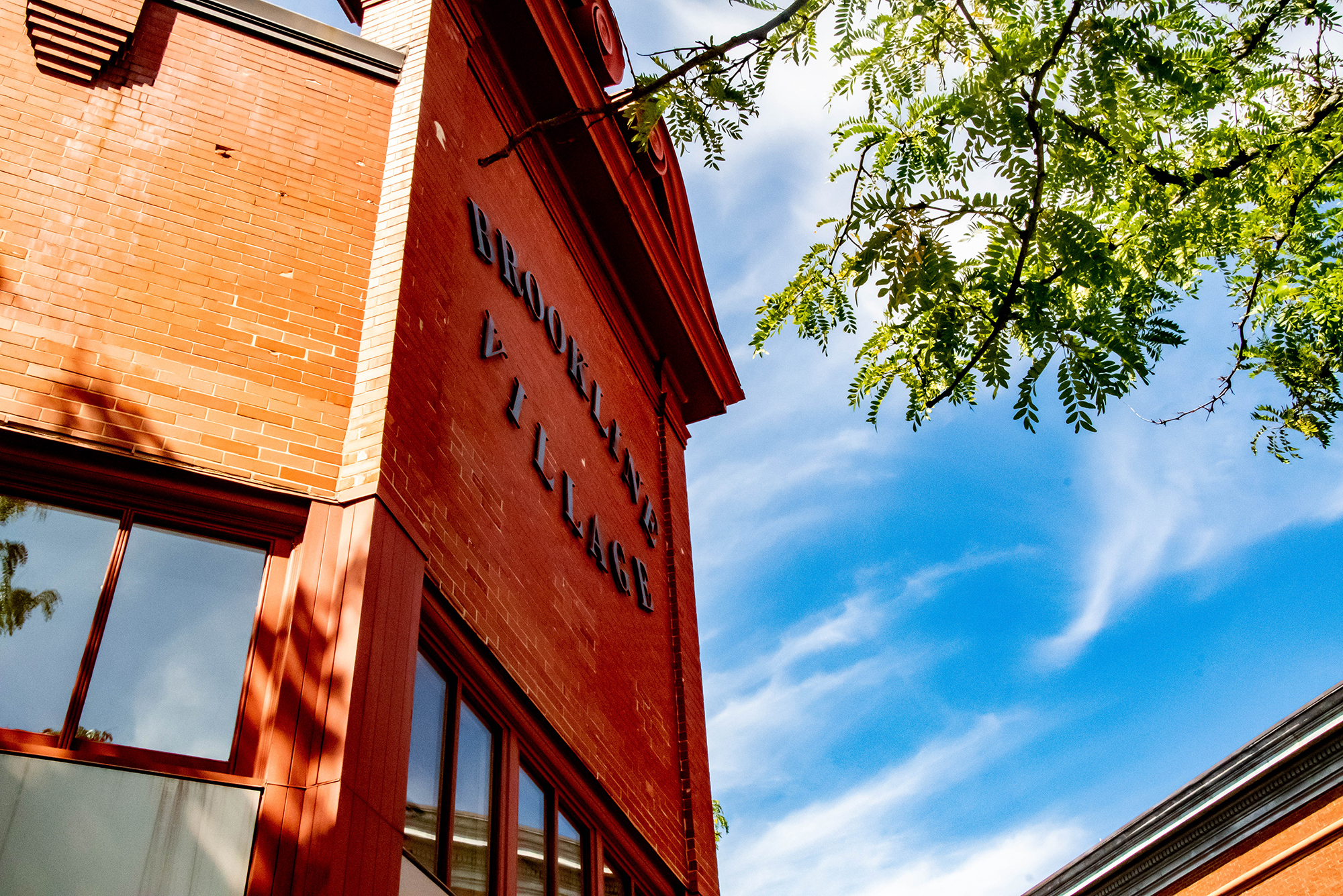 Neighborhood
Getting to Know Your Neighborhood: Brookline Village
Unique shops, great restaurants, and plenty of history
If you build it, they will come. And so they did. Brookline, which was part of the city of Boston until it was independently incorporated in 1705, was first established around the old Town Green. But with the arrival of the Boston and Albany Railroad in 1847, the community's hub moved to Brookline Village, which has been the town's civic and commercial center ever since, home to the police and fire stations, public library, and courthouse.
After the Civil War, the commercial area expanded up Washington and Harvard Streets—now considered the heart of the village—where today, shops abut homes, recycling is the norm, higher-than-average property taxes produce excellent schools, overnight street parking is illegal, and family-owned businesses far outnumber chains.
There are exceptions. Starbucks and Dunkin' Donuts have made their way into the neighborhood, but those in the know often walk a few blocks to one of the many local independent cafés in the neighborhood.
Nearby parks
This two-acre playground is nestled in a residential area of Brookline Village. Trees shade the perimeter of a large grassy field lined with benches, providing a spot for reading, relaxing, and people-watching. Along with slides, a climbing structure, and a toy ship, the playground has Brookline's first spray pool, where children can cool down on a hot summer's day. The nearby park, with walking paths, is dog-friendly, and offers off-leash hours, for a fee, between dawn and 9 am, as part of the town's Green Dog Program.
Linden Park
Between Linden Place and Linden Street
Established in 1843, this quiet park sports just a single play feature: a circular sandbox, about 20 feet in diameter. The park offers passersby a reprieve from Harvard Street's traffic and a peaceful place to eat take-out from numerous neighboring cafés. A single table sits at the front entrance, and benches are scattered throughout. Near the back entrance is one dedicated to "Alan J. Gagne (1952–2006), Linden Street's beloved mailman." Linden Park dates back to 1844 and is listed on the National and State Registers of Historic Places.
Linden Square
Between Linden Place and Toxteth Street
This tranquil park doesn't have slides or sandboxes, but does feature shady benches, ideal for reading a good book or enjoying a relaxing lunch. Established in 1843, the park is also listed on the National Register of Historic Places.
Village highlights
Brothers & Sisters Co. Coffeehouse + Café serves passersby who've just gotten off the MBTA D Line with a wide variety of pastries and beverages. The café dining area, set to reopen December 1, is decorated with colorful pastel drawings, decorative lamps, and an assortment of cozy leather booths, with speakers playing a constant flow of indie and classic rock tracks. It's the ideal spot for anyone in search of a quiet break. The café is well known for its seasonal drinks, which currently include mulled cider, pumpkin latte, and a maple nutmeg cortado.
Since 1974, this 95-seat theater has attracted artists from around the world performing marionette, hand, rod, and shadow puppetry. The audience is mainly children (some 20,000 every year), and for many, it's the first time they've seen live theater. Many performances are familiar, such as adaptations of Cinderella and Jack and the Beanstalk. Although mainly for families, school groups, and campers, the theater also hosts programming for adults, like the Puppet Showplace Slam, Boston's only puppet cabaret. The theater offers a variety of classes and workshops for adults, as well as summer camps for youth and children. The theater continues to offer both in-person and virtual programming.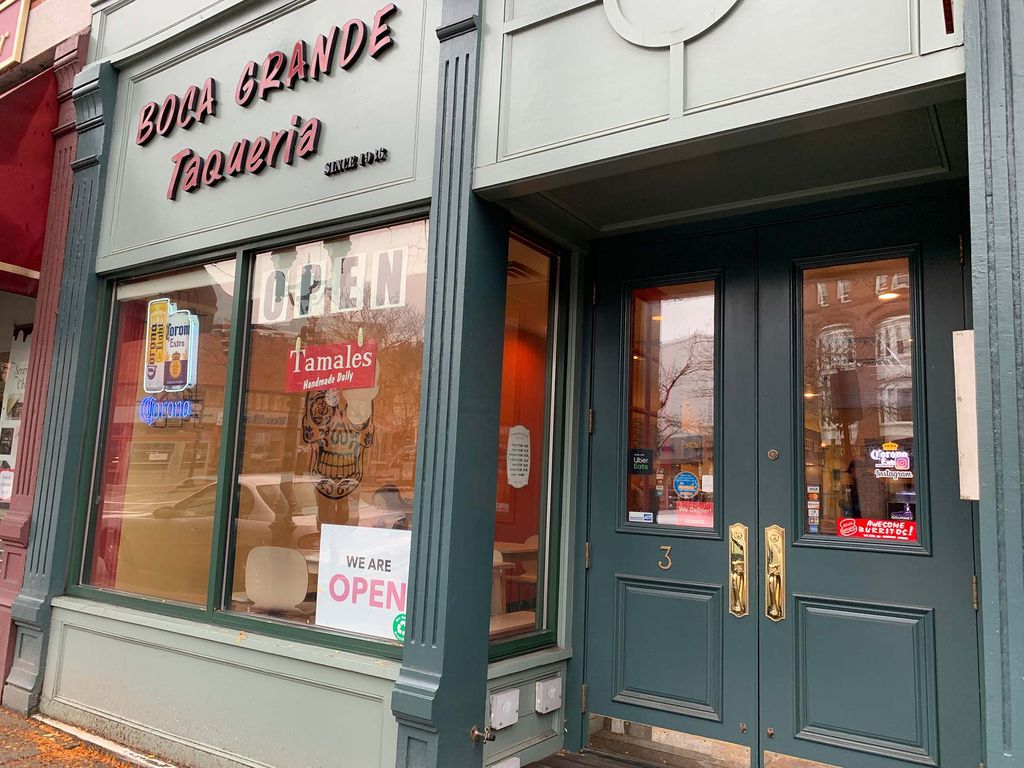 This taqueria specializes in fresh, healthy Mexican cuisine. With a menu featuring tamales, burrito and salad bowls, enchiladas, and street tacos, Boca Grande prides itself on the fact it doesn't use hydrogenated oils, trans fats, preservatives, artificial flavorings, or MSG in their food. Their house rice and beans are vegetarian-based and the menu includes several vegan options, such as tofu chile adobo and tofu chili verde.
The chocolatiers here create handmade artisan chocolates, filling molds and operating a tempering machine in an open kitchen behind the counter. Only natural ingredients—pure butter, cream, fresh-roasted nuts, fruits, and premium European chocolate—are used. A specialty is the hazelnut Viennese, a chocolate cube comprising a single layer of milk and white chocolates wedged between two layers of dark chocolate and infused with hazelnut butter. Novelty items include the chocolate piñata cake, a hollow shell of dark or milk chocolate filled with a variety of artisan chocolates. Each cake comes with a wooden mallet, so it can be smashed and the chocolate treasures released. The store also blends several dark chocolates to make a 72 percent cocoa-rich, dairy-free vegan chocolate. Follow Serenade Chocolatier on Facebook or Twitter for news of special events and free samples.
Poke Garden has brought a fusion of Hawaiian and Japanese cuisine to Brookline. With its selection of signature bowls and a build-your-own option, diners will find plenty of different combinations to suit their sushi cravings. Bowls can also be ordered online and are available for delivery. Be sure to check out the online discounts.
This store offers toys and games arranged by age and theme. But it's not just for kids. Adults will find gems in the age 8-to-12 section, with classic board games, such as Scrabble, Apples to Apples, Battleship, and Connect 4. The store hosts free events that include educational games and various craft projects, popular with local families. The store's name comes from a children's book by David McPhail, published in 1976—the year the first store opened on Huron Avenue in Cambridge. It now has eight locations.
Orinoco's fare is rooted in traditional Venezuelan cuisine. Chef Carlos Rodríguez, who has taught classes in BU's Certificate Program in the Culinary Arts, applies nuevo Latino techniques to bring out exotic flavors, an approach exemplified by the restaurant's asado negro—slow-cooked beef roast served au jus with rice and sweet plantains. The restaurant also has a full bar offering authentic South American wines, beers, and tropical fruit drinks and Caribbean-inspired specialty cocktails. Be sure to stop by on Sundays for the delicious brunch, as well. Owner Andres Brangér (CAS'84) carefully chose décor and placement to ensure that customers feel at home. One wall is festooned with a pyramid he constructed of pre-1950 black-and-white family photos, topped with a portrait of his mother. The eatery (there are two others, in the South End and Harvard Square) was named Brookline Village's Best Neighborhood Restaurant by Boston magazine in 2018.
This Brookline Village mainstay (it's been in business since 1918) is a favorite with locals for breakfast and lunch. Grab a seat at the counter and enjoy a hearty meal of pancakes, French toast, or create-your-own eggs Benedict. It opens at 7 am (8 am on Sundays) and closes at 3 pm. The lunch menu offers an extensive list of subs, burgers, and classic home-style favorites. The coffee shop is cash only; online ordering is available.
This cozy delicatessen gives Italian eateries in the North End a run for their money. Featuring fresh, affordable homemade pastas and more than a dozen sauces for eat-in or takeout, it's the place to grab a sandwich for lunch or a prepared meal when you don't feel like making dinner. The pumpkin tortellini and lobster ravioli are a must, as are the numerous panini and sandwich selections.
Often described as a "miracle worker," Boonsom "Bonnie" Pasooktham is a trusted and talented seamstress, known for her pleasant demeanor and exceptional customer service. Bring in a dress or suit jacket needing alterations and you'll get it back on time and on point. Bonnie is also known for designing beautiful custom-made wedding and special-occasion gowns and other articles of clothing.
Gateway Arts, a service of the nonprofit Vinfen, is a studio art center dedicated to creating careers in art for people with disabilities. For more than 40 years, the studio spaces, gallery, and storefront have supported artists with developmental and psychiatric disabilities, providing them studio mentorship to help them grow professionally and a neighboring store where they can sell their artwork, which includes paintings, silk scarves, fine jewelry, wooden furniture, cards, hand-woven textiles, and pottery. Gateway also hosts exhibitions throughout the year in its second-floor gallery space. Half of all profits go directly to the artists. The store is open from 11 am to 4 pm weekdays and noon to 4 pm Saturdays. Their online store is currently closed, but should be reopening soon.
Izakayas, for those who don't know, are informal Japanese bars that serve alcoholic drinks and snacks. True to that spirit, this Japanese pub offers a wide menu of Japanese street food items and starter entrées like sashimi, yakitori, and donburi, as well as full course omakases (chef's choice) that pair well with the restaurant's beer, sake, and wine program. Omori is open daily and reservations are available for private events. Be sure to check out the daily lunch specials and check online for discounts and promotions. Outdoor dining is available during warm-weather months on the patio.
Combining classical training in French cuisine with Thai roots, chef and owner Sivika "Pon" Hunter creates elegant but affordable dishes, such as wok-fried spicy basil eggplant and a variety of traditional Thai curries. Pon Thai has a carefully curated wine selection to match its diverse menu; the white wines are designed to play off dishes that are heavy on spices and chilies. The menu features what Hunter calls the "trinity of sauces"—fish sauce, oyster sauce, and soy sauce. Among the standouts is the larb chicken, an entrée of minced chicken, mint, cilantro, scallion, crispy shallot, lemongrass, roasted rice powder, crushed pepper, and tamarind dressing.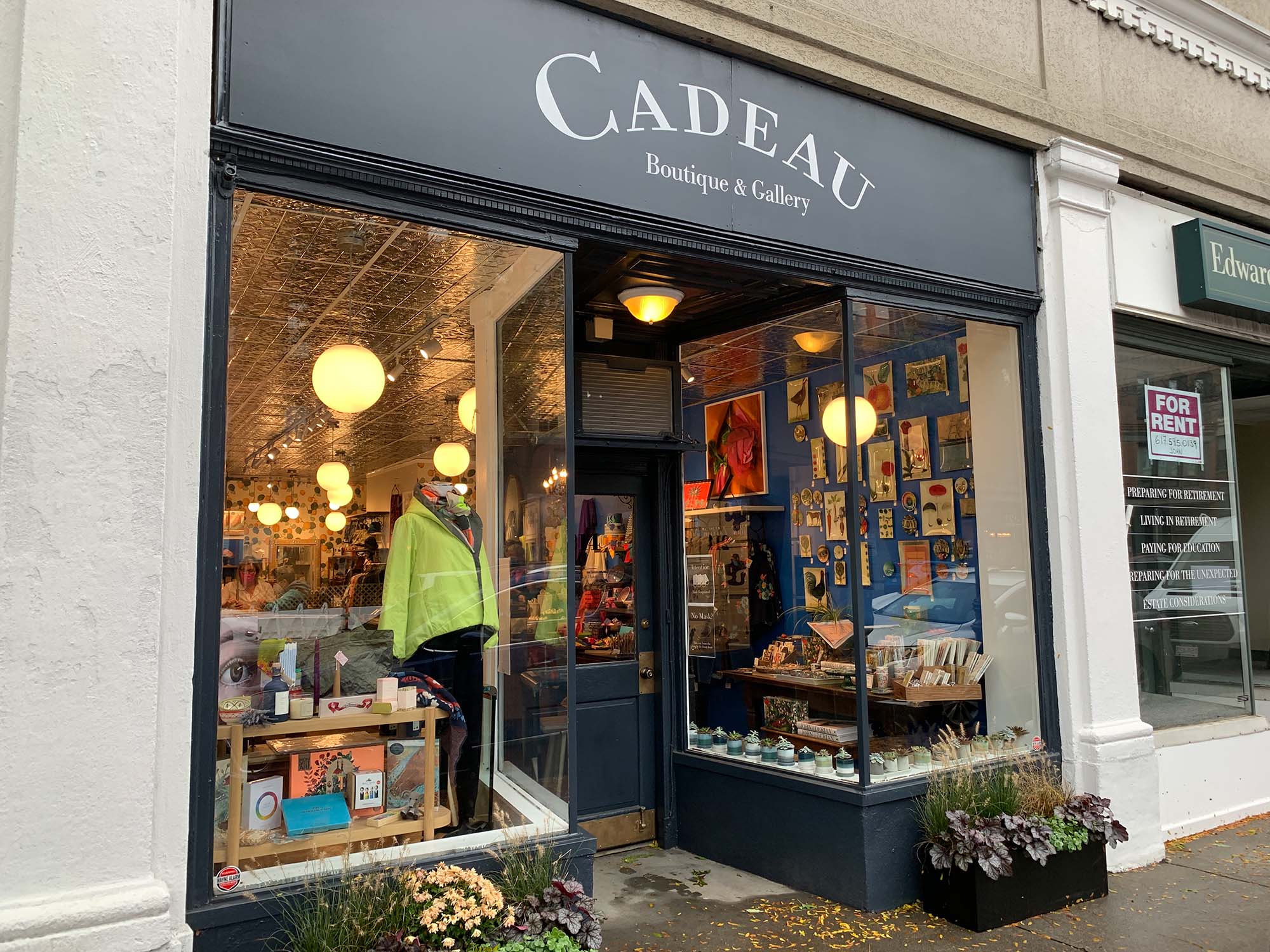 Searching for the perfect special birthday or holiday gift? This intimate shop houses a collection of potted succulents, perfumes, a carefully curated selection of clothing, bags, and fine jewelry, and is staffed by friendly sales clerks who help guide you through every step of the gift-buying process. The boutique is the brainchild of Sara Petras, former manager of the former women's clothing store, Portobello Road, in Chestnut Hill. She earned an MFA in painting from MassArt and has a passion for early 20th century French painting. The boutique is open Tuesdays through Saturdays and parking is available.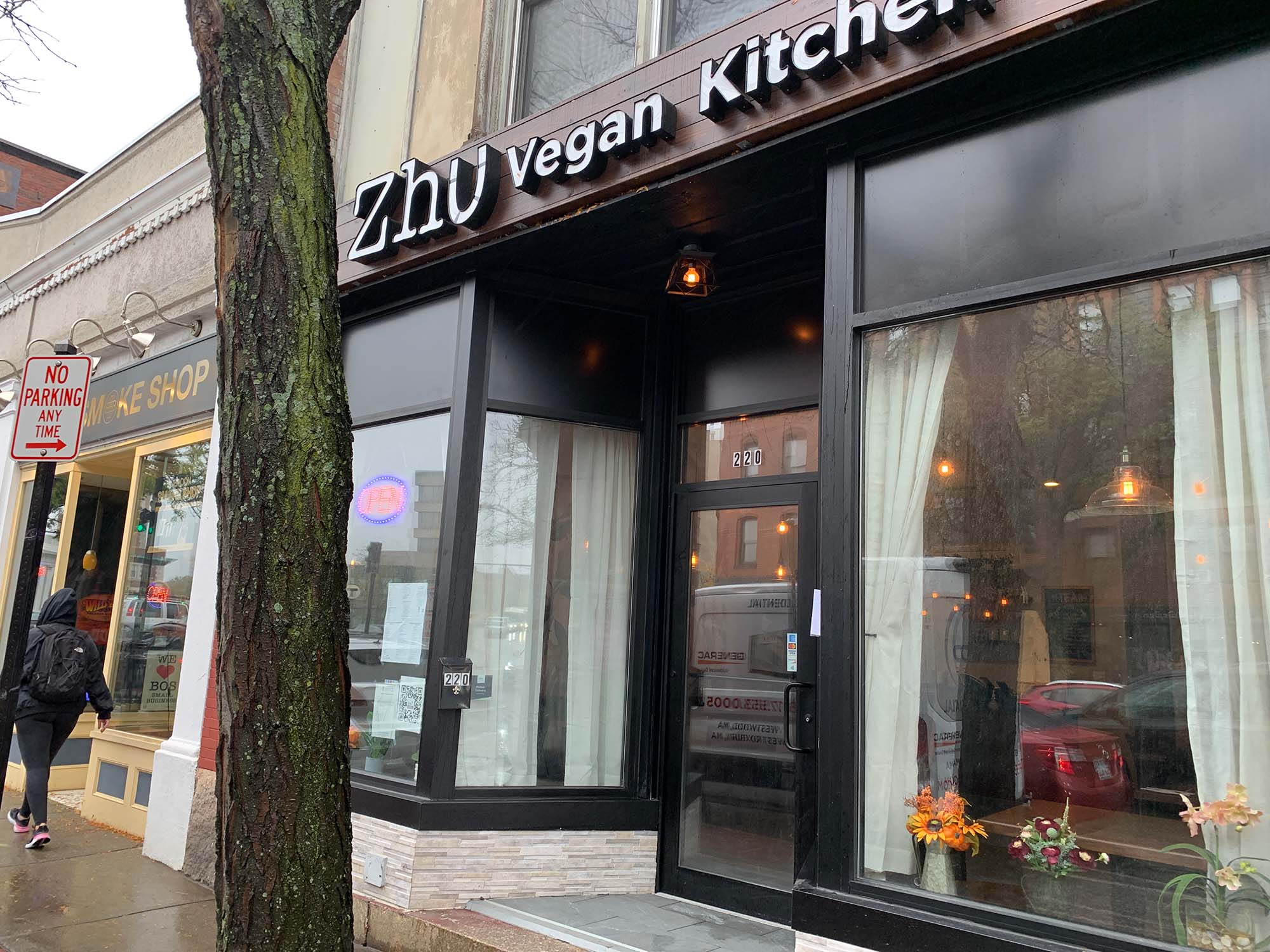 This casual, fine dining Asian restaurant offers a vegan twist on traditional Asian dishes like General Tso's, Pad Thai, and teriyaki. The extensive menu includes appetizers like skewers— with marinated soy protein, and grilled peppers and onions—lunch specials, including a spicy Malaysian curry stew, and house-made drinks like iced mint tea and Shirley Temples. Leave room for dessert: You'll want to try the fried ice cream or the brown rice pudding. They're both delicious. The restaurant is open daily for lunch and dinner.
Greater Boston's oldest independent bookstore, this shop has been delighting young minds since 1977. With more than 28,000 titles available, it offers children's classics (e.g., Robert McCloskey's Make Way for Ducklings), the latest in picture and chapter books, and young adult fare. Rows of books, from pop-ups to contemporary novels, classics, and nonfiction, are sorted by age and genre. A section at the front has books autographed by authors who have done readings sponsored by the Children's Book Shop at the nearby Public Library of Brookline. The knowledgeable staff will help you find just the right gift for any young reader. It frequently has been named best children's bookshop by Boston magazine. The store also hosts numerous eventslike its annual poetry contest.
This no-frills Thai restaurant has a small dinner menu, but each item has been thoughtfully conceptualized and executed. Co-owners Smuch Saikamthorn and Chompon Boonnak were childhood friends who grew up together in Thailand's Phetchabun province, and they've designed their restaurant to resemble the unassuming bars and grab-and-go street food eateries they knew as kids. Straightforward and simple, the dishes are set in stone, the food being prepared the way the chefs intended. The handcrafted cocktails include creative options like the "Bangkok First Class," with butterfly pea infused gin, maraschino, violet, and lemon. Diners can also order online.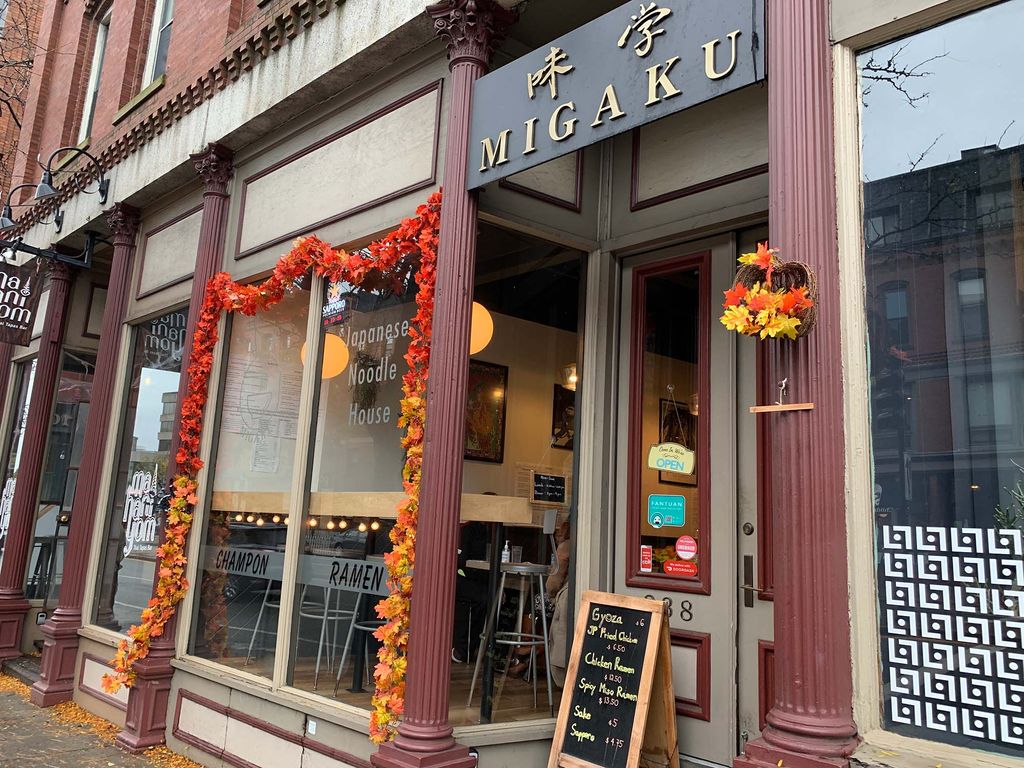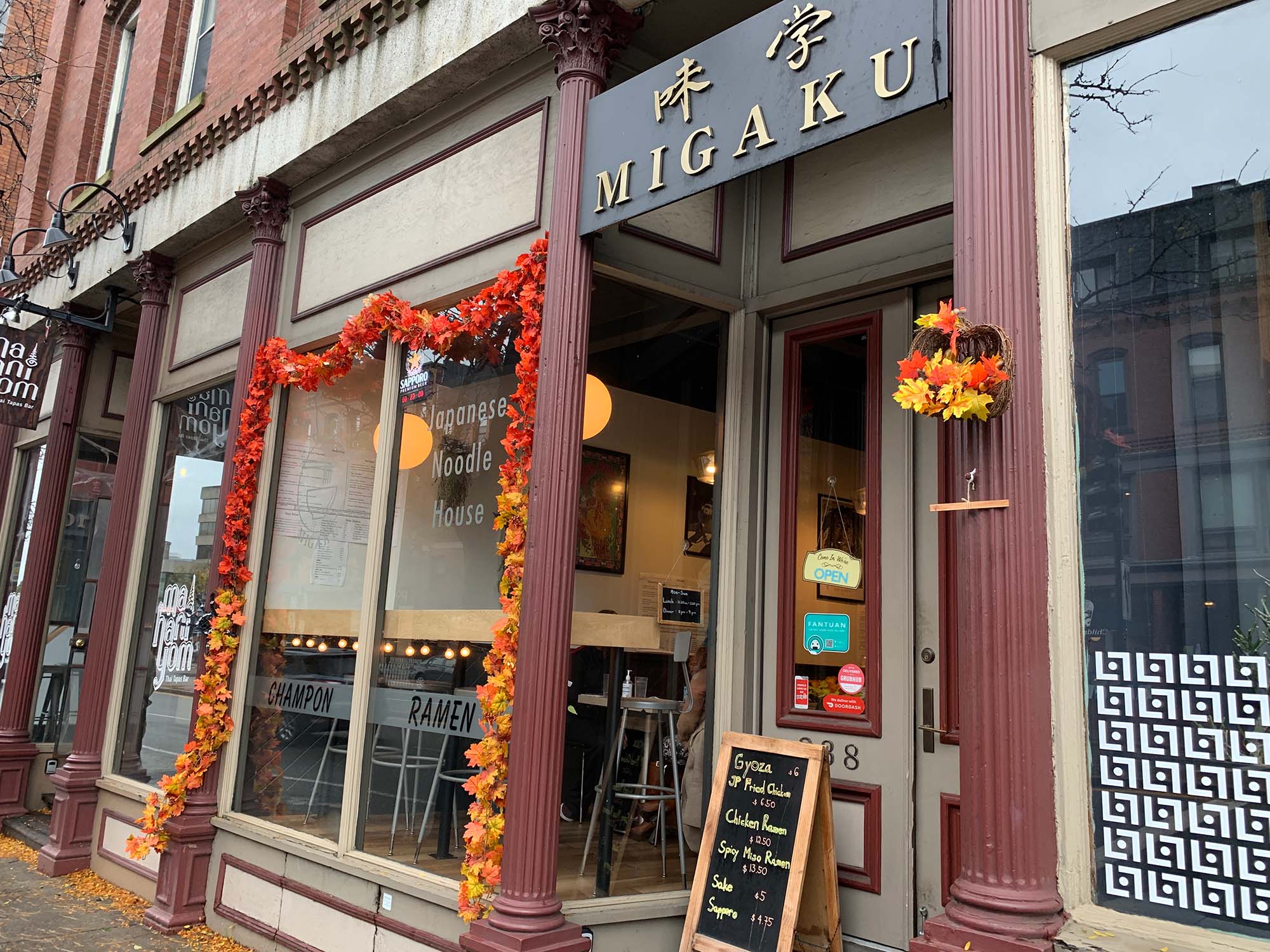 At this Japanese restaurant, specializing in noodles and soups, diners can take their pick of ramen, udon, and champon bowls with tender chashu pork, soft noodles, and sesame flavored soup. Standout bowls include the "Sukiyaki Beef Champon," with sukiyaki beef, seafood, mixed vegetables and an onsen egg. Rice bowls are also available, with a standout being the "Kyu-Shu Don," topped with seasoned ground pork, takana (Japanese pickles), and an onsen egg. The restaurant is open daily for lunch and dinner and serves wine, beer, and sake.
Since 1976, Framers' Workshop, Boston's only do-it-yourself frame shop, has provided space and tools for customers to frame their own art. The staff is down-to-earth and helpful, offering tips, such as: "Metal frames are quicker to assemble than wooden ones," and, "Black aluminum frames are like the milk of grocery stores." Translation: they're the cheapest. Be sure to check out the store's website for special offers. The shop will also do custom orders, which typically take about two weeks to fill.
Cutty's
284 Washington St.
"Nobody knows how great our ingredients are," says owner Charles Kelsey, who invests in food rather than advertising for his gourmet breakfast and lunch sandwich shop. Kelsey and his wife, Rachel, seek out local, organic ingredients like all-natural, antibiotic-free meats, fresh bread from Iggy's in Cambridge, and fresh produce from Brookline's Allandale Farm. Former America's Test Kitchen editors with degrees from the Culinary Institute of America, the couple prepares food on site. Their BBQ ranch fried chicken sandwich—which takes days to prepare and is one of the shop's most popular items—is one of two sandwiches only available on their Super Cluckin' Sundays, along with the honey mustard fried chicken sandwich. Limited quantities of these sandwiches are available on Sundays and can be ordered ahead of time online. Make sure to place your orders and show up for pickup early, as the line is usually out the door with hungry customers. Note: due to the pandemic and staff shortages, the restaurant is accepting online orders only (no walk-ins) and has a limited menu.
Anatolia Buffet & Kebab House serves traditional Turkish cuisine. The restaurant is run by co-owners Ahmet Ozseferoglu and his cousin, Ali, who serve up specialties from their homeland, including an Adana kebab (named after the fifth-largest city in Turkey, where it originated), consisting of spicy ground lamb on skewers. Although the halal-certified menu is heavy on meat, vegetarians will enjoy feta cheese pizza and a variety of cold appetizers and salads. Many dishes are served with pide, a homemade sesame-seeded bread that's soft on the inside, crunchy on the outside—it's delicious. With many items premade and showcased at the counter, service is quick.
Since 1970, this pizzeria has been serving up Greek-style pizza to local residents and Brookline High School teachers and students. Many customers choose to carry out or order online, but there is ample seating inside. Be sure to try one of the specialty pizzas, like the Alfredo pizza with broccoli, grilled chicken, and Alfredo sauce. You'll be glad you did. Village Pizza also serves calzones, subs, burgers, hot dogs, fish and chips, salads, wraps, and a select group of pasta dishes.
Wow Barbecue began life as a food truck serving authentic Chinese barbecue (food on a stick) before expanding into two brick-and-mortar restaurants, one in Providence, R.I., the other in Brookline Village. The restaurants dish up a comprehensive menu of traditional Chinese street cuisine, with an emphasis on skewers. Featuring meat or vegetables doused in cumin, the skewers, traditionally cooked over a charcoal grill, here are cooked over a gas grill with volcano rocks to preserve the signature smoky flavor of the cuisine. Wow offers two dozen specialty skewers, ranging from basics, like chicken or beef served with Thai chili, dill yogurt, and carrot hummus, to more unique offerings, like lamb kidney, squid, quail egg, and chicken gizzards. The menu also includes soups, Asian fusion tapas-style small plates, and entrées, including behemoth "plates for two."
Newsboys Memorial to Albert Edward Scott
333 Washington St.
Tucked away alongside Brookline Town Hall, this small memorial honors all of those Brookline residents who gave their life while serving their country. But if you walk to the back of the memorial, you'll discover that it specifically honors Albert E. "Scotty" Scott, a 15-year-old newsboy who lied about his age and entered World War I while still a Brookline High School freshman. Less than a year after entering the Army, Scott became a folk hero in Brookline, reportedly killing or injuring some 30 German soldiers in France, before being killed by one of them. A plaque commemorating his sacrifice was erected by the Roosevelt Newsboys' Association of Boston.
For more than 150 years, the Public Library of Brookline has served a variety of local residents, including the Kennedy clan, Emmy- and Tony-winning actress Jane Alexander, TV personalities like Conan O'Brien, and sports luminaries like Patriots' owner Bob Kraft. Besides books, the library offers all of its card-carrying members access to ESL conversation groups; foreign language books, including large collections of Chinese, Russian, and Hebrew texts; and museum passes for reduced admission to cultural institutions like the New England Aquarium, Isabella Stewart Gardner Museum, and the Museum of Science. The library hosts story times and other programming—all of which is currently virtual due to the COVID-19 pandemic—and resources for people with disabilities, seniors, and students. The Brookline Village branch just completed construction of an outdoor children's garden featuring benches perfect for reading. Keeping up with technology, the library loans digital books and audiobooks powered by OverDrive software, so patrons can read or listen on their e-readers and iPads. Titles are available electronically for up to three weeks, then they vanish.
Off the beaten path
Stops along the Underground Railroad
9 Toxteth St. and 182 Walnut St.
Brookline Village is home to two houses that were stops on the Underground Railroad during the 19th century. A wooden cottage at 9 Toxteth St. was owned from 1845 to 1867 by abolitionist William Ingersoll Bowditch, a Brookline selectman and town moderator. He sheltered fugitive slaves, including Henry "Box" Brown, who shipped himself in a box to gain freedom. The Samuel Philbrick House, at 182 Walnut St., concealed escaped slaves William and Ellen Craft, who stayed in a back room for days while a US marshal searched for them. Today, the two homes are privately owned and can be viewed only from the street. Discreet plaques identify the Brookline residences as part of the Underground Railroad.
Owner and chef Colleen Marnell-Suhanosky, a James Beard award–winning cookbook author, wants customers to feel at home in her restaurant, and the menu does just that. There are breakfast offerings, such as a variety of egg dishes, breakfast tacos—with turmeric, ginger, scrambled tofu, smashed black beans, cilantro salsa, and a Vermont corn tortilla—and other innovative dishes geared toward health-conscious diners. Lunch items include fresh salads and homestyle favorites like grilled cheese. Try the daily soup with an Italian chickpea or Cuban-style braised pork sandwich made with bread baked on site. The baked goods are delicious, as well. You can grab a seat at the counter or on the hot pink leatherette couch, an heirloom from the owner's grandparents' Italian restaurant in Minneapolis.
Discovering your own kindness, goodness, strength, and wisdom as a means to moving toward a more harmonious society is the goal of the Shambhala community. To that end, it offers weekend workshops, dharma talks, and meditation in two shrine rooms with comfortable mats and scented with incense. The center welcomes people of all faiths and traditions, with monthly theme nights, such as a 30s-and-under gathering; the Heart of Recovery, which brings together Buddhist meditation practice and the 12-step model of recovery for people on the path to sobriety; a monthly LGBTQ meditation group; and another for those who self-identify as people of color. No membership is required for drop-in groups, but a donation of $20 to $39 is suggested for beginners if they can afford it. General memberships are $60 to $75 a month, and $15 to $30 for students and $100 for families.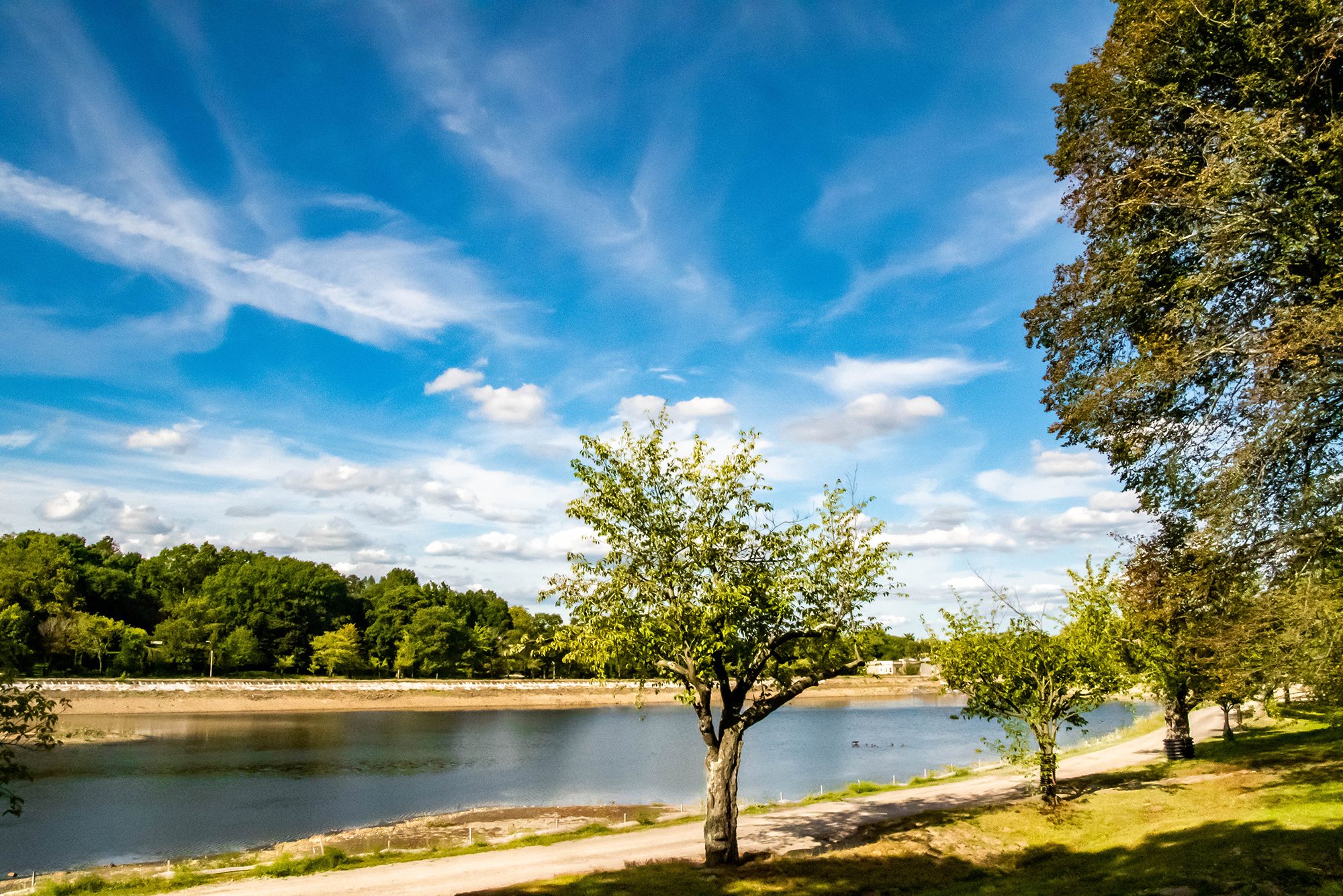 Both runners and walkers make use of the one-mile circumference of the Brookline Reservoir Park. The reservoir is also a popular destination for anglers: the Massachusetts Division of Fisheries and Wildlife stocks the man-made body of water annually. Recent renovations to the reservoir have also allowed for much-neededupgrades to the park and gatehouse. The $3.2 million project was completed in spring 2020. With the reservoir filled, those wishing to fish need only bring a permit from the Office of the Town Clerk, along with their fishing gear. The Brookline Reservoir Gatehouse, which was built in 1848, was designed to keep Boston's water supply flowing if the main supply was disrupted. In 2015, the National Park Service declared the Brookline Reservoir and Gatehouse a National Historic Landmark.
Named for the town's Recreation Department superintendent from 1972 to 1989, the aquatic center on the Brookline High School campus was the nation's first indoor public swimming facility. The center has three pools: a shallow one for children and beginners, a lap pool, and a diving area. The last two connect through a sealed tunnel, and swimmers wearing goggles can peer through the lap pool's underwater window to watch divers on the other side. A major attraction for swimmers with sensitive skin is the pools' copper ionization filtration system, which lowers the levels of chlorine required. The pools cost $8 a visit for Brookline residents, $10 for nonresidents, but a reduced rate of $6 and $8 is available for students. Yearly adult and family passes are also available for purchase. Private and group swimming lessons are available for Brookline residents (prices vary).
Getting there: By foot, head down Harvard Street from Comm Ave until you cross Washington Street. The 1.5-mile walk takes about 30 minutes. By T, walk to the Fenway stop on Park Drive and take the outbound D trolley two stops to Brookline Village. By bus, hop on the #66 headed down Harvard Street.
This Series
Also in
November 18, 2021

March 4, 2020

February 26, 2020