FAQs about Hosting a Safe Marathon Party
What are your legal responsibilities? What if a guest drinks too much?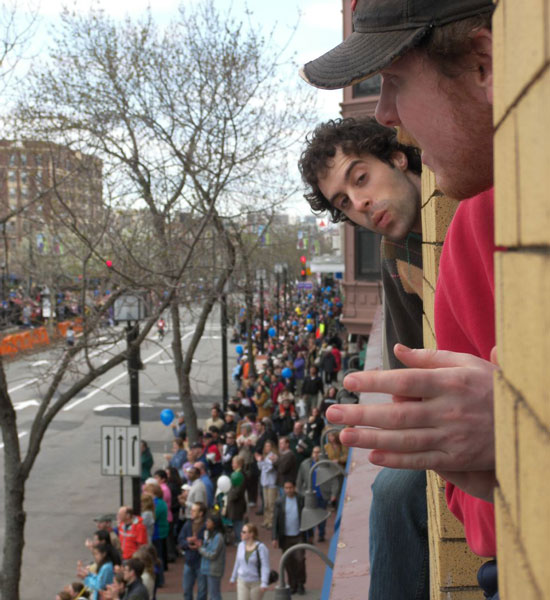 Monday's Boston Marathon is the highlight of the last three-day weekend before the semester ends. It can also be an occasion for risky student drinking (just ask the BU Police Department, which fields complaints about excessive drinking starting in the morning). Over last year's Marathon weekend, six students were taken to the hospital for excessive drinking. This year, BU is sponsoring an alcohol-free Cheer Section, with free food, to watch the race from noon to 2 pm at 518 Park Drive (on South Campus).
But for students planning to host their own party, here are FAQs about your legal responsibilities, keeping guests safe, and what to do when someone over-imbibes, assembled by BU's Wellness & Prevention office and the BUPD. As always, if you're out enjoying the day and something seems weird, wrong, or uncomfortable, including whether someone is having an alcohol or drug emergency, call the BU Police or 911 for help immediately.
What are some tips for safer drinking on race day?
If you're under 21, the safest choice is not to drink alcohol. If you choose to drink, there are things you can do to increase your safety:
Set a drink limit before the day begins. Think about how you'll stick to this number and tell a friend who can help you keep count.
Space out drinks throughout the day.
Alternate alcoholic drinks with water or seltzer.
Avoid mixed drinks and anything you didn't pour yourself. It can be difficult to know how much alcohol is in a mixed drink or a punch bowl.
Stick together with friends to help keep one another safe.
What are key tips for a safer party?
Offer water, seltzer, or soda along with other beverages.
Provide food so guests aren't imbibing on an empty stomach, or ask guests to pitch in for pizza or other food.
Ask several folks to stay sober to keep an eye on things at the party.
Keep your guest list small. Larger parties are more likely to get out of control.
Avoid promoting your party on social media. If it starts trending, you'll likely have a larger crowd than you expected (and can control). Consider canceling the party if this happens.
Abide by the law and avoid letting people under the age of 21 drink alcohol at your party.
What are signs that a party is getting out of control? What should hosts do if this happens?
Signs include: you don't recognize many of the people at your party; guests are damaging property or disrespecting others; guests are getting sick from alcohol or drug use; or fights are beginning to break out.
If the party is getting out of control, the best thing to do is call the local police department. Tell them what's going on, and they will help you end the party and prevent further issues.
What legal responsibilities do party hosts have?
From a legal perspective, any person who invites others into their residence (including rented apartments) for a social gathering is a "social host." Social hosts must follow Massachusetts laws, which include prohibiting anyone—you or your guests—from providing alcohol to those under the age of 21. Breaking this law could mean fines and jail time. Social hosts are also legally responsible for actions that may occur after a guest has left the party. This is what's called "social host liability" and could include drunk driving, assault, or accidental death. It's critical that social hosts take reasonable and necessary steps to ensure that guests under the age of 21 are not drinking alcohol at their party.
What are signs of an alcohol emergency?
A person may be experiencing an alcohol emergency if any of the following are happening: the person is vomiting frequently or vomiting while asleep; confused about the time, place, or location; breathing irregularly; or passed out and unable to be woken up.
If someone is showing one or more of these signs, call for help immediately. Stay with the person. Lay them on their side. Avoid giving them any food or water.
If you're questioning whether a situation is an alcohol emergency, it's time to call for help. If the emergency is on campus, call the BU Police at 617-353-2121. If the emergency is off campus, call 911.
Do students get in trouble if they call for help?
BU has a Good Samaritan Policy, which encourages students to be safe and look out for one another. When a Terrier seeks help for themselves or others who've used alcohol or drugs, neither student will receive a sanction for alcohol or drug use, as long as they complete an educational or counseling program on campus.