Here's Everything We Know about the Lethal Eastern Equine Encephalitis Virus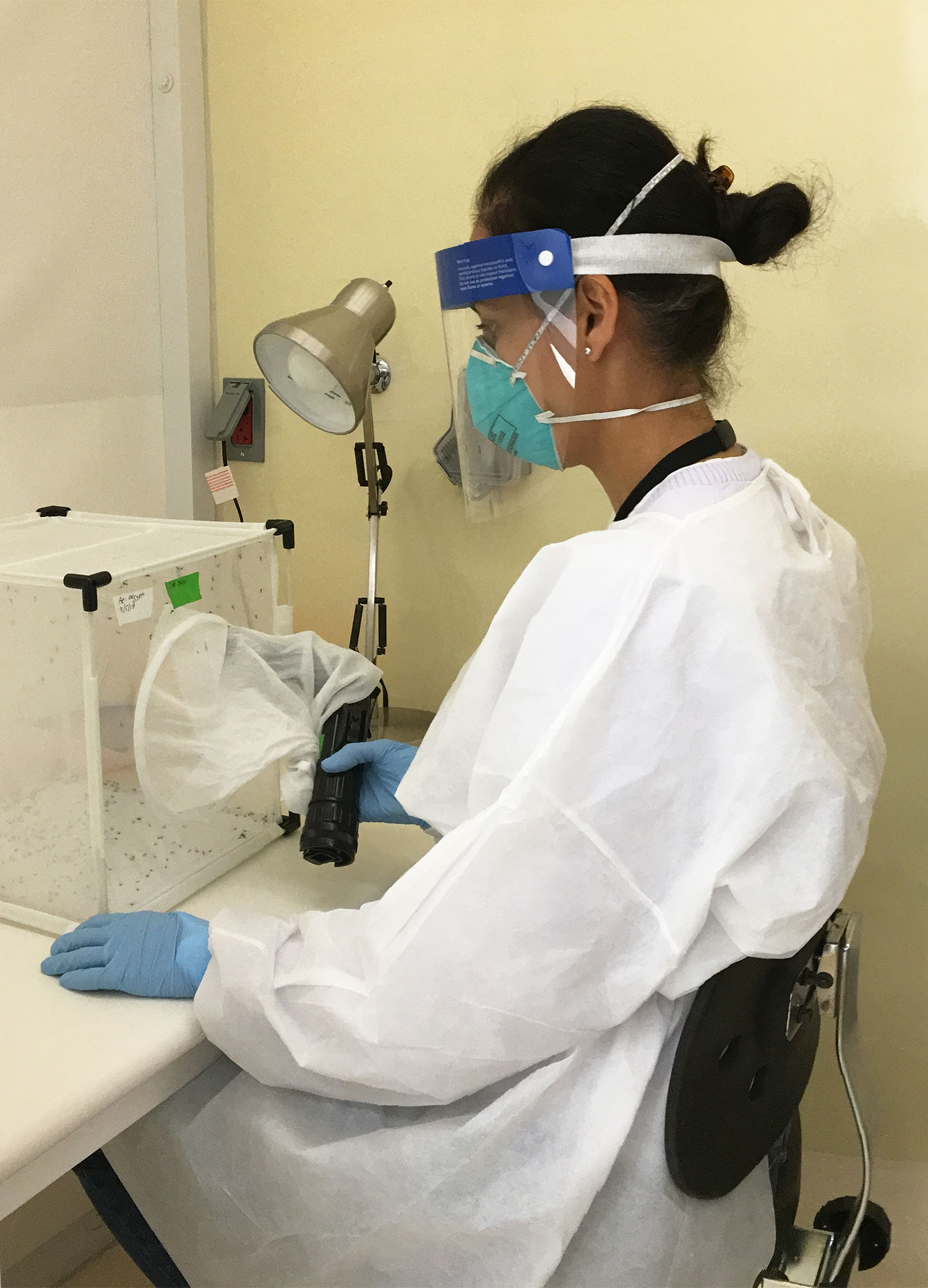 Mosquito-borne illness
Here's Everything We Know about the Lethal Eastern Equine Encephalitis Virus
As the threat of EEE rises in Massachusetts, BU researchers say people should take precautions when outdoors
For the first time since 2013, eastern equine encephalitis (EEE) virus—a rare but often fatal mosquito-borne virus—has been found in Massachusetts. Since the beginning of August, 12 people have tested positive for the virus, and three people have died from the illness, an unusually high number of cases compared to years past. Although it is rare, EEE poses major health risks, as it can cause brain swelling. According to the Centers for Disease Control and Prevention (CDC), it takes between 4 and 10 days to develop symptoms, which vary depending on a person's age and other factors. About a third of all people infected with EEE die from the disease.
Symptoms, including fevers, chills, and fatigue, can manifest abruptly and are later accompanied by standout neurological problems "such as headache, cognitive changes, seizures, weakness, numbness, difficulty with coordination, or visual changes, among other signs," explains Brigid Dwyer, a Boston University School of Medicine assistant professor of neurology and a Boston Medical Center rehabilitation neurologist, who has treated patients with complications resulting from mosquito-borne viruses, including EEE.

"It is critical that neurological symptoms are recognized early and that brain swelling is combated as aggressively as possible," she says.

This year Massachusetts state officials have found the virus in 425 mosquito samples, many of which are capable of spreading the virus to humans. As of this week, about 88 communities are at critical or high risk for the virus. In addition to the 12 people infected, a goat and eight horses have also tested positive for EEE so far. Massachusetts Public Health commissioner Monica Bharel (CAS'94, MED'94) reminded residents that "the peak time for transmission of mosquito-borne illness extends through September here."
So, how do people get EEE in the first place?

"There's a cycle in the wild between birds and Culiseta melanura mosquitoes," explains virologist Tonya Colpitts, a MED assistant professor of microbiology, and director of the Arthropod Containment Laboratory (ACL-3)—an insect laboratory—at BU's National Emerging Infectious Diseases Laboratories (NEIDL). She works side-by-side with these buzzing insects every day, studying mosquito-to-human transmission of viruses, including Zika, dengue fever, yellow fever, and EEE. When Culiseta melanura mosquitoes bite a bird carrying EEE, they also become infected with the virus, spreading it with each bite to another bird or animal.

"These mosquitoes do not particularly like to bite people, which is why [EEE] is not as widespread as, say, West Nile virus," Colpitts explains. But when they do occasionally feast on mammalian blood, they essentially create an accidental bridge between infected birds and "incidental hosts," like people or horses or goats, she says. The other scenario is that a different type of mosquito—such as Aedes or Culex, which do prefer human blood—happens to bite an infected bird and then proceeds to feed on one or more people, thus spreading the virus.

Not everyone who is exposed to EEE will develop symptoms. And in fact, up to 90 percent of human cases can be asymptomatic, according to Colpitts, which could mean humans are unknowingly carrying the disease. Unlike viruses such as dengue or Zika—which get passed between humans and mosquitoes—the EEE virus typically doesn't replicate at high enough levels in humans or horses to be passed back to a mosquito. But more research is needed to better understand how asymptomatic people potentially play a role in the spread of EEE.

"Mosquito-borne illnesses in this part of the world are relatively rare compared to areas affected by, for example, malaria, dengue, and yellow fever," Dwyer says. "And of those infected with EEE, only about 2 to 5 percent are estimated to develop encephalitis and only 3 to 15 cases per year of neuroinvasive EEE have been reported annually. However, the seriousness of the potential complications mandates a high degree of surveillance in the mosquito population for this virus."

So what can you do to minimize risk of exposure, while still enjoying the last few weeks of summer?

Because of the elevated risk, Massachusetts began aerial spraying of insecticides in eastern Worcester County, western Middlesex County, and parts of Bristol and Plymouth Counties. State officials strongly recommend using insect repellents that contain DEET or another EPA-registered ingredient, and wearing clothing that covers your skin while outdoors. Ensuring window screens are secure, as well as removing potential mosquito-breeding sites like garbage cans, flowerpots, birdbaths, and other containers that hold water are other smart safety precautions to take.
"I'm taking the same precautions that I have all summer long. To me, it's no contest. We will be covered in chemicals all summer and have peace of mind," says Colpitts with a laugh. She recommends using brands like Off Deep Woods, or anything that has concentrations of DEET, along with wearing closed-toe shoes, socks, and a hat—since many mosquitoes are attracted to bacteria found in feet and to bodily heat that radiates from the head.

Further down the line, she and her lab are working toward developing a plan to vaccinate humans or other hosts with a protein found in viruses carried by mosquitoes. Vaccinated hosts would then make antibodies that—when a mosquito bites them—would work inside the mosquito against its own version of the protein, stopping the transmission cycle.
"The mosquitoes would be kind of vaccinating themselves [by biting vaccinated hosts]," Colpitts explains. "We're thinking we could try this for something like EEE, especially because we could vaccinate horses, and mosquitoes would ingest antibodies that way."
EEE isn't the only virus on Colpitts' radar though. With global warming intensifying, warm-climate mosquito species, such as Aedes aegypti, are steadily advancing north, past Virginia and Maryland (which, she points out, was not always the case). "As the mosquito habitat expands, the geographic location of these viruses is going to expand," she says. "The Aedes aegypti can spread yellow fever, Zika, dengue…. That's really not something we want marching northward."
Updated as of October 1, 2019.