Prodded by Students, BU Phases Out an Environmental Scourge: Plastic Straws
They will still be available for students with disabilities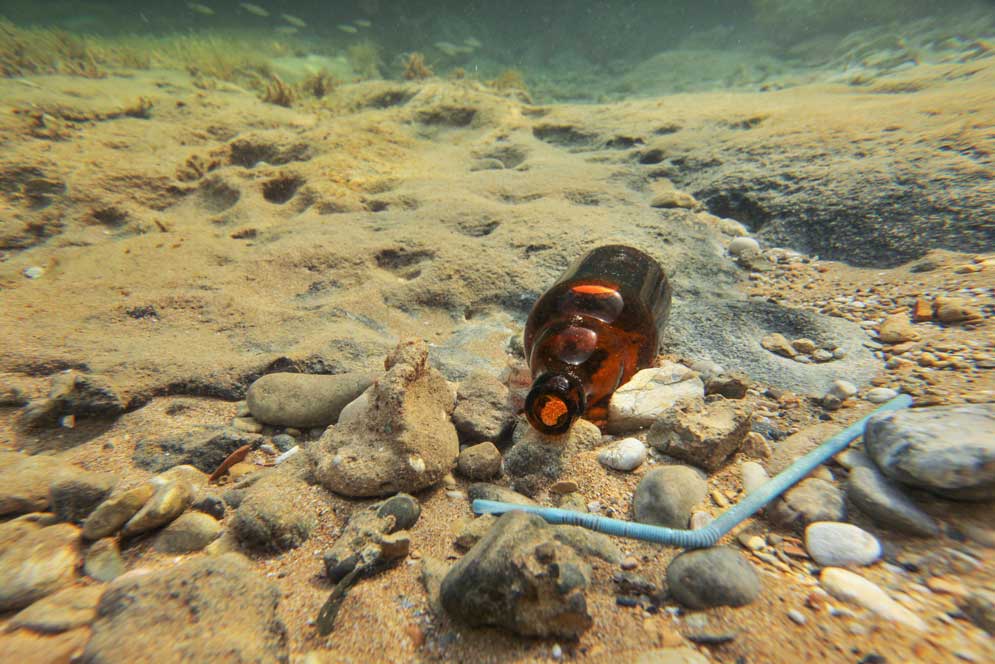 BU doesn't have plastic straws at its residence dining halls. Yet it still went through 27,000 a year at retail sites (such as City Convenience stores and the George Sherman Union food court), Rhett's West in Claflin Hall, and the Warren Towers Late Night Kitchen. That was before the University removed them from public sight and handed them out by request only. The reason? They're unrecyclable.
Now, thanks to a student initiative, BU has done away with them altogether.
Last week, Dining Services switched over to completely paper straws, save for a few plastic sippers that will be made available for students with disabilities and injuries who need them to be able to drink.
Aside from those users, you may still see some plastic around. Starbucks, which has announced its intention to do away with plastic straws next year, informed the University that it can't move up that date at its campus locations to coincide with the University's phaseout, says Amy Elvidge, Dining Services sustainability director.
The speed of BU's decision—made last summer after less than a year's review—followed the formation of a new campus group and a petition signed by about 1,200 people, mostly students.
"We're still really surprised," says junior Taylor Mann (CAS), president of BU's Sustainable Ocean Alliance (SOA), about the fast-track phaseout. She founded the University chapter of the San Francisco–based national youth group SOA, in fall 2017 to advocate for the plastic purge.
The Florida native joined this crusade after learning about plastic's baleful effects on marine animals. At current littering rates, the plastic content in oceans will outweigh their fish by 2050, according to the Wildlife Conservation Society. Plastic has been found in the bodies of 70 percent of seabirds and 30 percent of sea turtles; one of them was recorded in bleeding anguish as rescuers removed a straw wedged in its nostril. Plastic straws, the group says, are among the top garbage items fouling beaches.
Dining Services was "more than willing to help," Mann says, and suggested SOA craft a petition to gauge support. The effort was advertised by, among other parties, Her Campus, the online college women's magazine that sophomore Delanie Fico (CAS) writes for.
Growing up on Long Island, Fico says, "I could see the damaging effects plastic has on the ocean very clearly during the summers, since beaches and the water were constantly littered by unconscious beachgoers, when they would leave plastic bags and other garbage along the sand."
Even before its phaseout decision, BU had worked to make its straw use greener. Beside handing them out only when requested, the University bought straws made from plant-based rather than petroleum-based plastic. That "significantly cut our consumption," Elvidge says.
BU joins other universities—Lehigh and Baylor, to name two—that are doing away with plastic straws. Companies and government entities following suit include, besides Starbucks, the city of Seattle, Alaska Airlines, and McDonald's UK and Ireland operations. Britain vows to eliminate all avoidable plastics, from straws to water bottles, by 2042.
Straws are especially pernicious, says Lisa Tornatore, BU's sustainability director: "Plastic water bottles are of a size that they can't fall through the cracks, as a utensil or straw might fall through the cracks—literally." Straws are more easily lost on the ground and wind up as trash, which increasingly is ending up in oceans, she says.
For most people, doing away with straws "is a minor inconvenience, and it's a first step" in reforming throwaway culture, Elvidge says.
Lorraine Norwich, assistant director of BU's Disability & Access Services, says her office knows of perhaps 15 students who need to drink from straws because of, say, a neurological disorder. But other students also may need them temporarily, she says, following a broken arm or other injury.
Christopher Robinson, Disability & Access Services' coordinator of outreach and training, says that for students with disabilities, paper straws may not be durable enough, while metal straws, which are rigid and conduct heat and cold, can be unsafe with some beverages.
While most people don't need a straw of any material, a total phaseout of even paper ones is off the table, so to speak, because, says Tornatore, "if you're taking away a beverage, you want a lid," and a straw to insert through it for convenient consumption.