Azer Bestavros to Lead BU's Faculty of Computing & Data Sciences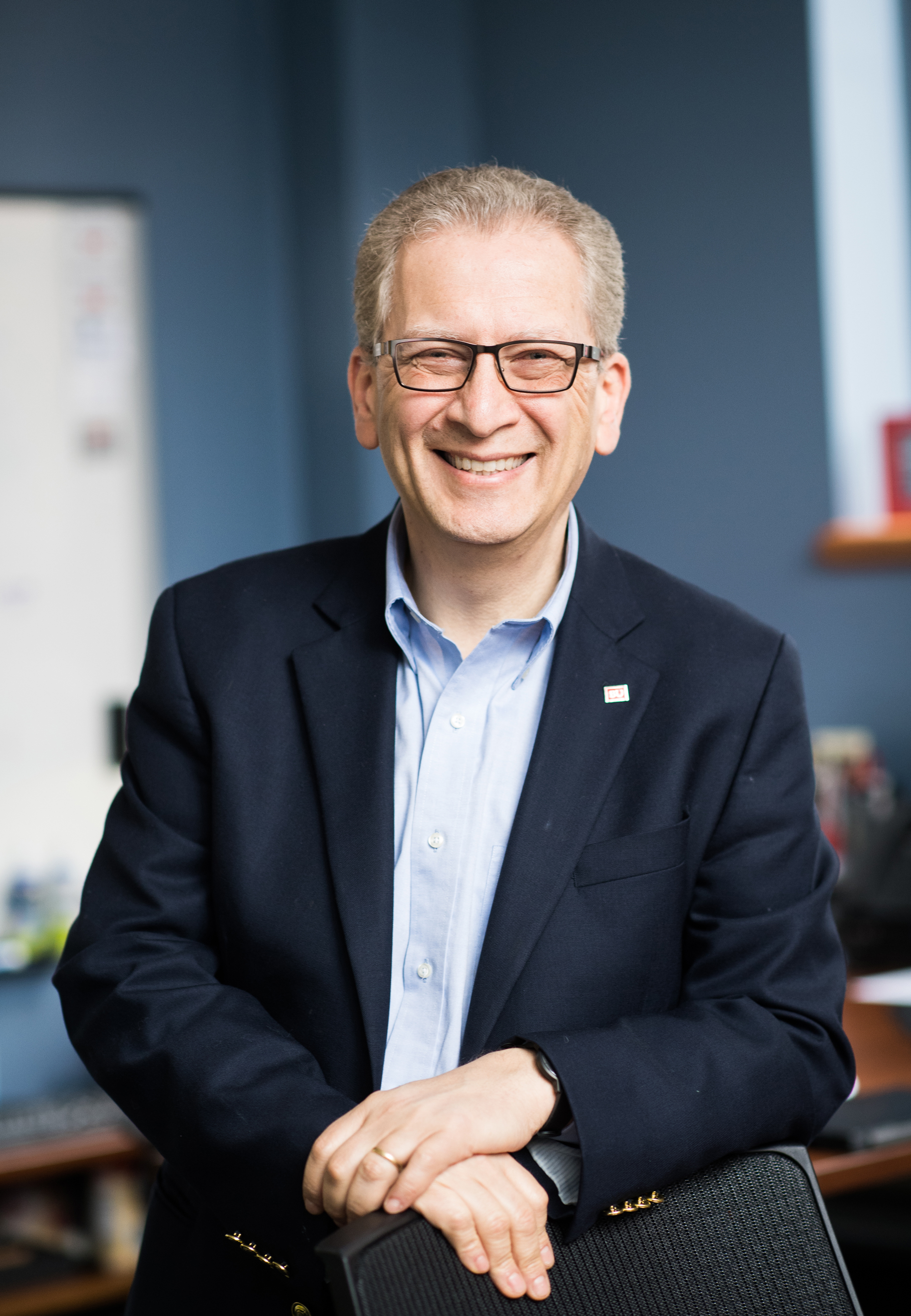 University News
Azer Bestavros to Lead BU's Faculty of Computing & Data Sciences
"BU is uniquely positioned to do what no other university is in a position to do," Hariri Institute director says
Azer Bestavros, who gained international prominence as the founding director of BU's Rafik B. Hariri Institute for Computing and Computational Science & Engineering, has been named associate provost for computing and data sciences, a new role that will lead the University's efforts in the highly competitive and fast-growing field.

He will lead the new Faculty of Computing & Data Sciences, an interdisciplinary academic unit comprising faculty solely appointed in that unit, as well as faculty with joint appointments from schools and colleges across the University. The goal, according to Robert A. Brown, president of BU, is to build a world-class team in computing and data sciences that together with faculty from computer science, mathematics and statistics, and electrical and computer engineering will meet the growing demands for research and education in these developing fields, while also infusing computing and data sciences across all disciplines.

"The Faculty of Computing & Data Sciences is a very important innovation in interconnecting faculty from across the University to build the scale of effort that will be needed in these important areas," says Brown. "Azer Bestavros is the perfect leader for this effort. He is a nationally respected computer scientist and has proven a wonderful leader of interdisciplinary efforts as the founding director of the Hariri Institute."

Bestavros says that for him, the new role makes perfect sense.

"For me, this is just the next logical step in what we have built so far at BU," says Bestavros, a William Fairfield Warren Distinguished Professor and a College of Arts & Sciences professor of computer science, who has served as the chair of BU's Data Science Initiative. "It has different challenges, very different, but BU is really uniquely positioned to do what no other university is in a position to do."

He says leaving the Hariri Institute in new hands, a transition that will happen December 1, while he leads the University's biggest data science initiative to date, is the culmination of a journey that began when he came to BU back in 1991. "Everything I have done to this point was actually building the infrastructure, or groundwork, that made it possible for BU to get here," he says. "I see this as the result of all those efforts finally coming together."

---


He is a nationally respected computer scientist and has proven a wonderful leader.


---
The Faculty of Computing and Data Sciences will be based in a dramatic new 19-story building, the Center for Computing & Data Sciences, at the corner of Commonwealth Avenue and Granby Street, which is scheduled to begin construction in March and finish sometime in 2022. At 350,000 square feet, it will not only be one of the biggest buildings in the University's 180-year history, but also its most sustainable and energy-efficient ever, free of fossil fuels, with heating and cooling coming from geothermal wells.

Jean Morrison, BU provost and chief academic officer, commends Bestavros as the best equipped candidate to build BU's exciting interdisciplinary academic unit. Bestavros will also be a member of the Council of Deans.

"Professor Bestavros' credentials and body of research, his record of strong, collaborative leadership within the University and internationally, and his recognition of BU's transformative potential in this area make him an ideal fit for this newly created position," Morrison says.

His pioneering research, from safety certification of networked systems to web push caching protocols for content distribution networks, she says, have made him "an international thought leader in the rapidly evolving nexus of computing and data science fields." His latest projects focus on design, development, and real-world deployment of scalable secure Multi-Party Computation in support of privacy-preserving big-data analytics. And as of this year, backed by more than $40 million from government and industry sponsors, his research has yielded 19 PhD theses, 8 issued patents, 2 start-ups, and hundreds of refereed papers with over 20,000 citations.

Gloria Waters, vice president and associate provost for research, says she is delighted to see Bestavros take on the new role. "Given the tremendous success he has had in catalyzing interactions across the campus," Waters says, "I am looking forward to collaborating with him in this new role to expand our work in data science."

As associate provost, Bestavros will work closely with Morrison, Waters, senior academic leaders, and faculty in establishing the policies, operating principles, and strategic issues that will guide the initial efforts of the Faculty of Computing and Data Sciences. An important point, Morrison adds, is that the new academic unit "will enable BU to build a collaborative and interdisciplinary interface between our traditional academic units and the faculty and students interested in computing and data sciences."

Next step
With the unit's associate provost in place, Morrison says, the next step will be to launch three committees that will advise the Faculty of Computing and Data Sciences on key policy and strategy questions. One committee will focus on faculty appointments, a second on the curriculum, and a third on opportunities to add other programs or capacities to the new academic unit.

That work, according to Bestavros, is evidence of how computing and data sciences at BU is an entirely new University-wide academic unit with the potential to touch every student, faculty, and staff member.

"At other universities," he says, "it's just a matter of creating a different school or department, or reorganizing. Very few places have decided to go about it the way that BU has done it, creating an entirely new entity that will leverage other entities."

He also notes that one advantage BU has over others is the region it sits in, a city bursting with start-ups, healthcare and hospitals, big pharmaceuticals, biomedical and biotechnology, and other huge producers of data. "This is a place that's rich with data opportunities," he says. "We have a lot of the pieces. It's hard to think of anything we don't have, as far as the stakeholders in data science."

The biggest challenges BU will face, he says, are thriving in a very competitive higher education landscape and competing for the best and brightest minds. "Part of the challenge we have is to articulate how we are different," he says. "We have to work with people on campus on why people should think about BU, whether you are a student, or a faculty member trying to recruit, or an industry that wants to work with us."

Bestavros says he is most excited about the new opportunity to tell BU's broader story: "I've been doing this already, acting as a cheerleader for all the great things we do. One of the things I enjoy the most is to develop a good understanding of what our faculty is doing, and then go out and tell these stories."

The Center for Computing & Data Sciences will be a building about people and ideas "mingling and connecting with one another," he says. And by sitting smack in the middle of campus, it will speak to how central the world of data science is to everything happening in society. "It will be a connector for all the different disciplines we have," he says.

Along with his role at the Hariri Institute, Bestavros has been cochair of BU's Council on Educational Technology & Learning Innovation and Task Force to Envision Data Science at Boston University and has led BU's role in the conception of the Massachusetts Green High-Performance Computing Center. He is a past recipient of BU's United Methodist Scholar/Teacher of the Year award and a corecipient of the ACM Sigmetrics Inaugural Test of Time Award. He holds bachelor's and master's degrees in computer science from Egypt's Alexandria University and a master's and a doctorate in computer science from Harvard University.

With Bestavros moving into his new role, which reports to Morrison, BU will begin a search to replace him as Hariri Institute director. "The next director of the Hariri Institute will have the opportunity to lead the Institute by exercising intellectual leadership and collaborative problem-solving in an environment of shared decision-making," she says.