A High School Trip That Changed a Life
BU junior traces her commitment to social justice to a visit to the South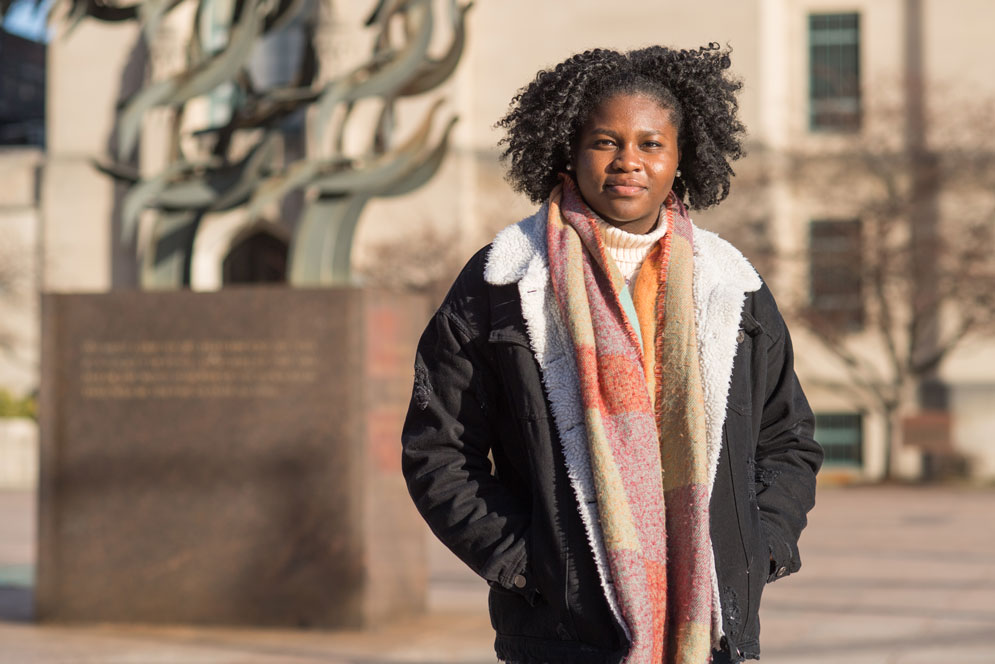 Ask Hafzat Akanni about the moment she decided to devote her life to social justice and she'll point you to a trip she took as a high school senior. She was enrolled at Hope High School in Providence, R.I., which had partnered with Brown University's Civil Rights Movement Initiative, a program that teaches high school students about the Civil Rights Movement. It culminated with a weeklong tour of 11 southern cities that played a significant role in the nation's battle for civil rights.
Junior Akanni (CAS) remembers arriving one night in rural Sunflower County, Miss., and being totally unprepared for what she saw. Born in Nigeria and raised largely in Dublin, Ireland, until she and and her family moved to the United States when she was 15, she saw for the first time an entire community struggling with rural poverty. "It didn't look like America," the international relations major says. "I was shocked and confused. When you see America on TV, you see big houses, big billboards—people have a perception that everywhere in America looks like New York."
In Sunflower County, she met with students her own age who traveled an hour by bus to an after-school academic program. One young man confided to her that he dreamed of going to Stanford or Rice University, but that he probably wouldn't get in. When she pressed him for why he thought that, he told her, "Colleges want you to get involved and make the most of the opportunities you have in high school" and said that because there had been no clubs or organizations for students at his school to join, he was at a disadvantage. "What do you do when you have nothing?" he asked. It was a revelation for Akanni, who had taken advantage of the many opportunities available at her high school, including being editor of the newspaper and captain of the women's soccer team.
Later on the trip, she experienced a second jolting moment. In Montgomery, Ala., the students went to the nonprofit Equal Justice Initiative (EJI), dedicated to representing people who have been wrongfully imprisoned. There they heard from Anthony Ray Hinton, who had spent 30 years on death row for a crime he didn't commit. "Seeing a real-life person who had been through that injustice was eye-opening," Akanni says. At the end of his talk, Hinton implored the students to get involved in some way in their communities. It was a message Akanni would take to heart.
Living in Dublin, she says, "I didn't grow up with a lot of people who looked like me." She recalls wanting to use a flat iron on her hair so she'd look more like the other girls at school. "I couldn't see that being a black woman was actually OK," she says. "I didn't learn about myself because I didn't give myself the opportunity to learn about myself and my culture."
As a child, she had no interest in learning about black history, because her friends weren't interested in it. Akanni says she knew so little about America's Civil Rights Movement that she confused 16th-century theologian Martin Luther, who was responsible for the Protestant Reformation, with American civil rights leader Martin Luther King, Jr. (GRS'55, Hon.'59).
That began to change when she moved to Rhode Island at age 15. "It wasn't until then," she says, "that I began to accept my blackness and wanted to learn about who I was, where I came from, and who my people were." Suddenly surrounded by other black people, she began to think, wow, this is really cool. Akanni began to immerse herself in social justice issues, not just those related to contemporary America, but global issues as well.
Akanni had to write a research paper when she returned from the school trip to the South, and she chose to compare the resources her inner city public high school provided with those offered at Moses Brown, an affluent private elementary and high school, and at Brown University, all within walking distance of one another. It was an early lesson in racial and class disparities. "It opened my eyes more and made me challenge social justice more," she says.
"Dream coming into fruition"
Arriving at BU, Akanni embraced public service. She initially intended to major in journalism, but discovered a passion for international relations and switched majors sophomore year. She is minoring in African American studies.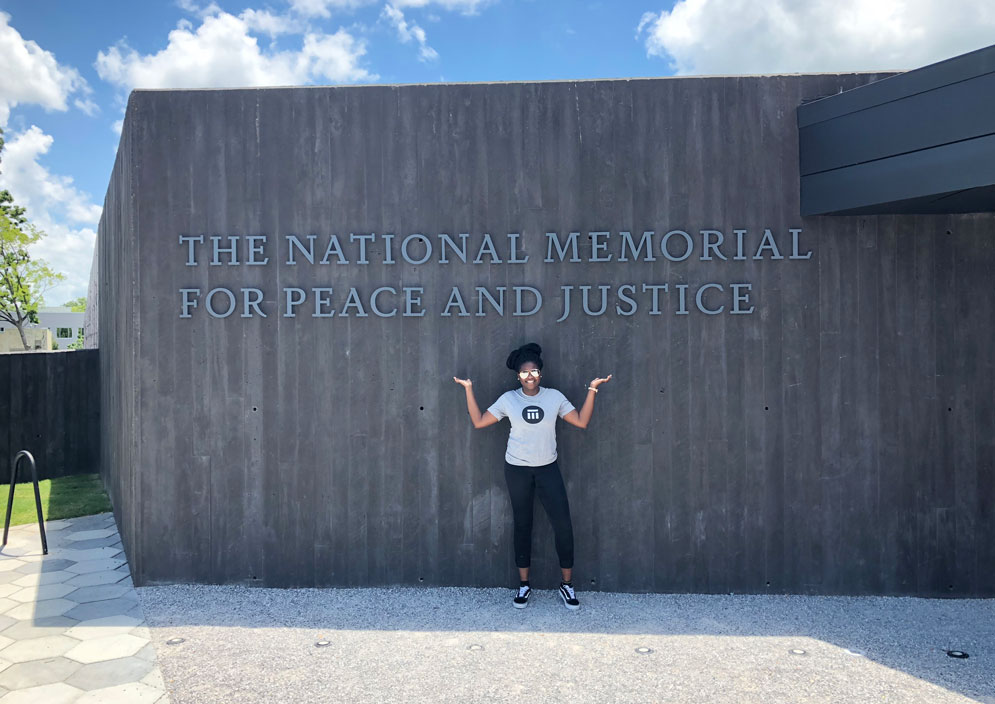 Last summer, she returned to the Equal Justice Initiative to work as an intern, funded by BU's Yawkey Nonprofit Internship Program. There she conducted research related to EJI's new National Memorial for Peace and Justice, which commemorates the lives of the approximately 4,400 men, women, and children, mostly African American, who were killed by lynching between 1870 and 1950. She also did research for an EJI report on segregation and on topics like racial redlining and the 1882 Chinese Exclusion Act, which prohibited all immigration of Chinese laborers.
Especially valuable, Akanni says, were the weekly sessions with EJI lawyers offering informal tutorials on topics like judicial override and how state courts work. It helped solidify her career plans. "Before EJI, I was like: I think I'm going to law school. Now, I'm definitely going to law school," she says. "I wanted to be part of their mission, because they seek to bring more awareness to the community about inequality in the justice system."
"In her application for the Yawkey Nonprofit Internship Program," Louis Gaglini, executive director of BU's Center for Career Development, says, "Hafzat described this internship opportunity to work alongside EJI challenging topics plaguing contemporary America as a compelling opportunity and a 'dream coming into fruition.'" He says the committee overseeing the internship program enthusiastically supported her application.
This year, Akanni is interning as a research assistant at Harvard Law School's Charles Hamilton Houston Institute for Race and Justice. Her current project involves collecting data for the institute's Beloved Streets of America project, which seeks to generate resources to preserve and revitalize streets bearing MLKs name.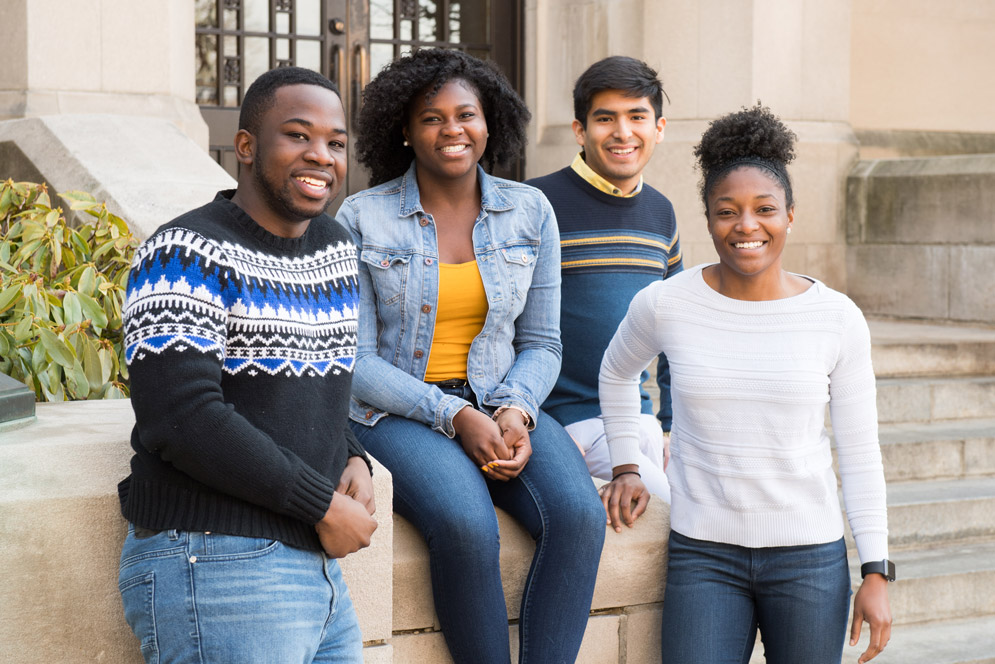 Akanni says she's proudest of her work as executive vice president of BU's Student Government. She was elected to the position last spring and took office this fall, inspired largely by her friend senior Devin Harvin (CAS), who was running for Student Government president and invited her to join his ticket, Build BU.
"Few people can see the bigger picture and still work toward making the world a better place," Harvin says. Hafzat "is a rare breed. I have seen her lead the cabinet, take ideas that I have and make them realities, and still find time to be someone I can talk to about the future. I am always amazed at how much she is able to accomplish."
"I realized I'd been trying to tackle change in a lot of different ways on campus and that Student Government was another way I could do that," Akanni says. As a freshman, she says, she wasn't even aware that BU had a Student Government.
"Being in Student Government has allowed me to strengthen my passion to help others and deepened my commitment to social justice," she says. She's particularly proud of how this year's E-board has helped to raise Student Government's profile on campus. That said, she acknowledges it's still difficult, and frustrating, to get students invested in Student Government.
"I hear a lot of students complaining about how X, Y, and Z need to be done, but no one steps up to the plate," she says. "The problem we should be addressing is, why don't you want to get involved? Why don't you want to change society for the better? Why don't you want to vote?"
That last point resonates deeply with Akanni. As a lawful permanent resident, she herself is unable to vote in US elections.
"It bothers me so much that I can't vote and that's the main reason I want to become a United States citizen," she says, adding that she plans to begin the process this year.
And on Monday, Akanni will announce that she's running for Student Government president on the slate Empower BU. Also on the ticket is junior Neha Iyer (Questrom), sophomore Lukas Flores (Questrom), and freshman Jessica Zheng (CAS).
"The work we started this year isn't finished," Akanni says. "I hope to continue building on Build BU's slate, which encompasses a three-pillar campaign: culture, classroom, and communication.  You need more than one year to execute a vision. And I don't think transformative change will necessarily occur in one more year, but we can continue building on what we've accomplished so far."
This summer, Akanni plans to travel to South Africa to study. She was recently awarded a William R. Keylor Undergraduate Travel Grant from the Pardee School of Global Studies, and she plans to use the money to visit historical sites in South Africa. One of them is the Apartheid Museum in Johannesburg, which she wants to see and compare to similar American sites, such as the National Museum of African American History and Culture in Washington, D.C. Her aim is to better understand the ways the two countries showcase their respective histories of segregation and oppression and how Jim Crow laws in the United States helped inform apartheid in South Africa.
Akanni says she'd like to take some time after graduating to travel and perhaps work for a nonprofit before going on to law school.
"The one thing I'm certain of is working in public service," she says. "I don't yet know in what way or shape it will happen, but I'm certain it will be in public service."