Six Quick Stats about Applicants to the Class of 2022
Record-breaking 64,470 applied, surge in those seeking early decision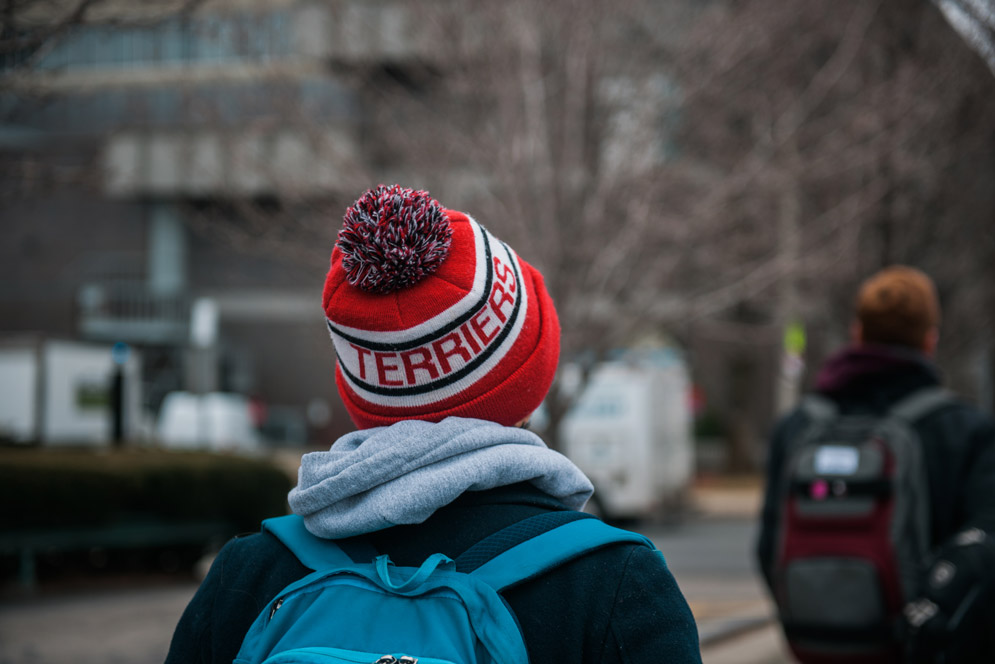 A record-breaking 64,470 students applied to the BU Class of 2022
Applicants' average GPA is 3.66, average SAT score is 1350, and average ACT score is 30
The School of Education, the College of Arts & Sciences, and the College of Fine Arts saw more applicants than in recent years
---
It's only a matter of time until Harlem resident Pedro De Los Angeles goes viral. In a video posted on Twitter, the Democracy Prep Charter High School senior logs online to check the status of his early decision application to Boston University's Class of 2022. After a few nerve-racking seconds, his body shoots out of the chair and his classmates scream. He made it.
That moment when you find out you got into your dream school…

Way to go, Pedro De Los Angeles (CFA'22)! #BU2022 Cc: @BUArts pic.twitter.com/zdlQZDfyGn

— BU Admissions (@ApplyToBU) December 27, 2017
De Los Angeles (CFA'22) (above) was one of 4,492 students who applied this year for early decision (a nearly 8 percent increase over last year) and was among the record-breaking 64,470 students who applied by the January 2 deadline. That's a 6 percent rise over last year's record of 60,701 applicants.
Christine McGuire, vice president and associate provost for enrollment and student administration, describes the increase as huge. "It's just all more positive signs of the quality of BU and how desirable we are," she says. "We've become more competitive, more selective."
Kelly Walter (SED'81), associate vice president for enrollment and dean of admissions, says the increase reflects "the quality of the academic experience, our growing reputation, and our improved rankings. These are the reasons why students want to be here."
Admissions now faces the arduous task of sorting through the tens of thousands of applications to fill the 3,300 Class of 2022 slots, 100 fewer than last fall. Applicants will learn their fate by early April.
Some interesting aspects of this year's application season:
1. BU attracts early birds
Applying for early decision gives a college application a bit of extra oomph, McGuire says, because it tells admissions officers that the school is a student's first choice. It helps students, since they're competing against fewer applicants, and if they are accepted, the stressful college waiting game is over. If students are accepted for early decision by a school, they are contractually obligated to attend and must withdraw their other college applications.
The National Association for College Admission Counseling reports that last year, colleges reported a 5 percent increase in early-decision applications nationwide, in line with BU's 8 percent rise this year over last. In fact, Walter says, early decision applications have increased 161 percent over the last five years. BU has two rounds, which this year were November 1 and January 2.
2. Big gains at certain BU schools
This year, three BU schools saw an unusual rise in applications: the College of Arts & Sciences, with 34,796 applications, a 7.1 increase over last year; the School of Education, with 1,302 applications, a 15.4 percent increase over last year; and the College of Fine Arts, with 3,106 applications, a 19.6 percent increase over last year. McGuire and Walter attribute the SED and CFA gains to recent news stories about each school: the merger of SED and Wheelock College to create the Wheelock College of Education & Human Development (WCEHD), scheduled for this June, and the opening of the Joan & Edgar Booth Theatre and the College of Fine Arts Production Center this past December.
3. Applicants are racially diverse
More than 12,000 underrepresented minority students (African Americans, Hispanics, and Latinos) are 18 percent of the applicant pool (last year the combined groups were 17 percent of the applicant pool). Of this year's applicants, 16 percent are Asian and 35 percent are white.
4. They come from around the world
International applications represent 20.6 of the hopeful pool, according to Walter, similar to last year's group. "We are holding steady in international applications, which is good, because some schools are seeing significant dips in international applications because of the proposed changes to US immigration policy," McGuire says.
5. Students are increasingly learning about BU online
As has been the case in recent years, social media continue to change the admissions game.
Walter says new social media initiatives, like Snapchat takeovers and encouraging early decision applicants to use the hashtag #BUEarlyBirds have been especially effective because they give students a platform to talk to admissions staff and current BU students.
"Our goal is to meet students where they are, and I mean 'meet' parenthetically—we don't have to see students in person anymore," Walter says. "It used to be that meeting students on campus and in person was the only way to connect with them. While this type of outreach remains important and is the bedrock of what we do, the reality is that social platforms are where we are connecting with students today. We ramp them up each and every year. It's very effective."
Walter says half of the students who apply to BU have never set foot on campus, but they can get a feel for the place through the Admissions virtual tour.
6. Applicants do well in school and on standardized tests
The average GPA of this year's applicant pool is 3.66; last year's was 3.62. The average SAT score is 1350 (out of a possible 1600), 21 points higher than last year. The average ACT score is 30 (of a possible 36), unchanged from last year.
Amy Laskowski can be reached at amlaskow@bu.edu.