MBAs at the MFA
Questrom class uses art to teach teamwork
"This is my sofa," Katiary Munoz tells her classmates, sounding as if she's just made the pages of Better Homes and Gardens. Actually, the 18th-century German-made, green-upholstered settee, made with walnut, beech, oak, and birch, is on display at the Museum of Fine Arts Boston (MFA). Munoz (Questrom'19) is one of 150 first-year BU MBA students who've been prowling the museum's halls in teams on an unusual assignment for their Executive Skills 721 class: choose one artwork that reflects your personality, and discuss.
The MFA's 450,000 works include any number of paintings and sculptures, but Munoz tells her five teammates that she chose a piece of furniture for personal reasons. In her parents' Latino culture, "grandmas have these very antique-looking couches, and then they cover them in plastic," she says. You're not supposed to sit in them—"it's almost like an area that's just there for visual appeal. It's not anything that's functional."
The story begins to build a bridge between the experiences of her diverse team, which includes white men, men of Indian ancestry, and women of color. Several report that their families also had look-but-don't-sit furnishings. Andrew Macey (Questrom'19) recalls that when his grandmother died years ago, his mother and her friends plopped down on her old sofa, rejoicing that "for 50 years, we haven't been able to sit on this couch!"
These connections are among the discoveries that Paul "Hutch" Hutchinson (GRS'15), a Questrom lecturer in organizational behavior, hopes for from this museum trip, the second year that he has assigned a day at the MFA to his students. A common complaint from employers, he says, is that too many B-school graduates come to work with rigorous academic backgrounds but lacking the ability to work collaboratively.
A coming project will pair all of these students with companies or government agencies to tackle real-life problems, making their ability to work as a team critical, Hutchinson says.
Discussing art reveals not only similarities between students, but also differences in the way each looks at the world. Chris Sullivan-Trainor (ENG'13, Questrom'19) picks Portrait of a Man and a Boy, a 16th-century painting by Giovanni Battista Moroni. His group assumes that the subjects are a father and his son, but Sullivan-Trainor tells them, "I look at it as the same person," the canvas conveying different aspects of the subject's personality.
Beyond melding diverse students into a functioning business team, Hutchinson hopes the museum visits address another challenge: microaggressions.
Last year, several students complained to him that classmates used offensive references based on ethnicity, gender, or race in team discussions. "There were sexist comments being made, people were being marginalized by nationality, international students weren't getting the respect that they deserved," he says. "We want to be able to empower people to leverage their diversity."
How might the MFA help with that? The museum puts students on a level playing field of ignorance. "Cultures from all over the world…are all in the building," Hutchinson says, "and these students are not art students." By sharing with one another the artworks they choose, and why they chose them—and why peers have similar or different reactions—"we can acknowledge how differing our perspectives are as a team," he says.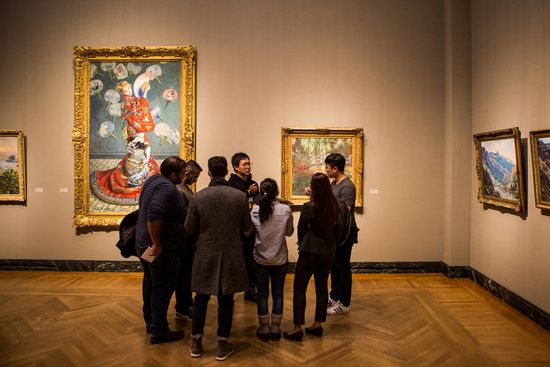 During the post-museum debriefing, Munoz's teammates say that her choice of the sofa reveals the importance to her of family, which in turn reveals the importance of relationships, and her outgoing personality—for the team, "you're sort of like the glue that holds us together," Macey says.
In contrast, his selection is Antibes, the Pink Cloud, a painting by Paul Signac, whose noticeable mosaic of small brush strokes depicts a seaside landscape. It appeals to him not for the granular nature of Signac's technique but for the scene's overall tranquility. That demonstrates his big-picture approach to things, his teammates agree, a valuable talent when managing a business project.
"I came this morning thinking, am I really going to have to be here all day?" Macey says of his initial reservation about the museum trip. But afterwards, he found it an interesting assignment, unlike previous exercises where students merely discussed ways to bring out the best in one another. In those exercises, "all we know is what you say" about yourself, he says. The MFA trip "is like, here's what I'm gathering about you. Am I right?"
In an interview, Hutchinson shares a story about the types of cultural prejudices he hopes the trip will combat. Some years ago, two students approached him, separately and a week apart. A woman from New England told him she'd decided she was racist and was OK with it. After interacting with foreign students at BU, she continued, she'd learned that "Asians don't talk. Latin Americans never show up on time. I'm just glad anytime an Indian ever shows up. I just want to work with people who are type A, East Coast American" like herself.
Hutchinson then told her about a Korean student who had come in a week earlier to confide his belief that teaching teamwork was garbage. Back home, he said, when a boss asked a question, employees would ponder it thoughtfully for five minutes before speaking. But in America, "someone asks a question, and before they're done asking the question, someone asks another one and interrupts that answer. And then someone starts to answer and then somebody else interrupts that answer."
The Korean student complained that he couldn't get a word in, and that his teammates faulted him for not contributing. "What I've learned is that Americans are completely incapable of coherent thought," he told Hutchinson.
The American student was floored, Hutchinson says, which echoes the lesson of the MFA exercise: "The students are their own best teachers."