Nightlife: Flatbread Company Brighton
Candlepin bowling and rustic pizzeria under one roof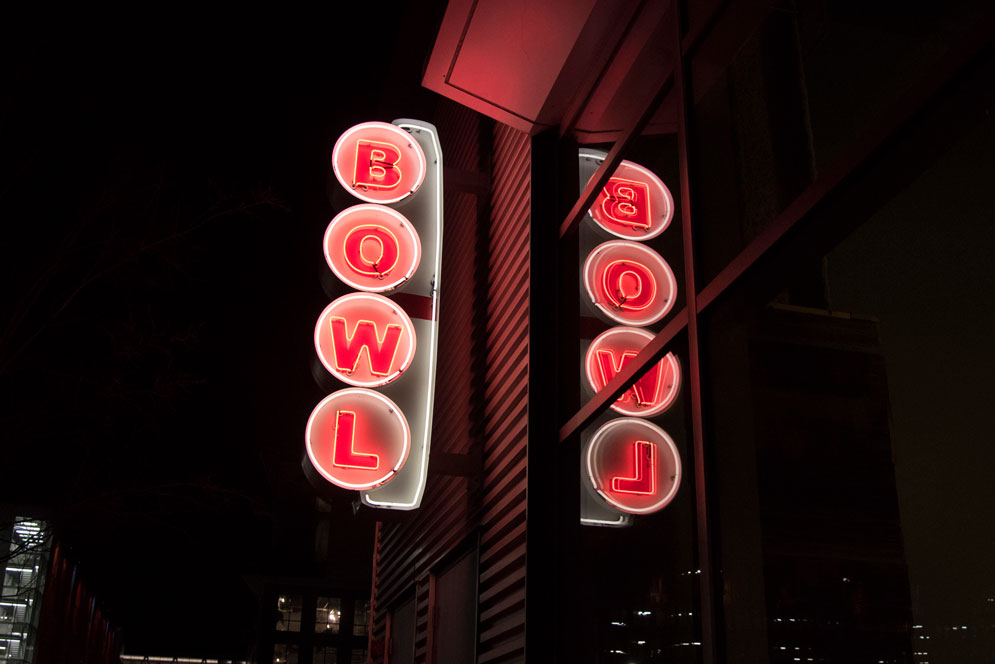 Anyone who's been to Flatbread Company at Sacco's Bowl Haven in Somerville's Davis Square will tell you that combining delicious flatbread pizzas and New England's famous candlepin bowling under one roof is a surefire prescription for a good time. But if you live on the BU side of the Charles, getting to Somerville isn't always convenient—a reason many were delighted when Flatbread's newest outpost opened in Brighton in November. Like its Davis Square counterpart, it serves up both bowling and pizza. (Most other Flatbread locations are pizza-only.)
We stopped by Flatbread Brighton early on a recent Tuesday night, when the restaurant was hosting one of its regular charity benefits, this one for kids' nonprofit Playworks. Not surprisingly, there were a lot of children there. However, by 7 pm, the crowd had begun shifting toward mostly 20-somethings. Weekend nights typically draw more young adults than children.
Walking into Flatbread, we noticed first the décor and the size. At more than 12,000 square feet spread over two floors, it's spacious and inviting. The interior is rustic, with lots of wood accents and the chain's signature wood-fired dome ovens. The main floor has a seven-lane bowling alley, a dining room, and a very long bar serving up inventive cocktails made from New England–only spirits, like the popular Buzzin' n Bowlin, made with Mad River whiskey, grapefruit juice, and honey. There is also a wide selection of local beers on tap. The bar's several television screens are tuned to various sporting events, and it's also a great place to people-watch, as the bar overlooks the lanes.
In addition to the first floor lanes, two more are tucked away on the floor above (those are often reserved for private events). But be warned: the wait for a lane on a Saturday night can be as long as four hours. Flatbread does take reservations, but only for parties of eight or more. So best to either get a big group together so you can book a lane in advance or head over before 7 pm on a Saturday. We had called ahead to get a lane, but other visitors on this weeknight had a wait of less than half an hour.
For the uninitiated, candlepin bowling is a regional game, using smaller, heavier balls and straighter, thinner pins than you would find in ten-pin bowling. It can take a little getting used to. We didn't manage to knock any pins down in our first frame, but eventually we got more of a feel for it.
The bowling is decidedly old-school here. There is no digital scorekeeping—it's pen and paper all the way. Players can opt to use bumpers or not, and need to push a button to reset the pins. Interested in seeing what goes on behind the scenes? Simply walk past the bar and hang a left to get a view of the back of the lanes, where the pins are set up.
We put in our pizza order before bowling. We chose one of the specials, which change every Friday. Ours was a veggie margarita pizza ($20.75 for a large). Starting with a flavorful gluten-free crust, the pizza was topped with fresh Roma tomatoes, mozzarella, basil, and parmesan cheese. The addition of a balsamic drizzle tied the whole dish together. Fair warning: a large pizza likely won't feed more than two people.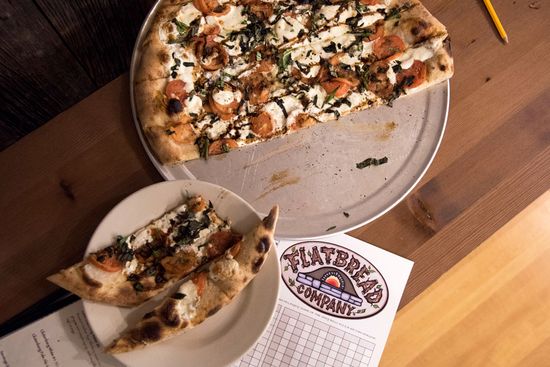 Our server recommended the Punctuated Equilibrium ($12.25 for a small, $19.75 for a large). It comes with olives, red onions, goat cheese, mozzarella, roasted sweet red peppers, herbs, and olive oil, and is among the permanent menu's standouts. Another popular pizza is Mopsy's Kalua Pork Pie ($13.25 for a small, $20.75 for a large). You can choose from either smoked free-range pork shoulder or oven-roasted free-range chicken, and it's served with a homemade organic mango BBQ sauce, red onions, fresh pineapple, goat cheese, parmesan cheese, mozzarella, and herbs.
All of the pizzas are wood-fired, and you can watch yours being made. Best of all, they'll bring your pizza to you as you bowl, an option we took advantage of. Flatbread also offers several organic salads, as well as desserts, including a homemade brownie sundae, a root beer float, and an ice cream sandwich.
With reasonably priced food and bowling lanes costing just $30 an hour, Flatbread Company Brighton is the place to gather with a large group of friends for an inexpensive night out.
Flatbread Company Brighton, 76 Guest St., is open daily from 11 am to 1 am and accepts all major credit cards. Reservations for parties of eight or more can be made by calling 617-903-4595. Take a #57 bus to the Cambridge St./North Beacon St. stop. There is also $5 validated parking at the 80 Guest Street Garage.
This is part of a series featuring Boston nightlife venues of interest to the BU community. If you have any suggestions for places we should feature, leave them in the Comment section below.
 Sara Frazier (COM'20) can be reached at smfrazie@bu.edu; follow her on Twitter at @Sara_Frazier.