Medical Campus Sees Eight New Full Professorships
Research on cancer biomarkers, health care corruption, implant dentistry rewarded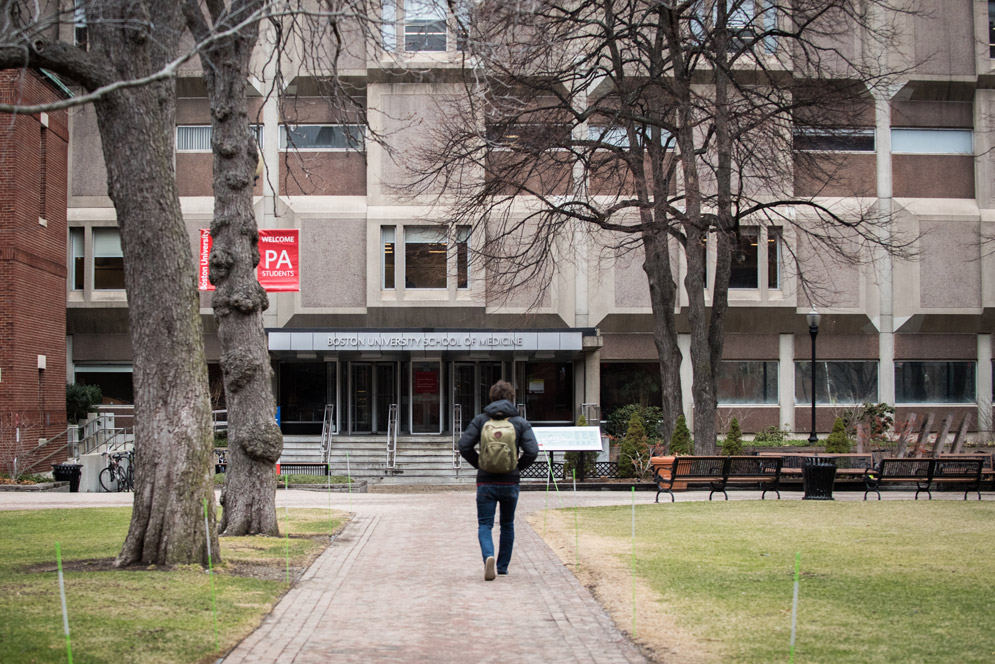 At the BU School of Medicine, Tony Godfrey dedicates himself to finding molecular biomarkers for esophageal cancer, while Susan Minear devises training programs for healthcare professionals working with newborns addicted to opioids. And at the School of Public Health, Taryn Vian exposes healthcare corruption in developing countries. That research and other equally groundbreaking scholarship has helped eight Medical Campus associate professors receive promotions to full professor.
"These faculty, representing the Schools of Medicine and Public Health and the Henry M. Goldman School of Dental Medicine, have strong national and international reputations in their field," says Karen Antman, dean of MED and provost of the Medical Campus. "We congratulate them on their significant accomplishments and recognition."
The full list of promoted professors:
Albert Price (SDM'74), Goldman School of Dental Medicine professor of periodontology
Price is a well-known expert with more than 40 years of experience in clinical care and the teaching of implant dentistry and periodontics. He has written numerous book chapters and published papers on wound healing, surgical implants, bone grafts, and augmentations. A fellow of the International College of Dentists, he belongs to numerous dental societies, such as the American Dental Association, the International Association for Dental Research, and the American Academy of Periodontology. In addition to his current teaching and research work, he is developing a digital dentistry curriculum in collaboration with Jess Liu, an SDM clinical assistant professor.
Tony Godfrey, School of Medicine professor of surgery and associate chair for surgical research
Internationally known for his expertise in cancer genetics and molecular pathology, Godfrey and his lab are currently focused on a condition called Barrett's esophagus, which is associated with chronic acid reflux, as well as an increased risk of esophageal cancer. His lab works closely with Translational Research teams of surgeons, pathologists, and oncologists to develop new molecular approaches to cancer detection and treatment. Godfrey's work has appeared in 74 peer-reviewed publications and 4 textbooks, and he is often cited as a principal or co–principal investigator in numerous National Institutes of Health and foundation research grants.
Susan Minear, MED clinical professor of pediatrics
Minear is the cocreator of the Newborn Behavior Observation Curriculum, being used by newborn care professionals in 19 states and 13 countries. She helped develop the Eat Sleep and Console Training for professionals who care for infants exposed to opiates prenatally, which is being disseminated throughout New England. Minear has more than 20 years of experience in clinical care and teaching in childhood primary care and development, as well as in newborn medicine. Since 2009, she has been the medical director of Baby Steps, an outpatient clinic at Boston Medical Center (BMC) that works to prevent failure to thrive syndrome and promote early intervention strategies for at-risk infants.
Michael Silverstein, MED professor of pediatrics and director of the division of general pediatrics
Silverstein is widely recognized for his work in family-based mental health, including maternal depression, traumatic stress, and addiction in newborns and infants. A Harvard Medical School graduate with a master's degree in public health from the University of Washington, he is committed to working with low-income and underserved children. He is BMC's associate chief medical officer for research and population health and has been the principal investigator in numerous studies funded by the National Institute of Mental Health, the National Institute of Child Health and Human Development, the Health Resources and Services Administration, and the Patient-Centered Outcomes Research Institute.
Kevin Wilson, MED professor of pulmonary, allergy, sleep, and critical care medicine
Wilson is an expert in developing evidence-based clinical practice guidelines on the management of various pulmonary disorders. He has twice been awarded the Presidential Commendation from the American Thoracic Society, and he founded the society's training program in guidelines and methodology, the first of its kind. His peer-reviewed articles have been published in several pulmonary journals, among them the American Journal of Respiratory Critical Care Medicine, the European Respiratory Journal, Virology, and Biochemistry. He has received the pulmonary, allergy, sleep, and critical care department teaching award and has mentored 22 fellows.
Gheorghe Doros, School of Public Health professor of biostatistics
Doros evaluates the stresses of caregiving on physical and psychological health and develops methodological approaches to the design and analyses of clinical trials, with an emphasis on clinical trial data. He earned a PhD from Yale University and joined BU after two years at Eli Lilly as a member of the company's Drug Discovery and Toxicology Department. He has published more than 130 peer-reviewed journal articles in such publications as JAMA, Statistics in Medicine, Lancet, and the Journal of Vascular Surgery and has been cited more than 2,000 times. He has won three SPH Excellence in Teaching awards.
Wendy Heiger-Bernays, SPH professor of environmental health
Heiger-Bernays studies the adverse health effects of environmental hazards, such as endocrine-disrupting chemicals in water. The leader of the Research Translation Core of BU's Superfund Research Program, she collaborates with other researchers to understand the migration patterns of contaminants in municipal compost and soils in urban gardens. A WBUR "Commentary" by Heiger-Bernays and others, "Measuring the Health of the Climate by How Sick We Aren't" was recently posted. With a reputation for rigor in the classroom, she has received several teaching awards, including the Norman Scotch Award, SPH's highest teaching honor.
Taryn Vian (UNI'10), SPH clinical professor and associate chair of global health
Recognized internationally for her scholarship and advocacy for the study of corruption in healthcare and her advocacy for accountability in governance, Vian has analyzed healthcare systems in more than a dozen developing countries, with funding help from USAID, the World Health Organization, and the United Nations Development Programme. She has examined informal payment systems in Albania, Vietnam, and Moldova, analyzed financial reforms in Lesotho public hospitals, and governance in maternity waiting homes in Zambia. Vian also developed an online course on healthcare corruption that is offered globally, and she is the recipient of seven teaching awards, including the SPH Norman Scotch Award.
Megan Woolhouse can be reached at megwj@bu.edu.