ENG's Chris Chen Receives Pritzker Distinguished Lecture Award
Pritzker Distinguished Lecture Award is the Biomedical Engineering Society's premier recognition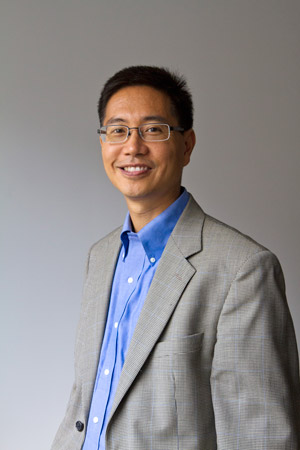 Christopher Chen, a Boston University College of Engineering professor of biomedical engineering and materials science and engineering, has been selected to receive the 2019 Robert A. Pritzker Distinguished Lecture Award, the premier recognition by the Biomedical Engineering Society (BMES) for outstanding achievements and leadership in the science and practice of biomedical engineering.
"I'm honored to receive the Pritzker Award and join the highly distinguished list of past recipients to champion the importance of biomedical engineering," says Chen. "I'm looking forward to sharing our work at the annual BMES meeting next October."
Chen's research focuses on regenerative medicine, and specifically how everyday physical and mechanical forces that cells and tissues experience affect how they organize, function, and go awry in disease. In his early work, he developed microfabrication-based cell culture technologies and used them to elucidate how cell shape affects whether a cell lives or dies, or which types of cells stem cells become; these studies inspired an entire field of work at the interface of micro- and nanotechnology and biomedical research. Most recently, his research has focused on organizing cells and biomaterials to mimic tissue architecture, and to use those biomimetic cultures to advance the understanding of disease and regeneration.
Chen is the director of the Biological Design Center and deputy director for the National Science Foundation Engineering Research Center for Cellular Metamaterials, which are both housed at Boston University. He is also a member of the Harvard Wyss Institute for Biologically Inspired Engineering.
BU is one of only two institutions to have two professors receive this honor; James Collins, a pioneer in synthetic biology, was the 2014 recipient.