Retiring Dining Services Director Reflects on Two-Plus Decades of Changes
Barbara Laverdiere: today's diners pass on Jell-O molds, scarf up the miso-roasted salmon
2.5 million, 3 million, 677,000.
Those are the number of meals served last year at BU dining halls, the number of patrons at University retail food locations, and the number of guests served at catered events on campus. And all of them were overseen by Dining Services, whose director, Barbara Laverdiere, is retiring today after nearly two and a half decades with the University.
Working in the food service industry was a sharp career detour for the Dartmouth geology and geography major, who started her work life as a buyer for Macy's flagship store in New York City and was later promoted to senior vice president. But a chance meal with a friend one night at the renowned Culinary Institute of America (CIA) turned out to be life-changing. Laverdiere had always loved food and cooking, but hadn't realized there were schools where you could learn to become a chef. She applied to the program and two weeks later was enrolled in its chef-training program, the sole woman in most classes.
"I sold my car and everything I owned and gave up my New York apartment to do it, and I never looked back," she says. For her internship, she fought her way into the kitchen at Boston's Four Seasons Hotel, the only woman working in the kitchen at the time. After graduating from CIA, Laverdiere joined Aramark, the international food service provider that counts BU among its clients. Laverdiere has been at the University for the last 24 years.
The rest is BU history. Laverdiere "oversaw a progressive and diverse array of culinary operations on an enormous scale (think small city), but still believed that every meal served to students, faculty, staff, alumni, parents, and visitors required individual attention," says Peter Smokowski, BU's vice president for auxiliary services. "She is an unsung hero and a respected colleague whose work fostered community connections."
We asked Laverdiere to discuss the changes in student dining she's seen over the decades.
BU Today: How many facilities does Dining Services run?
Laverdiere: Dining Services has three large residential locations—the Marciano Commons dining room at 100 Bay State Road, Warren Towers, and West Campus—as well as the Food Court in the George Sherman Union, a kosher/vegan dining room, four Starbucks, Dunkin' Donuts, Einstein's, Jamba Juice, Raising Cane's, Breadwinners in Questrom, Healthy Blends in the FitRec Center, Bay State Underground in Marciano Commons, Rhett's West in Claflin Hall, Law Café, Buick Street Market, and Fuller's Pub in the Dahod Family Alumni Center.
We had dining halls in Shelton, Myles, and Towers 30 years ago, in addition to West and Warren. The three smaller locations were sorely in need of renovation. After considerable research, the decision was made to build a new state-of-the-art dining hall that would better serve the needs of East Campus residents. Marciano Commons was opened in September of 2012 and continues to be wildly popular with students.
There had been two dining halls on West Campus, one in Sleeper and one in Claflin. In 2000, a major renovation took place, and these dining halls were combined into one large space. Warren Towers has gone through several renovations, with the latest makeover adding a gluten-free and an Asian station.
In the mid-80s, the GSU was your traditional campus center. Nothing was prepared out front. Everything was prepared in the back of the house and sent out in stainless steel pans. There was no grab and go, no national brands, not even Starbucks.
How have students' dining tastes, and the options provided by BU in response to them, changed over the years?
Back in the day, popular menu items in the residence halls included chipped beef on toast, chicken à la king, Jell-O molds, and ambrosia salad. These items have been replaced with the likes of spicy miso-roasted salmon with wasabi and tamari syrup, jerk chicken with plantains, and shrimp pesto pizza.
Students have far more sophisticated palates than in the past. They've grown up with the Food Network. They have been exposed to authentic ethnic cuisines from around the world in addition to regional specialties in the United States.
How has the presence of international students affected the menu?
The increase in international students has had a dramatic effect on what we do. The Asian Station in Warren Towers and Basho Sushi, in both the GSU Food Court and at Basho Express at 700 Comm Ave, were built in response to the large number of students coming from Asia. Theme dinners with international flavors and recipes are scheduled throughout the year, usually with the support and guidance of student groups.
What are the biggest changes in nutrition standards that Dining Services has had to keep abreast of over the last 25 years?
Allergies and special dietary needs represent perhaps the greatest change in the program. Each of the dining halls has a gluten-free pantry, open only to those students who have spent time with a nutritionist from Sargent College and understand how important it is to avoid cross-contact. Warren Towers and Marciano Commons actually have gluten-free kitchens completely separate from other cooking areas, with dedicated equipment. West Campus has a gluten-free ingredient station.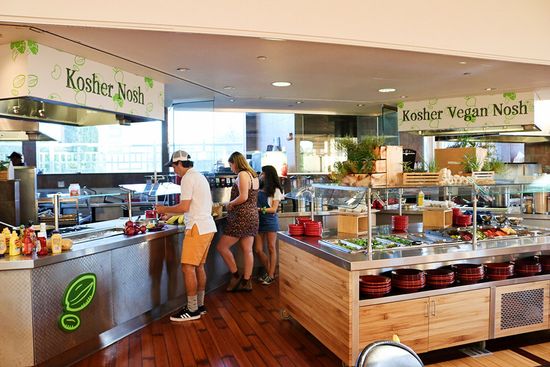 Special meal requests are dealt with every day. Dining Services prepares individual meals for approximately 20 students who have severe, life-threatening allergies. Students notify us on a daily basis as to what they would like for lunch and dinner, and cooks who have received special training then prepare these meals following strict guidelines to avoid contamination. Menus include a list of ingredients so that students can self-manage their diets if they prefer. Ensuring that we are providing accurate information to students with severe allergies is one of our greatest challenges.
Vegan/vegetarian stations are found in the three large residential locations as well as at Granby Commons, where a kosher/vegan station is located. The number of students looking for a plant-based diet is growing quickly and is an area that will continue to be expanded as we look at our menus. Previously, very few students paid attention to the caloric or nutritional values of the food they consumed. Though students still enjoy a good burger and fries on occasion, they are cognizant of their overall diet and try to make balanced eating choices.
Engagement and connection with students via social media is something that didn't exist 30 years ago. Student feedback is a big part of the dining program and helps guide decisions about what changes are or aren't made.