Studying the Benefits of Humility
Danielsen Institute engaged in multiple studies on the subject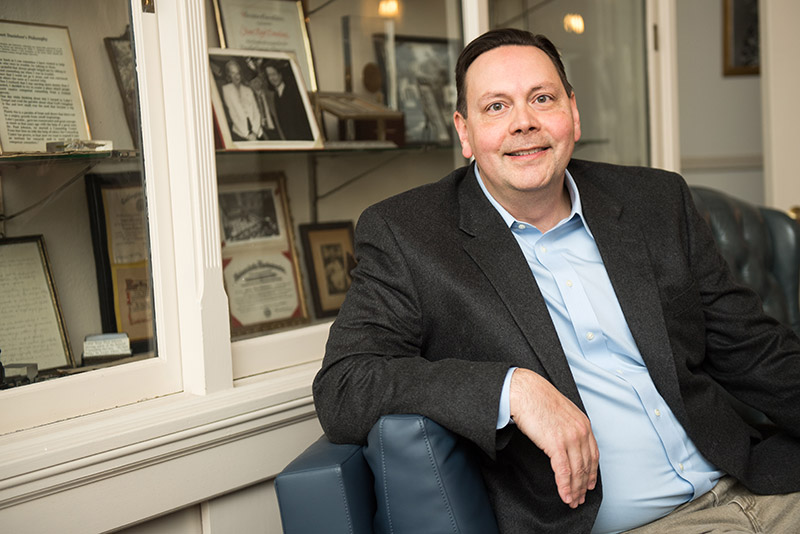 In this era of Donald Trump, marked by psychological speculation about the president's seeming narcissism, Steven Sandage, director of research at Boston University's Albert & Jessie Danielsen Institute, is spending a lot of time and money with institute colleagues engaged in a bit of counterprogramming.
They're studying the benefits of humility.
During a campaign debate, Trump himself joked about his lack of that virtue. Asked what Secret Service code name he'd like, he got laughs with his response: "Humble." And it's not just the commander in chief. A 2009 book by two psychologists, The Narcissism Epidemic: Living in the Age of Entitlement, argues that there has been a rise in the number of people with narcissistic traits as well as an increase in narcissism in our broader culture, witnessed by an increase in materialism, self-promotion, entitlement, and public aggression.
But in a 2016 study, researchers, among them Sandage, the Albert and Jessie Danielsen Professor of Psychology of Religion and Theology at the BU School of Theology (STH), and David Paine (SED'17) found that humility is a valuable trait for trainees in therapy and pastoral counseling. If humble, they were more willing to understand ethnic cultures different from their own, according to the study. Published in The Family Journal, that study was one of roughly a dozen, recently completed or ongoing, that have made Danielsen the Humility Central of research.
The institute is riding a wave of scholarly inquiry into all sorts of virtues; for example, Sandage says, there have been more than 50 clinical trials that explore how people can learn to be more forgiving. At Danielsen, "we wanted to investigate the potential benefits and challenges of humility for clients, clinicians, and religious leaders in community settings," he says.
Long story short: you can teach people to be more virtuous.
"It's hard to take someone from the basement to floor 30, but can people make some progress? Yes," says Sandage, who has a joint appointment at the BU College of Arts & Sciences. "We need more of this clinical intervention research with humility."
By "humility," he means "realistic self-awareness of one's strengths and limitations, the capacity to regulate emotions of shame and pride, and a concern for others." Keeping pride in check obviously makes one humble; those who can't may suffer from what psychologists call "grandiose" narcissism (having an unrealistic sense of superiority and viewing others as inferior). Less obvious is "vulnerable" narcissism, where a sense of inferiority leads the narcissist to idealize someone else as great. Both forms share a lack of empathy for other people's perspectives, Sandage says, with vulnerable narcissists seeking "to hook their wagon to someone who's powerful and great and admirable. And then they can sort of bask in the glory of that person."
He and Claire Wolfteich, an STH professor of practical theology and spirituality studies, are starting a two-year project, tapping part of a $1.8 million grant from the John Templeton Foundation, to research humility among religious leaders.
Using psychological metrics of humility, the duo will collect data on 500 religious leaders. To guard against subjects falsely claiming to be humble—a possibility given that religion tends to value humility—Sandage says the researchers will include control questions to detect how much distortion interviewees might bring to their answers.
The work will also include a workshop to test whether psychological and spiritual practices can train leaders in healthy humility and how it might help them in their jobs. It's not as obvious as it might seem. Wolfteich notes that religious leaders must square "humility and stillness" with their need to be "prophetic and engaged" in the noisy public square. Congregants can idealize their leaders as God's representatives, even though the latter are well aware of their own human flaws, Sandage says.
"Many religious leaders who aren't excessively narcissistic get kind of anxious," he notes. They also deal with being underpaid, working long hours, counseling their flocks on serious personal issues, and being the butt of criticism from congregants. He says a previous Danielsen study found post-traumatic stress disorder in one Christian denomination's clergy that "was higher than that of post-deployment soldiers." (The denomination has requested not to be identified.)
The study will probe how healthy humility can help leaders handle such stress. Wolfteich also hopes to explore humility's "gendered dimension" and whether playing up humility's importance reinforces "existing power differentials in society and church."
Beyond religion, the institute has researched humility among its psychotherapy clients and now includes humility measures in their medical records, as measured by their answers to the same sorts of questions used in other humility studies. These enable counselors to track changes in humility over time. The research found that clients who were humbler when measured were doing better in "psychosocial functioning." In a way, that's obvious—clients walking through the Danielsen door are humble enough to admit they need mental health help and not so ashamed that they consider themselves hopeless cases.
"We have about 300 clients at any given time, and I'm hopeful that most of those clients will consent to participate in the research," Sandage says. A broader study of about 1,500 clients found that over the course of their treatment, they tended to lose an earlier sense of being more important than other people, "which is a good sign," he says.
---
Are you humble?
These are some of the questions the Danielsen Institute uses to measure clients' humility. Indicate to what extent you personally identify with each statement by marking yourself on a scale from 1 to 5: "1" means you don't identify at all with the statement; "5" means you fully identify. The average person scores 30.
To view myself more honestly, I am willing to face things I don't like about myself.
I get upset when my achievements are not acknowledged by others.
When I do something well, I tend to focus on how it benefits others.
Getting special attention from others is important to me.
I know I can learn from other people.
I have difficulty accepting advice from other people.
I generally have a good idea about things I do well or do poorly.
When presented with ideas different from my own, I often feel enlightened.