Science Coalition: Federal Funding Sparks Innovation
A trio of BU start-ups among 102 cited as fruits of government research grants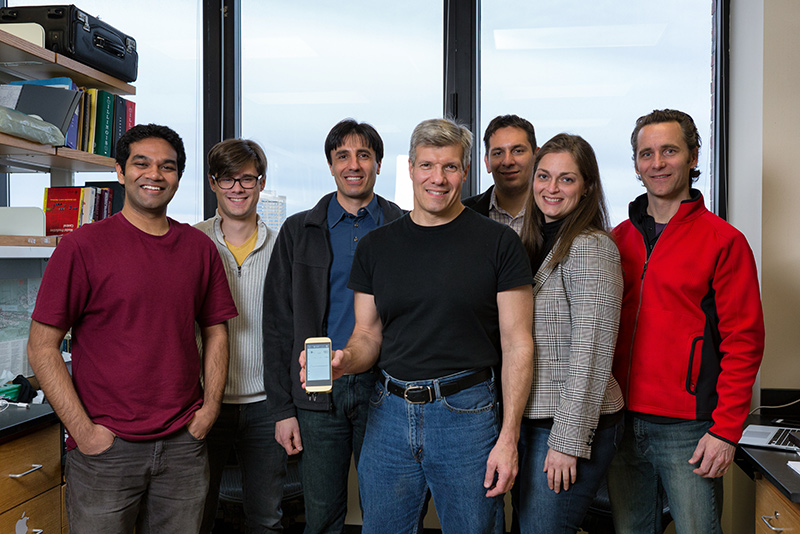 One company has created an artificial pancreas that automatically regulates blood sugar levels in people with type 1 diabetes. Another is developing novel therapeutics to treat Alzheimer's disease. A third was an early provider of big data solutions, pioneering state-of-the-art network traffic analysis that detects the spread of computer viruses and other malicious activity.
The start-ups, born in Boston University labs, are 3 of 102 young companies featured in a report on the benefits of federally funded research that was released on April 25, 2017, by the nonprofit, nonpartisan Science Coalition. The report, American-Made Innovation Sparking Economic Growth, documents the ways that these companies and others are bringing to market transformational innovations in areas ranging from health care to defense and are contributing to US job creation and economic growth. The report's release coincides with Congressional consideration of funding for America's science agencies, which is threatened by cuts proposed by the Trump administration, including a reduction of 18.3 percent, or about $5.8 billion, of the National Institutes of Health (NIH) budget.
The Science Coalition is an organization of more than 50 of the country's public and private research universities, including BU.
Not long after his infant son was diagnosed with type 1 diabetes, 17 years ago, Ed Damiano, a BU College of Engineering (ENG) professor of biomedical engineering, began working on a technology that could automatically manage his son's glucose levels. In 2015, with strong support from BU, Damiano started the public benefit corporation Beta Bionics, Inc., to bring to market his team's artificial, or bionic, pancreas, called the iLet, a pocket-sized, wearable medical device. The core technology of the iLet was developed by Damiano's research team at BU and has demonstrated in clinical trials dramatic improvements in blood sugar levels of people with type 1 diabetes.
Damiano's work on the bionic pancreas has been supported by about $22 million in NIH funding. He says that is about two thirds of the total his research team at BU has raised to build and test the bionic pancreas. "This support from the NIH has added tremendous value by allowing us to test, refine, and test again our technology in real-world, investigator-initiated clinical trials," he says. "The bionic pancreas simply would not be where it is today had it not been for our NIH-funded clinical research."
According to the Science Coalition, each of the companies in its report—including Beta Bionics–exists today because academic researchers had access to competitively awarded grants from many of the federal agencies imperiled by budget cuts. The coalition works to sustain strong federal funding of basic scientific research as a way to stimulate the economy, spur innovation, and drive America's global competitiveness. Its reports are frequently cited by members of Congress and other federal policymakers.
"Lawmakers love to see how their support for federally funded research leads to the creation of new companies and therapies that change the world around us," says Jennifer Grodsky, the University's vice president for federal relations. "We are thrilled to share these impressive BU success stories with members of Congress."
The total investment in the foundational research behind the 102 companies cited in the report was just over $265 million, spread over several decades, according to the Science Coalition report. The companies employ 8,900 workers in communities across the country. Many of the companies—like Beta Bionics—are addressing America's most chronic and costly health challenges, such as Alzheimer's, diabetes, cardiovascular disease, and cancer.
"Each one of these companies is an American innovation success story and illustrates the powerful ripple effect that the partnership between the federal government and our nation's research institutions has on society and our economy," says Glynda Becker, president of the Science Coalition. "If Washington, D.C., is serious about creating good jobs, producing American goods, and keeping the United States ahead of our international competitors, then, as this report shows, continued strong and steady funding for basic scientific research is a wise investment."
Gloria S. Waters, a BU vice president and associate provost for research, says investment in academic research is a critical driver of innovation, future economic growth, and job creation. "Not only will a failure to invest in education and research have an effect on scientific discovery," she says, "but it will also have a profound effect on the economy and job creation in both the city and the state."
In 2015, Carmela Abraham, a BU School of Medicine (MED) professor of biochemistry and of pharmacology and experimental therapeutics, cofounded Klogene Therapeutics, Inc., which develops novel treatments for Alzheimer's disease by focusing on small molecule compounds to boost levels of the large protein Klotho in the brain. The company grew out of Abraham's work on Klotho, which circulates in the blood and cerebral spinal fluid and may protect against Alzheimer's and other neurodegenerative diseases. She says that more than $2.8 million in funding from the NIH National Institute on Aging (NIA) enabled her group to conduct the research that led to the discovery of the protein.
"This was the very first program project grant from the NIA, and the BU School of Medicine had it for over 36 years," she says. "I was lucky to be a project leader of this grant for over 20 years." In 2016, Klogene won a $1.49 million NIA Small Business Innovation Research grant.
The third BU company cited in the Science Coalition report is Guavus, Inc., which was founded by Anukool Lakhina (CAS'01, GRS'01,'07) and grew out of his work as a BU doctoral student under Mark Crovella, a BU College of Arts & Sciences (CAS) professor of computer science. That research—and additional work by BU researchers that led to the founding of Guavas—was supported by about $6 million in funding from the Office of Naval Research and the National Science Foundation. Lakhina, winner of a Computer Science Distinguished Alumni Award in 2015, is the CEO of Guavus, based in San Mateo, Calif. The company develops data analysis platforms and applications that enable companies to process high-volume streaming data for business analytics and engineering; it has more than 400 employees.
"Guavus pioneered big-data analytics before the emergence of data science," says Crovella, a member of the company's technical advisory board. "Anukool Lakhina's PhD thesis benefited from cross-disciplinary collaboration between BU's departments of computer science and statistics, and the power of the resulting methods he developed led directly to the founding of Guavus. Its success has been a testament to the way that federally funded basic research attacks problems before they become mainstream, and thereby drives innovation. BU provided the ideal scientific environment to nurture the innovative contributions in Anukool's research."
According to the Science Coalition report, the initial federal research investment in the companies cited is relatively small, with 80 percent of them reporting that they received less than $5 million in federal funding for their foundational work. For 40 percent of companies, that figure was less than $1 million.
"Basic scientific research is the smallest slice of the nation's R&D pie, yet it is the spark that ignites discovery and innovation in the United States," says Anna Quider, coalition vice president. "The budget cuts for many of America's preeminent science agencies would risk an entire generation of discovery and innovation and all of the benefits that flow from it."