Occupancies Explores the World of Our Bodies
BU Art Galleries exhibition examines issues of visibility, resistance
Every once in a while an art exhibition seems to so perfectly tap into the nation's zeitgeist that it takes on a kind of urgency. Occupancies, the ambitious new show currently on view at three BU galleries, is such a show.
Displaying the work of 22 emerging and mid-career artists, the show, at the 808 Gallery, the Faye G., Jo, and James Stone Gallery, and the Annex, explores the ways individual and collective bodies create, negotiate, and inhabit space. The physical body takes on a kind of heightened political weight here, as the artists use it to express ideas about visibility—or the lack of visibility. The politically and sexually charged exhibition packs a wallop.
The very title—Occupancies—connotes images of direct action and nonviolent resistance: think the Occupy Wall Street movement of 2011, the recent Black Lives Matter protests, this year's women's marches in Washington, D.C., and elsewhere, and the countless rallies protesting the Trump immigration ban.
"'Occupy' can mean many different things," says Lynne Cooney, (GRS'10,'16), artistic director of the Boston University Art Galleries, who curated the show with Kimber Chewning (GRS'17). "We were interested in the different real and symbolic dimensions of the term. The exhibition is not really about protest movements, but alludes to acts of protest in some of the works."
Cooney says the exhibition, which includes painting, photography, sculpture, video, and mixed media, asks whether certain individuals have different kinds of access to public and private spaces than others and the various ways bodies read in different spaces. "From these questions, the exhibition considers how creating and inhabiting space or making oneself visible is in itself a form of resistance," she says.
Occupancies is notable for being the first exhibition to be held concurrently in both the 808 and the Stone Galleries, as well as the Annex. "We wanted the show to feel as full as possible, taking up all of our gallery spaces and presenting a multitude of different bodies and mediums," Cooney says. "There are so many mediums and methods artists are working in, and we wanted to represent them as best as possible."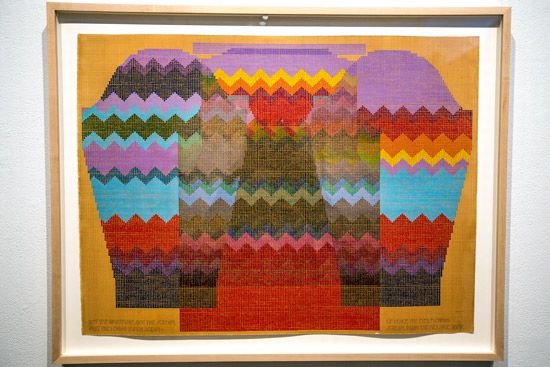 The show abounds with images of resistance that are by turns personal, poignant, and urgent. At the Stone Gallery, the viewer encounters artists who engage with the absent body. For example, a series of drawings by Ellen Lesperance was inspired by sweaters worn by female activists who committed their lives to fight for women's rights. Her geometric works on paper, which straddle figuration and abstraction, address the invisibility of female protesters.
Similarly, in Jonah Groeneboer's multichannel sound installation Double Mouth Feedback, 2015, a circle of six speakers mounted on scaffolds serves as a stand-in for corporeal bodies. The artist recorded the voices of 37 people providing vocal responses to a series of prompts, like "Make a genderless sound," or "Make the sound of your gender yesterday." The varying frequencies and pitches have been woven together to collectively imagine a new language freed from current rigid biases about gender—and the sound produced is haunting.
If the Stone Gallery focuses on the absent body, the works on display at the 808 Gallery more specifically addresses the performative body and the archival body and historical memory. Ramiro Gomez's Laborers at Lunch, 2015, is a tribute to the workforce—largely Hispanic—of the more affluent Los Angeles neighborhoods, people too often rendered invisible. Gomez presents the laborers as cardboard cutouts, surrounded by objects from the real world—coolers, thermoses, Tupperware containers, a lone paint can. Their faces are nearly featureless—particularly their eyes—underscoring the way society ignores these laborers. Similarly, the arresting painting Blue Evening, 2015, borrows heavily from David Hockney's famous California pool paintings. Like Hockney's work, Gomez's painting features heavily saturated color. But here, Hockney's affluent Caucasian swimmers and homeowners have been replaced by a dark-complexioned pool cleaner, again presented as nearly featureless to stress how certain segments of the population are ignored.
Also at the 808 Gallery are self-portraits by a number of artists using their naked bodies to make a political statement. Internationally acclaimed artist Shen Wei, based in Shanghai and New York, says his photographs allow him to explore his sense of security through "understanding the tension between freedom and boundaries," each image "at once a moment of introspection and rebellion." By capturing the juxtaposition of his body to his environment, he explores questions of confidence and sensuality—characteristics, the show notes, that are often not attributed to Asian males.
Photographer Nona Faustine uses her body as a conduit to the past. In a triptych of self-portraits shot outside the Lefferts House in Brooklyn, N.Y.—a site that has deep associations with the slave trade—the African American artist's half-naked torso becomes an act of solidarity with women who were objectified and commodified through slavery.
Ann Hirsch's mixed media installation horneylilfeminist, 2015, a series of 14 videos shown on simultaneous monitors, centers around female desire. While many of the videos focus on self-pleasure, mimicking the how-to format popularized by YouTube, others reflect the artist's ambivalence about participating in the kind of submissive female roles promoted by pornography. (A sign warns viewers that the videos contain adult content.)
Other works in the 808 Gallery consider the body in more abstract terms. For example, Indira Allegra's digital installation Blackout weaves testimonials from the families of victims of police violence with twill, the fabric used to manufacture police uniforms, to examine the ways certain narratives are obscured while others aren't. And then there's Marlon Forrester's Sideline, 2017, a mixed media installation that uses the conceptual and geometric frameworks of a basketball court to examine ideas about race. The work evolves over time, with visitors invited to add a mark, shape, or some kind of form that, the accompanying text notes, "responds to boundaries or constraints, real or imagined, that impose or inform racist stereotypes." A stack of rolls of masking tape, along with scissors and a ruler, are stacked on a table. Visitors are asked to construct some artistic symbol that addresses the question: What does resistance and community mean when your body is a tool?
Cooney acknowledges that the show—which she and Chewning began planning more than a year ago—has taken on a heightened meaning with today's changing political climate. "In the wake of recent political events in the United States, we feel it is more important than ever to provide space for underrepresented individuals to assert themselves," she says. "Making art is a way for underrepresented people to be seen and acknowledged, and our hope is viewers will come away from the show considering their own positions and with a desire to make room for others."
A special symposium tied to the exhibition, Making Room: Practicing Feminisms Today, will be held tomorrow at the 808 Gallery from 8:30 a.m. to 1 p.m., free and open to the public (RSVP below). It will consist of a roundtable on gender and equity in higher education, and two panels, The Archival Body and the Feminist Voice, and Intersectional Feminisms.
Occupancies is at the 808 Gallery, 808 Commonwealth Ave., and at the Faye G., Jo, and James Stone Gallery and Annex, 855 Commonwealth Ave., through March 26. Gallery hours: Tuesday, Wednesday, Friday, Saturday, and Sunday, noon to 5 p.m., Thursday, noon to 8 p.m., closed Monday. The exhibition is free and open to the public.
The symposium Making Room: Practicing Feminisms Today is tomorrow, Saturday, February 28, from 8:30 a.m. to 1 p.m. at the 808 Gallery. Find more information about the three panels here. The event is free and open to the public, but space is limited, so please RSVP in advance here. The panels will be followed by a community lunch and a group discussion.