Getting to Know Your Neighborhood: Dorchester
A guide to shopping, eating, and more in Boston's largest neighborhood
Encompassing just over six square miles, Dorchester is Boston's largest neighborhood. It is also arguably the city's most diverse, home to nearly a quarter of the city's population, including Irish, Polish, Vietnamese, and African American residents, as well as a large Caribbean and Cape Verdean community. Founded in 1630, months before the establishment of Boston, it is also steeped in history.
Dorchester was founded by Puritans who emigrated from Dorchester, England. Their ship, the Mary and John, landed at Columbia Point (also known as Harbor Point) in June 1630. Originally a small rural community, the town (it wasn't annexed to Boston until 1870) was the site of many national firsts: America's first town meeting was held there in 1633 and the Mather Elementary School (still in operation today), the nation's first free public elementary school, was erected in 1639. And the first chocolate factory, the Walter Baker Chocolate Factory, was established in Dorchester's Lower Mills section in 1765. First Parish Dorchester (Unitarian Universalist), at the pinnacle of Meetinghouse Hill, where the first church structure was built in 1630, is the oldest religious organization in present-day Boston. And the James Blake House, built in 1661 and now owned by the Dorchester Historical Society, is the oldest home in Boston. More recently, the country's first community health center (the Geiger-Gibson Community Health Center, originally called the Columbia Point Health Center) opened in 1965, and the neighborhood's Vietnamese Community Center was the first of its kind as well.
By the late 19th century, the neighborhood had become a popular place for Boston's wealthy families to live, the arrival of the streetcar making it possible to easily travel into downtown Boston. Dorchester officially became part of Boston in 1870, and by the early 20th century, immigrants from Ireland, Poland, Canada, and Italy began arriving, followed by a large influx of African Americans migrating from the Jim Crow South around the mid century.
After a decades-long decline, marked by high crime rates in some sections, Dorchester today is a vibrant community that retains its melting pot reputation. Comprising a number of squares and smaller sections, it's easily accessible by the MBTA Red Line and the Ashmont-Mattapan High-Speed Line or driving via Interstate 93 (the Southeast Expressway).
The city's most densely populated area, it's home to a diverse collection of museums, historical sites, restaurants, and boutiques, outdoor trails, and beaches and parks, including the 485-acre Franklin Park, considered to be the crown jewel of Frederick Law Olmsted's Emerald Necklace, a series of interconnected parks. Franklin Park has a world-renowned zoo.
Dorchester's former residents read like a who's who of Boston history and include President John F. Kennedy's parents, Joe and Rose; actor Ray Bolger (the scarecrow in The Wizard of Oz); Star Trek's original Spock, Leonard Nimoy (Hon'12); and brothers Donnie and Mark Wahlberg. Martin Luther King Jr. (GRS'55, Hon.'59) called the neighborhood home during much of the time he was a student at BU.
BU Today has compiled a list of some of the best places to explore. And because Dorchester is so much larger than many of Boston's other neighborhoods, we've organized this story a bit differently than others in our series, grouping places of interest by MBTA stops.
JFK/UMass
The JFK Presidential Library and Museum opened in 1979 on Columbia Point. The 10-acre site offers sweeping views of Dorchester Bay and is dedicated to the nation's 35th president, assassinated in 1963. The museum has several permanent exhibitions: Kennedy's 1960 presidential campaign, his time in the Oval Office, and the NASA space program he nurtured. Another portrays the Kennedy family, featuring home movies, photographs, and correspondence. One of the most popular permanent exhibitions is about former first lady Jacqueline Kennedy. The museum hosts special exhibitions related to the Kennedy family and mid-20th-century America, and is also home to novelist Ernest Hemingway's archive. There is a café and a gift shop. Seniors, college students with ID, youth ages 13 to 17, and US armed forces veterans receive discounted admission.
Adjacent to the JFK Library is the Edward M. Kennedy Institute for the United States Senate. Ted Kennedy (Hon.'70) was a distinguished member of the US Senate for almost half a century, from 1962 until his death in 2009. The 68,000-square-foot institute is dedicated to educating the public about the role of the Senate in the US government and seeks to inspire civic engagement. Visitors will find exhibitions about the Senate and educational programs designed to immerse the public in the legislative process. The centerpiece is a full-scale re-creation of the Senate Chamber, where guests can become a Senator-in-training, casting ballots on some of the current issues before the Senate. A replica of Senator Kennedy's office and reception area are also on view.
Across the parking lot from the JFK Library is the Commonwealth Museum, which traces the unique history of the commonwealth of Massachusetts. From the first public schools to the first battles for American independence to the first abolitionist newspaper, Massachusetts has been a leader in the quest for equal rights and opportunities, many of them highlighted here. Check out the museum's Treasure Gallery, which is filled with rare manuscripts chronicling the commonwealth's history. Among the highlights are the 1629 Charter of Massachusetts Bay, the Constitution of the Commonwealth of Massachusetts, and the commonwealth's original copies of the Bill of Rights and Declaration of Independence. Both the museum and the archives are free and open to the public.
The Strand Theatre in Upham's Corner opened in November 1918, billed aas Dorchester's million-dollar vaudeville and movie palace. Seating 1,403 people, the theater closed in 1969 because of declining ticket sales. Saved by neighborhood residents and federal and state grants, it is now owned by the city of Boston and is a cultural and educational resource for artists and audiences. Numerous big-name musical and theatrical acts have performed over the past three decades, including B. B. King, Phish, LL Cool J, and the Broadway musical Ain't Misbehavin'. Home to the Fiddlehead Theatre Company from 2013 to 2015, it now hosts performances from local arts groups, including Boston Baroque, the Jose Mateo Ballet Theatre's annual production of The Nutcracker, and Boston Symphony Chamber Orchestra.
Boston's self-proclaimed only contract and partner brewing facility, Dorchester Brewing Company opened in 2016. The state-of-the-art 25,000-square-foot facility provides local craft brewers who don't have their own large-scale brewery the opportunity and the space to produce, package, store, and sell their beer to the public. The adjoining public taproom offers beers made on the premises, as well as games, Wi-Fi, appetizers, and fresh beer to go. The company was started by several local professionals who love craft beer and wanted to invigorate Dorchester's development. There's outdoor seating in front of the brewery and plenty of seating indoors, including countertop stools in front of large windows overlooking the brewery floor. Click here to see what's currently on tap.
With its bright purple exterior, it's impossible to miss the Sugar Bowl, the popular ice cream and coffee shop that has become a huge hit with locals and visitors. The interior is a hodgepodge of furniture, accented by marble columns and a tin ceiling. The affordable menu includes breakfast sandwiches and hot and cold subs and sandwiches, many for under $5. But it's best known for its ice cream desserts featuring local favorite Brigham's ice cream. Crowds line up the famous banana splits, sundaes, root beer floats, raspberry lime rickeys, and frappes.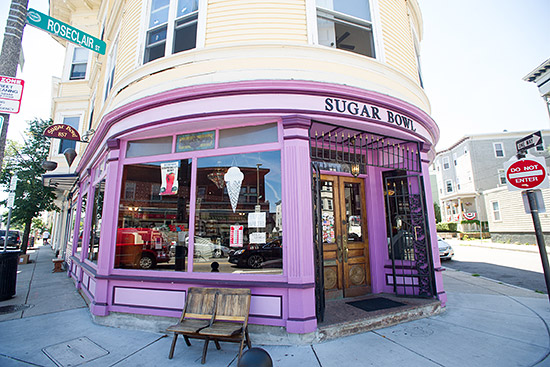 The Banshee Pub claims to be the number one bar and restaurant in Boston for watching domestic and European sports. "If your game is being broadcast in North America, then you can rest assured that the Banshee will be showing it," says its website. And with 10 flat-screen televisions and two floors, chances are you'll find your team, whether it's a European soccer team or Gaelic football club. You can check to see which games are playing on the Banshee's calendar. The two-story Irish pub serves brunch, lunch, and dinner in addition to bar bites and beer. Menu highlights: buffalo chicken tenders, nachos, sandwiches, burgers, flatbread pizzas, and beer-battered fish and chips. There's a weekly Trivia Night on Wednesdays.
Priding itself on contemporary American cuisine and a down-to-earth, friendly staff, this restaurant is open daily, but only for dinner weekdays—on weekends it opens early for brunch. In addition to salads and sides, 224 serves mouthwatering main courses like pan-seared scallops with spring succotash, bacon onion relish, beurre blanc, and crispy garlic, or red snapper with tomato and avocado salad, salsa verde, and soft herbs.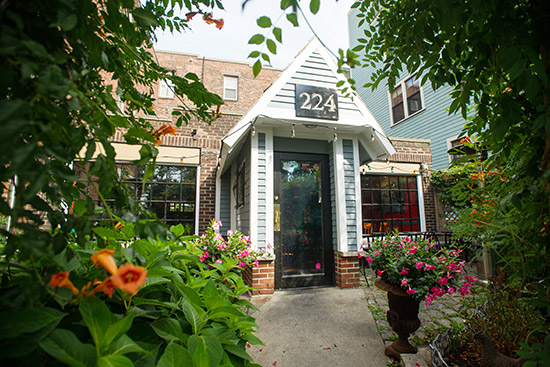 Savin Hill
Savin Hill Beach
Bounded by Playstead Road and Morrissey Boulevard
Savin Hill Beach offers much-needed respite for city dwellers on a hot summer day. It is one of three public beaches comprising the Dorchester Shores Reservation. In addition to its protected swimming area, there are baseball fields and a tot lot. Designed by the famous Olmsted Brothers landscape firm, it was one of the most popular beaches in Boston, along with nearby Malibu Beach, until the 1960s, when a lack of upkeep lost its patrons. But the beach has been re-sanded and new, upgraded landscaping added to the surrounding beachfront area.
A true Dorchester original, opened in 1999 by two longtime Dorchester residents, the restaurant prides itself on its neighborhood spirit, tradition, friendly service, and large portions of excellent food. Breakfast begins at 5:30 am (6:30 am on Sundays), but the breakfast menu is available all day and includes classic fare like omelets, pancakes, French toast, and waffles. It also serves lunch (no dinner): dishes like chicken Parmesan and pasta, juicy steak tips, crab cake BLT, and veggie burgers. It serves traditional Irish breakfast items like Irish sausage and black and white pudding, a nod to the many Irish immigrants who make Dorchester their home. Another popular draw is Fish Friday: fried or baked fish, served with coleslaw.
Open daily for lunch and dinner, and for brunch on weekends, this restaurant underwent extensive renovations several years ago and now has oversized windows, plush seating, reclaimed oak, and an open kitchen design. The expansive drink menu has wines, beers and ciders, and creative cocktails. There are daily specials, like $1 oysters on Monday afternoons, trivia on Tuesday nights, and Taco Thursday, where you can get three tacos for $12.
Dorchester is home to many of Boston's finest Vietnamese restaurants, and Savin Hill's Banh Mi Ba Le is one of the best. All of the food—including lo mein, spring rolls, dumplings, and sticky rice with banana—is prepared fresh in-house and customers can customize their orders. The prices are another big draw; many items cost only a few dollars. Try the fresh-squeezed sugar cane juice and the delectable desserts.
DBar
1236 Dorchester Ave.
Dbar is a full-service restaurant that transforms into a nightclub and lounge as the evening progresses. With a sleek, dark, and moody interior, it's open daily for dinner and Sunday brunch. The seasonal menu draws on local ingredients where possible and is overseen by noted chef Chris Coombs: adishes like tuna ceviche; penne Bolognese with veal, beef, and pancetta in a creamy tomato sauce with Parmigiano-Reggiano and fresh herbs; and the popular Giannone chicken under a brick—a crispy-skinned organic chicken with mashed potatoes, grilled asparagus, and a mushroom-Madeira jus. On the cocktail menu are orange jalapeno margaritas, espresso martinis, the eatery's backstreet bourbon, a blend of pomegranate, limoncello, basil, and bourbon, and more. It's not unusual to see patrons dancing to 1980s hits. Dbar's Showtune Tuesday, a sing-along of Broadway show tunes, has become especially popular.
Specializing in Cape Verdean cuisine—a fusion of Portuguese and West African cooking—this spot is reasonably priced and includes traditional favorites like fish, quail, canja (a local chicken soup), katchupada (a spicy stew of pork, beans, kale, and hominy), and cabriada (stewed goat). Cesaria's spacious interior has ample seating and the staff, most of Cape Verdean descent, create a warm, welcoming atmosphere. Live music is performed most nights and during Sunday brunch, and the cocktail menu is extensive.
Jerk
310 Bowdoin St.
Jerk, in the Bowdoin Street neighborhood, takes its name from the Jamaican staple jerk chicken. Food, fun, and a friendly atmosphere converge at this trendy upscale Jamaican restaurant showcasing traditional Jamaican food like oxtail and curry chicken while incorporating distinct American influences. The cozy dining room has bamboo-covered walls hung with Jamaican artwork. A steady selection of reggae music fills the room. Note: Jerk is closed on Sundays.
Fields Corner
Boston Winery (via #210 bus)
26 Ericsson St.
Boston Winery, founded in 2006 by Italian vintner Raffaele Bruno, says it's Boston's only winery. Bruno grew up in a family of vintners in Abruzzi, Italy, and later managed a bakery in the North End before venturing into the wine business, puts his own twist on grapes from California and Europe, creating one-of-a-kind blends. It sells its own Boston Winery brand, with a selection of crisp whites and flavorful reds, all made naturally without added sulfites or preservatives. The Italian-inspired winery also offers winemaking tutorials as well as tours and tastings Thursday through Sunday afternoons—21+ only. Reservations are recommended, as space is limited.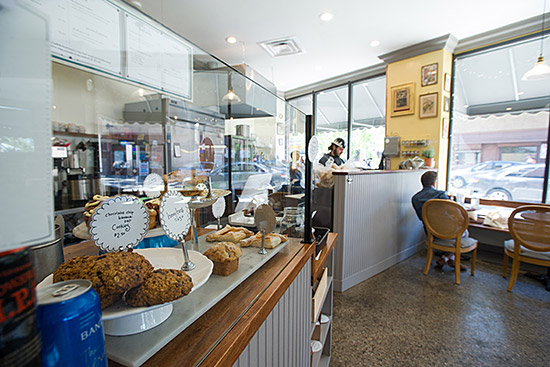 The 72-acre Franklin Park Zoo, nestled inside Boston's largest city park, is home to more than 220 species of animals in a variety of habitats, including an outback trail featuring kangaroos, kookaburras, and emus; a savannah, home to Masai giraffes; and Serengeti Crossing, four acres of grassland and wooded hills where the zoo's Grevy's zebras, ostriches, and wildebeests live. Opened in 1912, the zoo is operated by Zoo New England, a private nonprofit committed to conservation. Open year-round and attracting about 400,000 visitors annually, Franklin Park Zoo features one of the world's best indoor gorilla exhibitions as well as a tropical rain forest.
Home.stead is an oasis of quiet in the heart of bustling Field's Corner. The quaint café in the historic Lenane Building is both a meeting place for friends to gather and a laid-back setting for those looking to get work done. Open daily for breakfast and lunch, the café offers fresh bagel sandwiches, burritos, homemade sesame granola, soups, salads, sandwiches, and pressed panini. It's all delicious, and servers are friendly and helpful. The menu's sandwiches include the Little Chickpea, smashed chickpea salad with avocado, cilantro, and sea salt on toasted seven-grain bread, and the Hot Norwegian, smoked salmon, cream cheese, avocado, and Sriracha mayo. There's ample seating, but home.stead is also a great option for anyone looking to grab a fresh pastry and hot drink to go. A constantly changing array of photographs by local artists decorates the walls and all are available for purchase.
Dot Café
1459 Dorchester Ave.
This reasonably priced, unpretentious café just steps away from the Field's Corner MBTA stop is popular for breakfast and lunch. The menu is small but portions are generous; breakfast begins daily at 6 am and it's open until midafternoon. You'll find staples like French toast, omelets, pancakes, bagels, and breakfast sandwiches in the morning. For lunch there are burgers, hot dogs, sweet and salty pork chops with rice, a sunny-side up egg with a side salad, and bot chien, a traditional Vietnamese dish of a fried rice flour cake served over eggs. The Vietnamese iced coffee and tea complement the more savory dishes. Warning: the lines can be long, so be prepared to wait. You can also order food to go.
Coco Leaf
1480 Dorchester Ave.
Vietnamese dessert and drink shop Coco Leaf is a good place to indulge your sweet tooth. The self-described dessert café is famous for its traditional sweet Vietnamese beverage ché, packed with sweetened beans, tapioca, and fruit. The eponymous ché, the coco leaf, is made from pandan jelly, red and white beans, hot luu, mung beans, coconut milk, coconut meat, and chia seeds. Those prefering something less adventurous can select from Thai iced tea, bubble teas, passion fruit and mixed berry smoothies, or traditional iced coffee. It also serves a variety of sweet and savory crepes, such as the Trai Cay, filled with mango, lychee, pineapple compote, and toasted coconut flakes, topped off with vanilla ice cream, strawberry pocky, and whipped cream.
It's easy to walk past the Dorchester Art Project (DAP); its tiny green door, small sign, and unassuming entryway blend into the street landscape. But inside, it hums with the creative energy of local artists creating a range of eclectic art. DAP houses14 artists' studios, a gallery, and a performance space, providing a needed venue for up-and-coming artists to showcase their work. Outside arts groups can use the space to hold events. DAP also works with local arts organizations and businesses to offer art education programs for youth. Find a list of upcoming events here. Exhibitions rotate every six weeks. The gallery is open Saturdays and Sundays noon to 6 pm when a show is up, and by appointment in between.
A Dorchester institution for more than 35 years, the Blarney Stone has the distinction of being the first bar in the country to sell draught Guinness. Today the historic bar/restaurant specializes in modern American comfort and bar food: beer-battered fish and chips, soups, salads, sandwiches, and flatbreads. The bar has a variety of wine, beer, and cocktails, including a pomegranate cilantro margarita with blanco tequila, lime vodka, agave syrup, fresh lime, and Powell & Mahoney pomegranate. It's open for Sunday brunch from 11 am to 3 pm, serving favorites like avocado toast, breakfast nachos, and shakshuka. There's a trivia night each Wednesday from 8 to 10 pm, Taco Tuesdays feature $2 tacos from 4 pm to closing, and every Thursday from 4 to 7 pm it's Buck-a-Shuck oysters. It was named best neighborhood bar in Fields Corner by Boston magazine in 2017.
The self-proclaimed "coolest ice cream & coffee shop in Dorchester," Chill on Park opened in May 2015. The ambiance is inviting: plants adorn the wooden walls, and one wall has a large chalk mural with daily menu options. There are many of ice cream flavors, including Extreme Chocolate, Graham Central Station, and Cherry Vanilla. It also serves up specialty teas, smoothies, bakery items, and more.
In the market for some fresh and delicious vegan nosh? You'll find it here, nestled in Four Corners. Among the many healthy, tasty options are the Mediterranean salad and hummus wrap with hummus, kale, carrots, and onions. There are also a number of juices, smoothies, and shakes, among them a berry boost smoothie with raspberries, goji, strawberries and blueberries, and lemon zing juice.
Ashmont
Built in 1683, the Pierce House is one of the last surviving examples of 17th-century architecture in Boston. Inhabited by 10 generations of the Pierce family, the house grew and was altered substantially over the years, reflecting changing tastes and building practices. It became a museum in 1968 after the Pierces sold it to the Society for the Preservation of New England Antiquities, now known as Historic New England. Tour admission is $5 for adults, $4 for seniors, $2.50 for students, and free for Historic New England members and Boston residents. It's a must-see for history and architecture buffs.
Ashmont Grill has been serving affordable modern bar food in Peabody Square for more than a decade. Best known for its Train Wreck French fries—hand-cut fries with melted jack cheese, bacon, jalapenos, and sour cream—and grass-fed burgers, there are applewood-smoked baby back ribs; a Faroe Island salmon served with house kimchi fried rice, snap peas, scallions, and gochujang BBQ sauce; and a sublime sticky toffee pudding. Attracting a diverse crowd, it's open for dinner nightly and serves lunch on Fridays only. There's also a popular weekend brunch. Find dinner, brunch, and Friday lunch menus here.
This is become a neighborhood favorite and a go-to hot spot for casual but sophisticated dinners. Next to the Ashmont T station, Tavolo offers ample seating, including a large, family-style tavolo (table). It serves what it calls "Dorchester Italian" fare, including appetizers like marinated olives, Portobello mushrooms with Taleggio, Parmesan, sun-dried tomato, fennel, and garlic, and house-made Italian sausage. Try one of the famed pizzas; the mushroom pizza is made with whipped ricotta, Taleggio, scallion-truffle oil, and rosemary. It carries an array of craft beers, specialty cocktails, and an impressive wine list and hosts special weekly wine dinners, cicchetti nights, and a Wednesday Pasta Tour, featuring a three-course meal of regional specialties for $30. Closed on Sunday and Monday nights.
One of Boston's hottest and newest Italian restaurants, Molinari's opened in summer 2016 in Adams Corner. It's named after Boston native and chef-owner Jeff Cincotta's grandmother, who grew up just outside of Rome. The restaurant is the only one in Dorchester that uses a brick oven to cook authentic Italian cuisine, Cincotta says. The specialty pizzas are worth the trip—try the Meat Lover, tomato sauce, house-made Italian sausage, pepperoni, hamburger, and caramelized onions, or the Lucca, Parmesan garlic cream, mozzarella, ricotta, meatballs, and garlic confit. The house-made pastas, like pappardelle Bolognese, hand-cut fresh noodles with meat sauce, tomatoes, onions, garlic, and seasonings, are also delicious. The sandwiches, like the Grinder, shaved prosciutto, mortadella, salami, imported provolone, house-made pickled Italian peppers, baby lettuce, olive oil, and vinegar, are inspired.
The Eire has been a Dorchester fixture for over 50 years. A traditional Irish pub, it's a popular destination for celebrities and politicians alike, including Presidents Ronald Reagan and Bill Clinton, actor Mark Wahlberg, NHL player Jimmy Hayes, Governor Charlie Baker, and New England Patriots owner Robert Kraft (Hon.'95), to name a few. Originally opened as a "men's bar" (as the signage still says), the pub started letting women join the fun in 1984. There are 11 beers on tap and 11 HDTVs. It serves classic pub favorites like potato skins, chicken wings, hot pastrami and corned beef sandwiches, hot dogs (still only $1), and burgers. Find a list of daily specials here. Note: The Eire Pub is cash only.
A more recent addition to the bustling Adams Village area, Lucy's American Tavern is the place if you're looking for a local spot to relax and enjoy a great meal. Named for 19th-century Dorchester resident Lucy Stone, a pioneer for women's rights, the restaurant has outdoor seating and a cozy interior. Among many great lunch options are kale and quinoa salad with crumbled feta cheese, red quinoa, toasted almonds, and fresh berries dressed in a honey paprika vinaigrette. For dinner, there are savory choices like chicken and waffles, wood-grilled sirloin tips, and fish tacos. The food menu is sure to catch your eye, as will the impressive beverage menu, with more than 50 beer draughts and bottles, an excellent wine list, and a whimsical cocktail list.
Cedar Grove (via the Ashmont-Mattapan High Speed Line)
This 66-acre park is accessible via the Mattapan Trolley, which operates on the high-speed line running through Dorchester, Milton, and Mattapan. The park, on what had once been a landfill and a drive-in movie theater site, is open dawn to dusk year-round. In 2001, the area was restored and renovated into a spacious park that offers beautiful views of the Neponset River Estuary. It has picnic facilities, soccer fields, play areas, walking paths, a restored salt marsh, and lots of greenery. Visitors have reported seeing snowy egrets and great blue herons, among other wildlife.
Created in 1891, Dorchester Park provides a 30-acre oasis amidst the surrounding urban sprawl. Featuring two ball fields, two tennis courts, a tot lot with swings, and a mini forest with scenic pathways, it has been listed on the National Register of Historic Places since 2008. Although somewhat of a hidden gem, local families and dog owners enjoy the clean, well-maintained space, which hosts seasonal events, including a popular classic car show and a family fun day each September.
Lower Mills and Milton (via the Ashmont-Mattapan High Speed Line)
As its name implies, this is both a restaurant and bustling bakery. There's no missing the quaint café, adorned with a vibrant mural on one of its exterior walls titled Walter Baker's Mill, circa 1900. The impressive menu includes breakfast, weekend brunch, and lunch items. It draws big crowds on weekends. Brunch—served Friday through Sunday—offers a range of classic egg dishes—several variations of eggs Benedict and build-your-own omelets—pancakes, French toast, sophisticated sandwiches, healthy salads and wraps, and juicy burgers. If you just want coffee and a quick confection, head to the bakery, with treats like cupcakes, cookies, pastries, French macarons, and over six varieties of bread, baked fresh daily.
This intimate, inventive burger and sandwich joint has a small but creative menu and reasonable prices. For carnivores are options such as the Maui burger, a grass-fed beef burger topped with grilled pineapple, pepper jack cheese, crispy onions, sweet plantains, grilled ham, and barbecue sauce, served on a potato bun, or the Marley Sandwich, a potato bun stuffed with jerk chicken breast, romaine lettuce, red onion, grilled bell pepper medley, habanero pepper jack, and Scotch bonnet relish. Vegetarians have plenty to choose from as well, like the BRED Veggie, a sweet potato veggie burger topped with goat cheese, sliced apples, mixed greens, and fig spread, served on a whole wheat bun, or one of the eatery's salads. Sides like Parmesan truffle fries, sweet potato fries with cinnamon, and grilled asparagus can be paired with any meal. Order a smoothie like the Tom Brady, strawberry, banana, raspberry, coconut, and almond milk, to wash it all down.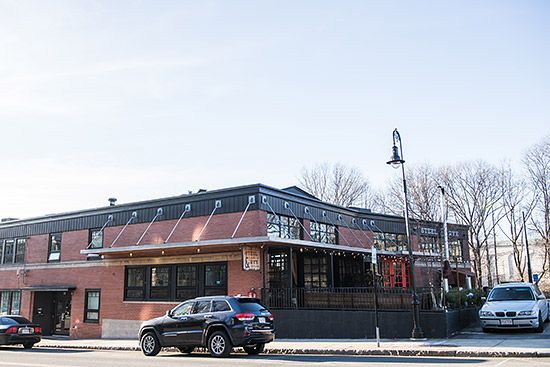 This tiny confectionary boutique is a must for anyone with a sweet tooth. The whimsical cake pops—balls of fully cooked cake, crumbed and mixed with buttercream icing and dipped in a chocolate or candy coating—start at $2 for everyday flavors like chocolate, cookies and cream, sweet cream, and red velvet, and rise in price for rotating flavors, like maple bacon, cinnamon toast crunch, Meyer lemon, and cappuccino. Cake pops can also be made to order as a fun gift or unique centerpiece for events and parties and customized to color, theme, or flower as well as holidays, people, animals, bugs—even vegetables. The shop offers candies and chocolates too.
One of the Boston Globe's Best New Restaurants of 2016, Lower Mills Tavern has a loyal clientele. Serving lunch, dinner, and weekend brunch, it was purchased by Ken Casey of the Dropkick Murphys in 2015 and completely revamped. Today the hot spot, especially popular for dinner and drinks, offers a range of options, from pizzas to sandwiches and salads. Try the almond barley risotto or the sweet onion salmon cooked in an onion marmalade. An impressive drink menu includes nearly 100 whiskeys, more than 50 beers and ciders (10 on tap), a small but distinguished wine list, and several distinctive seasonal craft cocktails. There's also live Celtic music every Tuesday evening and a live music series Saturday nights.
Founded in 1976, the Ice Creamsmith is a neighborhood staple, famous for homemade ice cream, produced in small batches. The quaint shop makes over 10 flavors, staples like sweet cream, mocha, chocolate chip, and strawberry and a number of special monthly flavors, posted on the window. Over a dozen "mixins," including cookies, coconut, jelly beans, and chocolate-covered raisins, can be added to any order. There's a selection of frozen yogurt and dairy-free sorbets, and a variety of treats and beverages like old-fashioned banana splits, cream sodas, and floats, as well as ice cream cakes, pies, and cupcakes. Note: it's cash only.
This trendy taco joint brings a whole new flair to Dorchester Avenue. Designed by co-owner Taniya Natak, known for her work on HGTV, it has an inviting vintage vibe and is known for delicious tacos. Try the carnitas tacos with pork confit, Cotija, salsa verde, refried beans, red onion, cilantro, and chicharrones. Among other entrées: a halibut ceviche and langosta chili relleno: chipotle coconut plantain mash, acorn squash hash, herb crema, and pickled celery root. The extensive cocktail list has dozens of tequilas along with beer, wine, and a select cocktail menu.
This coffee spot says it's Boston's "largest independently owned roaster, retailer, and wholesaler of specialty coffees." The Lower Mills store was the chain's first, opened in 2003 (there are now five espresso bars in the Boston area). The name comes from the Australian term for an Americano, and Flat Black is dedicated to serving high-quality, single-origin coffees in the spirit of Australia's thriving coffee culture. The yellow walls and cozy interior, decorated with coffee sacks, old-fashioned coffee grinders, and a coffee tree, has a distinctly Down Under vibe that will transport you to the outback. It offers a variety of teas and coffees from Africa, Central and South America, and the Pacific Rim.
Steel & Rye, an award-winning restaurant and bar steeped in the Americana spirit, is open for dinner and weekend brunch only. The spacious dining room serves modern American cuisine with a twist, like wood-fired pizzas, house-made pasta, and entrees like kuri squash gnocchi, with Berkshire pork sugo, Parmesan cheese, and Swiss chard. Seasonal desserts like pumpkin spice donuts and apple upside down cake are served. The large bar has a generous selection of beers, wines, and craft cocktails. Recommended: the Reverend's Daiquiri, pineapple, lime, sugar, tiki bitters, and pineapple rum. Reservations are recommended, but not required.
Click on the points in the map above for more information on the places listed in our guide to the Dorchester neighborhood.
This Series
Also in
November 18, 2021

March 4, 2020

February 26, 2020