FYSOP Marks 28th Year with Some Changes
Annual volunteer service project for new students begins today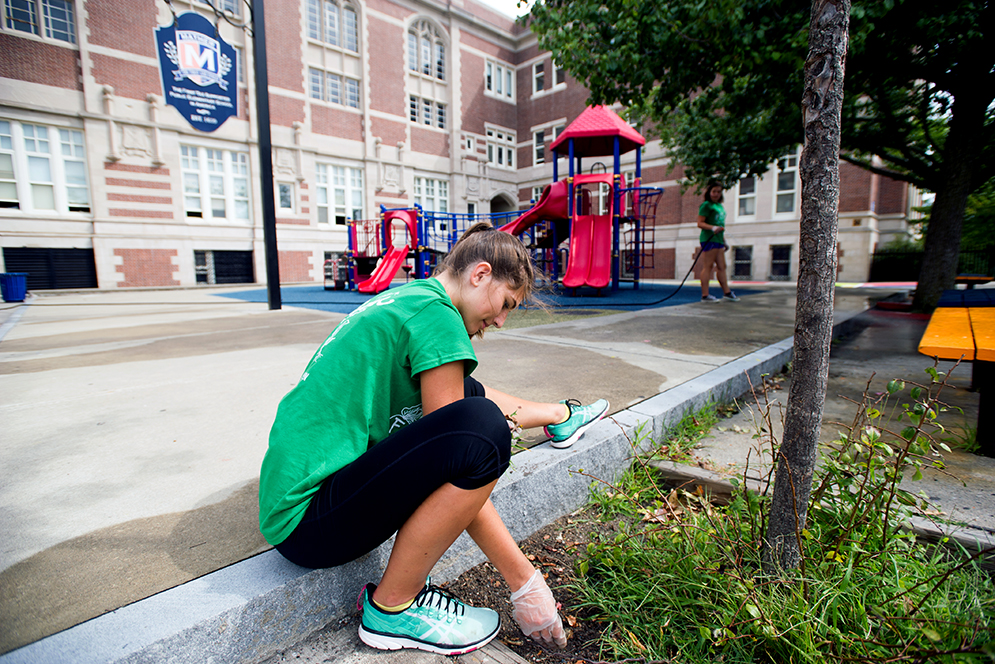 The 2017–2018 school year starts today for more than 700 freshmen and transfer students arriving on campus to volunteer in BU's First-Year Student Outreach Project (FYSOP), the annual weeklong service-based program run by the Community Service Center. Now in its 28th year, FYSOP gives new students a chance to volunteer with nonprofits and community organizations in and around Boston, as well as to socialize and get to know one another before classes begin next Tuesday.
But 2017 reflects a change in the program's structure. In the past, volunteers were grouped by a common social justice focus—e.g., the environment, public health, etc. This year, students will be organized into seven focus areas organized by specific neighborhoods and MBTA trains, trolleys, and buses. The goal is to help them better understand the intersections between service and community engagement.
The theme of FYSOP 28 is Discovery, and each of the seven focus areas has a nickname that reveals something that makes Boston special:
"The Biggest College Town in the World" sends students to sites along the Red Line in Dorchester, Roxbury, and Mattapan.
"City of Champions" pairs volunteers with organizations accessible via the Red Line and Orange Line—from Cambridge and Somerville to Charlestown, Malden, and Downtown Crossing.
"The Cradle of Liberty" students travel the Orange Line to places in Jamaica Plain, Roslindale, West Roxbury, and Hyde Park.
"America's Walking City" workers take the Red Line and Silver Line to nonprofits in Dorchester, South Boston, Quincy, and the South Shore.
"Beantown" students go on the Green Line to Allston, Brighton, Brookline, Watertown, and Metro West.
"The Hub of the Solar System" sends students via the Green Line and Silver Line to Fenway, Roxbury, and the South End.
"The Olde Town" volunteers use the Blue Line for destinations in downtown Boston, East Boston, Chelsea, Revere, the North Shore, and Metro North.
All of the focus areas have at least 10 different volunteer sites, each with 10 to 15 volunteers; 14 coordinators (2 for each focus area) and nearly 200 staff leaders (in groups of 3) will accompany the FYSOPers to each site.
"With the new framework, we are hoping to create more intersectionality, since every neighborhood will have its different community partners," says Bruna Pino (CAS'17), one of the four 2017 program managers. "This way, each student participating will get to experience different areas of service and engage with different communities. Our hope is for students to be less connected to a certain topical area and more connected to the city they are living in."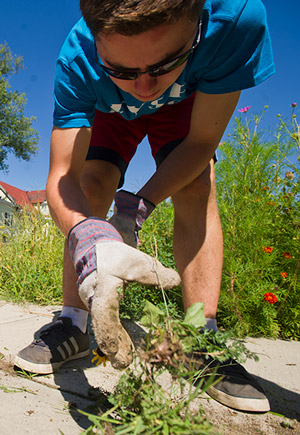 The overall goal, Pina says, is to help students "discover how they can participate more as active citizens. From us program managers to the first-years, we all have more to learn about our part in the community. We hope participants will learn about themselves and their role in the city during their time here, how they can empower and be empowered by their community, and through conversation and service, discover people from outside their daily interactions."
FYSOP 2017 kicks off tonight with a welcome dinner, where students will meet the other members of their group, followed by an opening ceremony, with featured speaker Annissa Essaibi George (CAS'96), a Boston city councilor-at-large.
Tomorrow is a day of educational programs, with social activities in the evening. Then on Wednesday the real work begins, as the volunteers fan out across the Boston area to embark on their service outings and neighborhood visits. By the end of the week, they will have completed more than 10,000 hours of community service.
Among the 80 organizations participating this year is the South End's Berkeley Community Garden, one of the city's few community gardens open to the public. Students will spend two days there working on cleanup and beautification efforts. While most volunteer locations are accessible by MBTA, a few sites require a short van ride, like Strongwater Farm, a nonprofit therapeutic equestrian center in Tewksbury, Mass. There, students will help with maintenance and cleanup and interact with patients receiving therapy. Sojourner House, a homeless shelter and support center in Roxbury, the Gifford Cat Shelter in Brighton, Perkins School for the Blind in Watertown, and Small World Child Care Center in Jamaica Plain are some of the other nonprofits benefiting from the work of the BU volunteers.
Organizers say that FYSOP isn't just a chance for students to learn about their city and volunteer: it's also an opportunity to forge lasting friendships.
"Someone handed me a flyer for FYSOP back when I had my orientation at BU, and the rest is history," says program manager Adam Davi (Questrom'17). "One of my staff leaders that year became an incredible mentor and friend of mine. The program is truly able to change people's lives, and I'm honored to take part in it again."
"FYSOP will have a different impact on each student participating," says Zachary Hobbs (CAS'08), Community Service Center director. "I hope students recognize citizens of our city and region as coeducators in their college experience, feel a sense of responsibility as college students to act with kindness and humility in their interactions with our community, and ultimately recognize that they are accountable for connecting the information they learn in classes to improving real-world equity."
BU Today is covering FYSOP 2017 live this week via Twitter. Share your FYSOP experience under the hashtag #FYSOP2017. You can also follow FYSOP at @heyfysop and the Community Service Center at @BUCSC.
Mara Sassoon can be reached at msassoon@bu.edu.