Engineering to the Rescue
Engineering student projects on display at ECE Senior Design capstone event
Raindrops slap the hood of the red Ford Taurus idling under an open-ended tent on Cummington Mall behind Boston University's Photonics Center. In the driver's seat, Omar Janoudi is jacked into the car's onboard data systems through its diagnostic port. Numbers on his laptop screen represent data packets passing through the car's electronics, ripe for exploitation by hackers. With a few quick keystrokes, he turns the headlights on and off. Locks and unlocks the doors. Even stops and starts the engine.
"You could even crash it," says Janoudi (ENG'17). Physically? "No, no, that would be bad. Crash the car's systems."
It's a test of AutoPen, the all-in-one car-hacking software toolkit that Janoudi and the rest of the BU College of Engineering (ENG) electrical and computer engineering (ECE) majors in Team 2—Petar Ojdrovic (ENG'17), Dennis Your (ENG'17), Jeraldin Guerrero (ENG'17), and Wasim Khan (ENG'17)—have built for their senior capstone project. The open-source software package is intended to make life easier for auto security experts trying to rid cars of vulnerabilities common to systems with unencrypted data and Wi-Fi and Bluetooth.
The team project is one of 25 that the more than 100 students in the ECE Senior Design capstone course tackled in 2017, solving problems for volunteer clients from industry, government, nonprofits, faculty, and staff. The projects range from an "open-source cytometry platform" for counting and measuring cells used in diagnosing diseases to a smart pet food dispenser. The undergrads are called on to demonstrate both technical abilities and teamwork skills in satisfying the client's project specifications over the course of the year.
At the end of each year, on Electrical and Computer Engineering Day, each team first presents its work to a roomful of students and faculty. Then, in the afternoon, it's demonstration time, at tables around the Photonics Center's ninth-floor rotunda, when the teams must show how their projects work. Their efforts are judged by a panel of ECE alumni—from companies that include Google, Microsoft, and National Grid—that bestows awards in several categories.
Overheard: "It's a long day, especially for the ones who were up all night finishing."
The competition is based on a model that is almost universal in industry in the design of products in electrical and computer engineering, says Alan Pisano, an ENG associate professor of the practice and the capstone course lead professor since 2010. "Our students are exposed to this design methodology so that they get practice for when they enter the workforce."
Because Team 2's demonstration requires a car, it's done in a tent outside rather than the center's rotunda. That's fine, says Your, despite the pouring rain outside the tent. What matters is that the product works.
Today's increasingly digitized vehicles are ever more vulnerable to hacking. "That's a problem," says Guerrero. "I can take my computer and make your windshield wipers go and make your steering wheel move and make your lights flash. That in itself is going to install a fear factor, so people can understand why our tool is so important."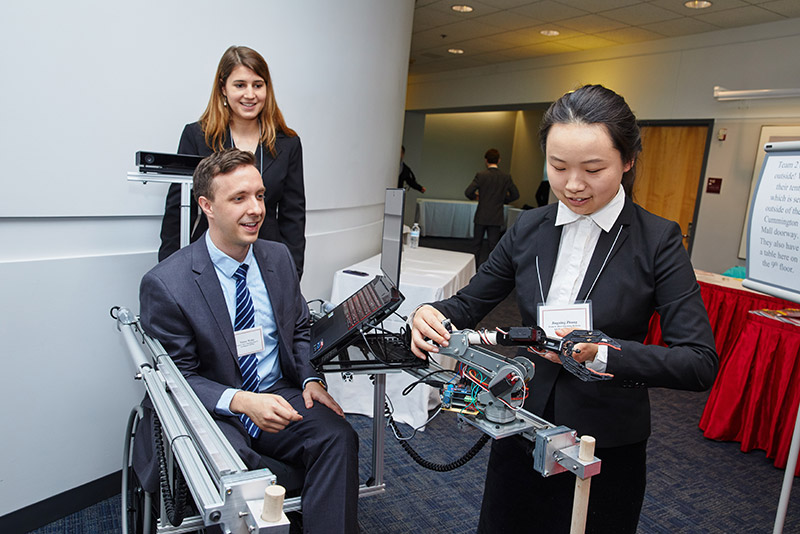 Team 2 clients are Jonathan Petit, OnBoard Security senior director of research, and David Starobinski, an ENG professor of electrical and computer engineering. The students borrowed the car from the Volpe National Transportation Systems Center in Cambridge, where Starobinski is a faculty fellow.
Meanwhile, upstairs, Team 6—Davy Huang (ENG'17), Jingning Zhang (ENG'17), Kathleen Lewis (ENG'17), and Victor Weiss (ENG'17)—are introducing people to DORI, or Door Opening Robotic Intelligence. Their clients are Osama Alshaykh, an ENG assistant research professor and ECE lecturer, and the William E. Carter School, a Boston public school for students ages 12 to 22 with severe disabilities and complex health needs.
This ENG student group hopes to increase independence for people using wheelchairs by designing a device that would open doors in the buildings where a person spends a good bit of time, such as a school. They relied on the input of one Carter student with multiple impairments who maneuvers the school hallways in a wheelchair with one hand. "This project is designed to just give him a little bit of assistance," says Mark O'Connor, Carter School principal. "It's very difficult to open a door toward you, keep it open, and get a wheelchair through—with one hand."
Each door would be marked with a machine-readable QR code identifying its characteristics, such as whether it has a handle that needs squeezing or turning. A Microsoft Kinect input device, originally built for Xbox, reads the code and passes the information to a laptop computer. The computer controls a robotic hand that grasps the handle and opens the door, and then one of the dowels pushes or pulls it wide enough for the chair to pass. The equipment is attached to a $1,400 wheelchair donated by Alshaykh, the same model used by the Carter School student.
"We're going to bring it over there and get feedback," Lewis says. A "DORI2" team will take the project forward next year, adding features like keycard swipes and the ability to press elevator buttons.
"There aren't many of these accessibility products built and when they are, they're incredibly expensive because it's such a small market," says O'Connor. "Having BU students gain this exposure, this experience—you never know where that's going to lead when they get out in the real world."
Team 8—Fritz Jolivain (ENG'17), Darryl L. Johnson (ENG'17), Yi Liu (ENG'17), Brett Moretzky (ENG'17), and Richard Nesbit (ENG'17)—developed Groove Gloves to allow deaf and hearing-impaired people to experience music through vibrations on their fingertips. Pisano's daughter, Pauline Pisano, is a rock musician in New York City and a music teacher of young children. "Last year she came up with an idea for a device by which deaf children could sense the full spectrum of music, both live and recorded," Pisano says. "I suggested she propose it as a potential Senior Design project, and a student team selected it this year."
Groove Gloves are a pair of synthetic winter gloves outfitted with transducers the size of a quarter, which are connected via Bluetooth to a music source such as a phone. With all their wires, the gloves look like part of a disassembled robot, but they were a popular attraction at the ECE demonstrations, with people lining up for a chance to try them on. Playing "Dawn" by Basenji produces a complex sensation, with the beat prominent. "It's really cool," says Team 20 member Makenna Hart (ENG'17). "It's stimulating all the different nerves in my fingers."
At the end of the day, in addition to letter grades given to all senior design students, four projects earned ECE Day Awards:
Best ECE Senior Design Project Award: Team 23, Satellite Tracking for Low Earth Orbit. For a telescope mount that can track satellites in low Earth orbit without the image degradation and blind spots that commonly afflict telescopes when pointing overhead; Joshua Klein (ENG'17), Zachary Chapasko (ENG'17), Amber Baurley (ENG'17), Joseph Beaupre (ENG'17), Kyle Hughes (ENG'17).
Design Excellence Awards:
• Team 9, Vulcan Microfluidics. For developing a device that reduces the time and cost of biological experiments by automating data collection processes of fluids on a very small scale; Shane McCormack (ENG'17), Alexandra Nero (ENG'17), Julian Trinh (ENG'17), Anish Asthana (ENG'17).
• Team 10, NMR in a Coffee Cup. For developing a more portable and efficient nuclear magnetic resonance spectroscopy machine for portable oil sample testing; Nicolas Brusco (ENG'17), Arnab Gogoi (ENG'17), Xingda Chen (CAS'17, ENG'17), Jean Dega (ENG'17), Asad Ashraf (ENG'17).
• Team 21, Sync Cycle. For designing a bicycle equipped with a pedal-assisting electric motor, an onboard data collection system, and an app to navigate the area and view the environmental and financial impacts of their ride compared to the same ride in a gas-powered vehicle; Sameer Qureshi (ENG'17), Moises Rodriguez (ENG'17), David Tran (ENG'17), Gavin Hiroe (ENG'17), Vinay Krishnan (ENG'17).
Michael F. Ruane Award for Excellence in Senior Capstone Design: Zachary Lasiuk (ENG'17).
Entrepreneurial Award: Team 22, Tidemark. For developing an iPhone app for blood glucose control, using existing data sources and short-term future projections to help those with type 1 diabetes keep their blood glucose within safe levels and avoid extremes at either end of the scale; Zachary Lasiuk (ENG'17), Anna Stuhlmacher (ENG'17), Rebecca Wolf (ENG'17), Samuel Beaulieu (ENG'17), Alex Vahid (ENG'17).