Time Capsule from 1915 Discovered at Agganis
BU students find treasure from building of Commonwealth Armory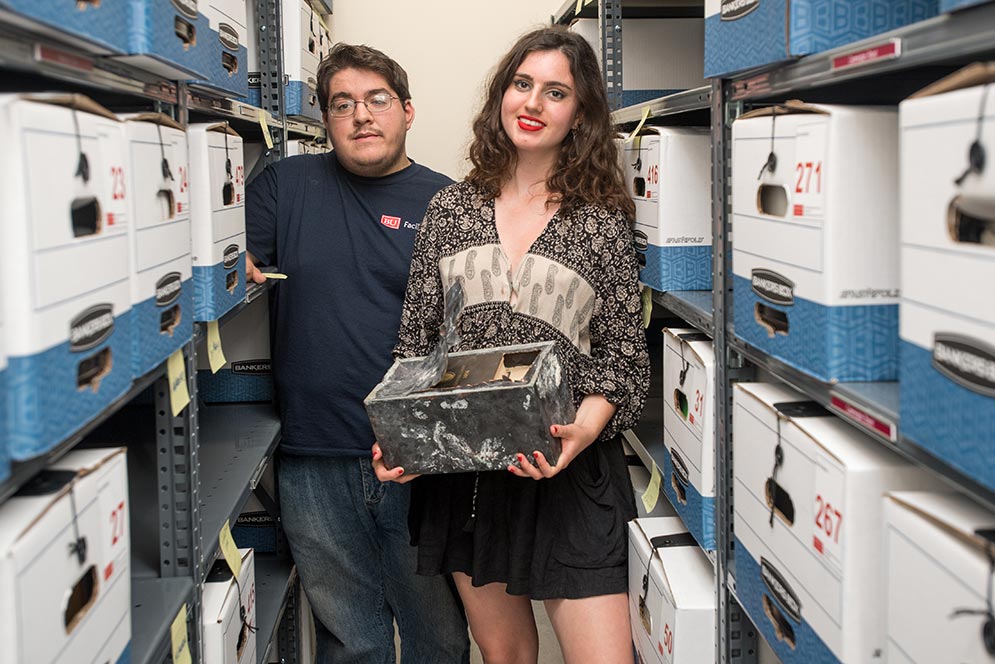 Emma Purtell, Sarah Mankey, and Adam Mumford thought their summer jobs at BU's Facilities Management & Planning (FM&P) were going to be a bit of a slog. Along with a handful of other students, they were shown to a windowless room containing decades of files that had to be sorted, recorded in a computer database, then packed into 500-plus crisp new numbered boxes for posterity.
"We worked really, really hard every single day," says Purtell (CGS'17, COM'19). They thought they were nearly done when word came that 93 more boxes of contracts, plans, and other material relating to University building projects had just been retrieved from a storage cage in the upper levels of Agganis Arena.
Mankey (CAS'18) and Purtell—along with their supervisor, Jeff Hoseth, FM&P associate director of construction services—found something unexpected when sorting through one of those boxes late one afternoon in early August. Nestled among the paperwork was a copper container about the size of a toaster. The top had been pierced in the middle with a sharp metal object—a claw hammer perhaps, or a pry bar—then ripped open.
"The first thing I thought was, it's a time capsule," says Purtell, who is studying film and journalism.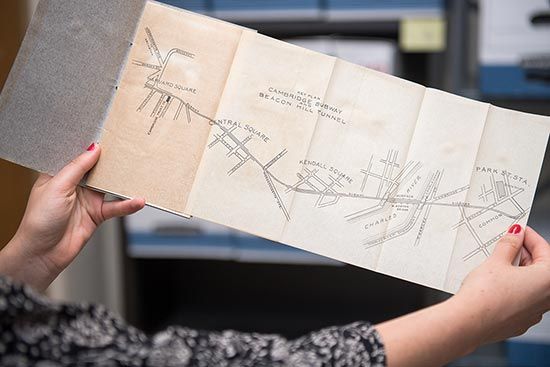 She was right. What they had come across was a time capsule buried in June 1915 when the cornerstone was laid for construction of the Commonwealth Armory, a Massachusetts Army National Guard armory. The box had apparently been unearthed in 2002, when the armory was demolished to make way for the University's John Hancock Student Village complex, which includes Agganis Arena, FitRec, and StuVi II.
But while the armory's original cornerstone was reset into the new arena's southeast corner wall (look for "MCMXV"—1915), near a marker giving the armory's history, the time capsule was placed in a box and presumably forgotten for 15 years.
"The things we found inside were really amazing and interesting," says Purtell. There was a copy of the Manual of the Massachusetts General Court from 1914, a thick volume damaged all the way through to page 75 by whatever instrument had pierced the lid. Other items: a 1915 newspaper (Boston Daily Advertiser) with headlines about World War I, coins (including an 1894 quarter), a map of the then-new MTA subway to Harvard Square (now known as the Red Line), a document that appears to be a request for proposals for the construction of the armory, and photos of dignitaries connected to the project. There are also rosters listing men serving in the Massachusetts Volunteer Militia, Battery A, First Battalion, whose home base was the armory, and a Boston Past and Present photobook.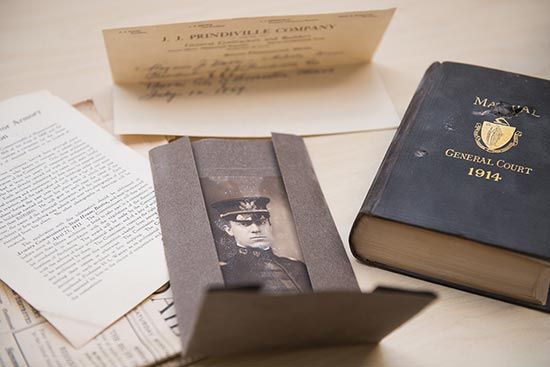 "I'm just blown away by how good the condition of some of this stuff is, considering it's 100-plus years old at this point," says Mumford (CAS'18), who had been out on an errand and returned in time to help Mankey, Purtell, and Hoseth unpack the capsule's contents.
The armory served the militia (later called the State Defense Force, now disbanded) and the National Guard for decades. Later it was the site of rock concerts by artists like Bob Dylan and the Who as well as the occasional anti-Vietnam War protest, before being sold to BU in 1982.
Hoseth says the University is now contacting the National Guard about the proper disposition of the time capsule and its contents.
For the students, the unexpected find has turned out to be the highlight of their summer. "It's really rewarding, because we found this near the end of our project," says Purtell. "And at the beginning of project, we thought, there's no way we can get this done. There are so many boxes—how are we ever going to get through them?"
"One of the people in the office said this was like the cherry on top," Mumford says. "The reward for all the hard work was finding this historical treasure trove."