Eight Ways to Hack Boston
Apps that help you find your way, report a problem
What we all want from our phone apps, whether we have an iPhone or an Android, is technology that makes our lives easier and better. Provide that key sports stat, find that recipe, locate that address, summon a ride, play us a soothing (or raucous, according to taste) song while we wait.
You've got Waze and Yelp and Uber, sure, a Dunkin Donuts or Starbucks app, maybe Tinder. But what about apps that will give you nuts-and-bolts solutions to Boston-specific needs?
To be honest, there are fewer than we'd hoped, with some good Boston apps too specific to include, such as the HUBWeek and Boston Calling Music Festival apps. But here are a handful of what we think are essentials, all free from your favorite app store unless otherwise noted.
Got some other suggestions? Leave them in the Comment section below.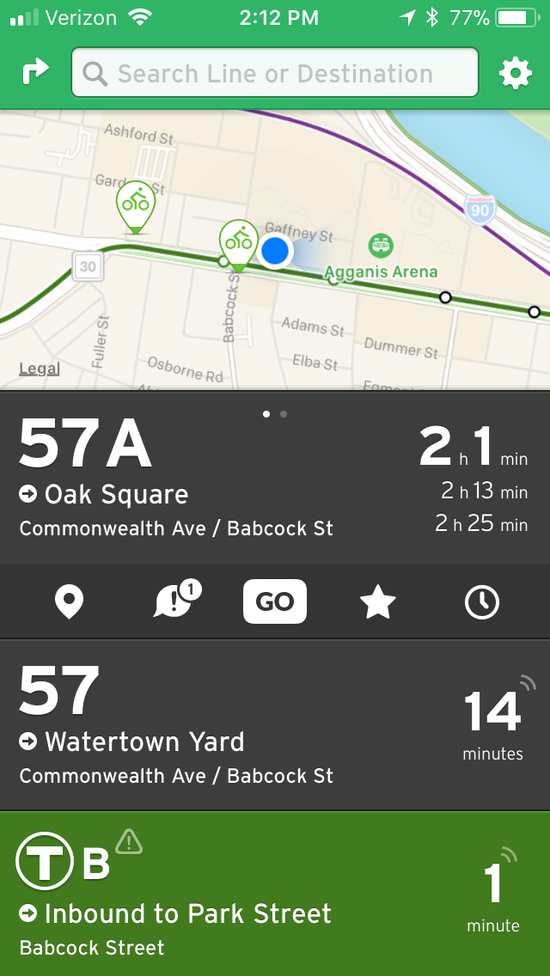 For surviving the MBTA:
Transit
There are a ton of T-tracking apps, but the best, hands down, is the Transit app, aka "your real-time urban travel companion." Power it up and let it access your location, and right away you get a live map showing nearby transit stops, with tiles telling you about the approaching trains and buses. Also included: a trip planner, offline schedule and route maps, service disruption notifications, and stop reminders. Bonus: If you're really sick of waiting for that B trolley—we feel for you—Transit will also help you book an Uber, check the availability of Hubway bikes at nearby kiosks, and even let you book a Car2Go.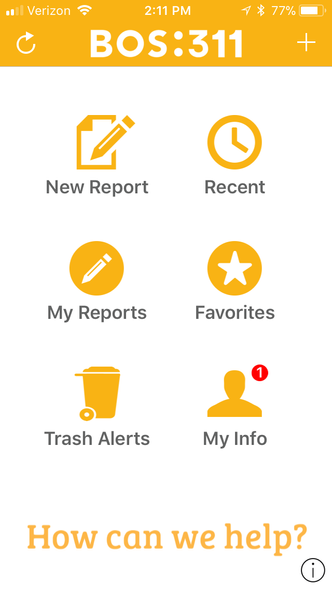 For hacking city services:
BOS:311
Boston City Hall may not be as wired as, say, Palo Alto's, but it's doing pretty well, and BOS:311 is one of the reasons. This app allows you to report a broken streetlight, pay a parking ticket, get that pothole fixed or graffiti removed. Requests are automatically fed into the city's work order system. And users get a unique tracking number for each case. You could also call 311, tweet @BOS311, or use the web, but where's the fun in that?
For following your favorite team (or one you love to hate):
Boston Sports Journal
This is the app version of the new-this-summer Boston Sports Journal website covering the Red Sox, Patriots, Celtics, Bruins, and more, started by former Boston Globe and ESPN journalist Greg Bedard. You can get some basics for free, including Bedard's "Daily Briefing," but this is one pay site we think might be worth it, especially for diehards and fantasy sports addicts. For $4.99 a month, or $35 a year, you can go deep on each team, with reporters covering all of them at home and on the road.
Taking your fam on that mandatory tourist excursion:
NPS Boston
Haven't walked the Freedom Trail yet? You'll want to take that historic walk when your parents come to visit, we're betting, or maybe check out the Charlestown Navy Yard and the USS Constitution, or walk the Black Heritage Trail for another side of history. Your companion for these trips ought to be the National Park Service's NPS Boston app, which features text, audio, images, and video for each of the sites and helps you create your own tour, complete with walking directions.
For when you actually—OMG!—find a parking meter:
ParkBoston
There are apps such as SpotHero that will let you book a spot in a downtown garage, but if you're like us and find those pretty pricey, you'll drive around the block until a meter frees up. And then you have to hunt through the glove compartment for quarters—unless you have ParkBoston. With this city-created app, all you need is your zone number—which is marked on the meter—and your car's license plate number, as well as a credit or debit card to link to the app. ParkBoston will give you a live countdown clock with a 10-minute warning before your meter runs out—and you can extend your parking time without running back to your car.
For hacking your favorite University:
BU Mobile
You've probably already been initiated into this one, but for you holdouts, this has oodles of info to make your day as a student easier: live bus maps telling you how long before that Medical Campus shuttle (the BUS) is going to turn up, the official BU events calendar, the BU directory of students, faculty, and staff, a searchable course catalog, and an emergency page where you can one-click call or text BUPD, report a fire, and call several student services. There's also (cough, cough) a BU Today page.
For listening to your favorite NPR station:
WBUR
You have plenty of options for local and world news apps. You may have dialed up Boston.com or even landed a subscription to the Boston Globe E-paper to read the news and check the scores. But we'd recommend the WBUR app, which gives you access to stories from the WBUR newsroom and both local and national NPR news and talk shows, including Morning Edition, On Point with Tom Ashbrook, Here & Now, and Radio Boston, as well as The ARTery and Dear Sugars.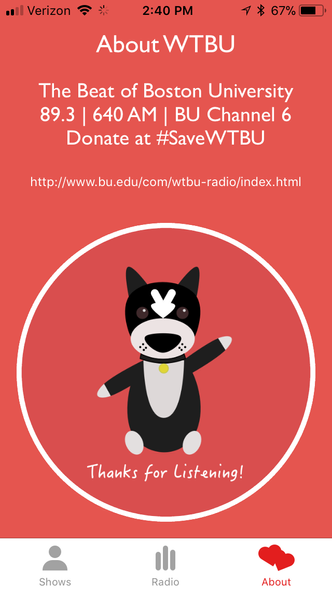 For listening to your favorite college radio station:
WTBU
This is a simple, straightforward way to listen to WTBU, BU's student-run radio station at the College of Communication, when you can't tune in 89.3 FM, 640 AM, or BU Channel 6. We typed up this story while listening to the afternoon show Please Use the Formal Usted, hosted by DJ Saxy Beast. The app includes a program schedule and a few other helpful features as well. Calvin Rose (ENG'19) is credited in the App Store, but he says a team of engineering students coded it for the Global App Initiative, which aids nonprofits.