2017 BFA Thesis Exhibition Shines at 808 Gallery
CFA seniors' painting, printmaking, sculpture, and graphic design projects
A show that dazzles both for its technical virtuosity and its versatility is on view now at the 808 Gallery. The 2017 BFA Thesis Exhibition highlights the work of 40 talented School of Visual Arts seniors and serves as the capstone to four years of intensive work by undergraduate candidates in painting, printmaking, sculpture, and graphic design. From a DIY silk screen table to shocking neon paintings to installations that tackle serious issues like poverty and the state of the environment, the exhibition's variety is impressive. But you only have two days left to see it: the show closes tomorrow, Thursday, May 11.
Kitty Wales, a College of Fine Arts senior lecturer in art and sculpture, says that the final thesis exhibition is the culmination of an intensely creative period that saw "students discover and explore materials, techniques, and contemporary concepts. Each student creates an individual composition of work that represents personal choices, ideas, and context that will start their next step into the professional world as artists."
Visitors will immediately be drawn to the series of stunning anatomical paintings by Danielle Pratt (CFA'17), each featuring pops of eye-catching fluorescent color, such as the massive acrylic composition Sparkle Bits. The mostly featureless figure is rendered in neon purple, with a network of bright green sparkling veins and organs, set against a blue-black background. "Sparkle Bits is me," Pratt says. "I might have made the shoulders a little lower than mine, but it's just my height. Looking at it from far away, I look so much smaller than I think I look."
Pratt says her work is "inspired by misty visions of MRI scans and an emergence of form." Seen from afar, the figure appears to be composed of clean lines, but close up, the viewer can see that both it and its veins and organs are painted in the same dripping manner as the background. The artist says the work is in part a metaphor for real life: "As humans, we try, but most always fail, to reject or remedy our natural drips, spills, and oozes."
Another exhibition highlight is a series of whimsical paintings by Edie Côté (CFA'17) that explore childhood and memory. The small acrylic-on-board piece The problem with boys (After Sgt. Pepper's cassette tape jacket, found 2003, printed paper and clear tape) is a painted rendition of a crumpled Beatles cassette label held together with tape. The work's small scale, combined with Côté's attention to the tiniest details—fine wavy white lines give a sense of the paper's wrinkled surface and glossy sheen, and roughly applied semitranslucent gray stripes of paint allude to the tape affixed to the paper jacket—lend the work a sense of gravity, signaling to the viewer that the subject is worth being memorialized.
"I've been very aware of how my life has changed year to year, and it's most evident in the furniture and objects that I've chosen to surround myself with," Côté says. "I chose to paint some objects and childhood drawings that I felt very attached to, but I noticed how the process led me to be detached from the object and instead attached to the painting itself….This process was fascinating and heart-wrenching at the same time, but it allowed me to explore the power of seeing and looking for the purpose of translating versus the purpose of admiring."
Sculptor Dalila Bennett (CFA'17) explores the subject of gender identity in her multimedia work. "I am a woman, there is no way around that fact. Even if I change my gender identity, I will always have been a woman, and I understand the stigmas and taboos that come with it," she says. Her sculpture titled Object(ified), two chairs retrofitted with human-like arms and legs jutting out in place of the usual chair legs, blur the line between person and object. Nearby is another tongue-in-cheek piece of furniture, a wooden card table with edges trimmed in flowing platinum-blonde hair. "In my work, I use my own body and experiences to show that the way women and the queer community are treated and viewed is corrosive to our culture," Bennett says. "I question the way we look at ourselves and others, thus making the viewers question their own interactions with my work."
One of 24 graphic designers whose work is in the show, Molly Dee (CFA'17) has created an installation that is a valentine to Boston. "I love Boston, always have," Dee says. "I grew up in the 'burbs, so venturing into the city was always exciting. My grandparents were from the city, and my grandmother would tell fascinating tales of dancing in Scollay Square, the camaraderie of her neighborhood, and how much she enjoyed people-watching in the Combat Zone."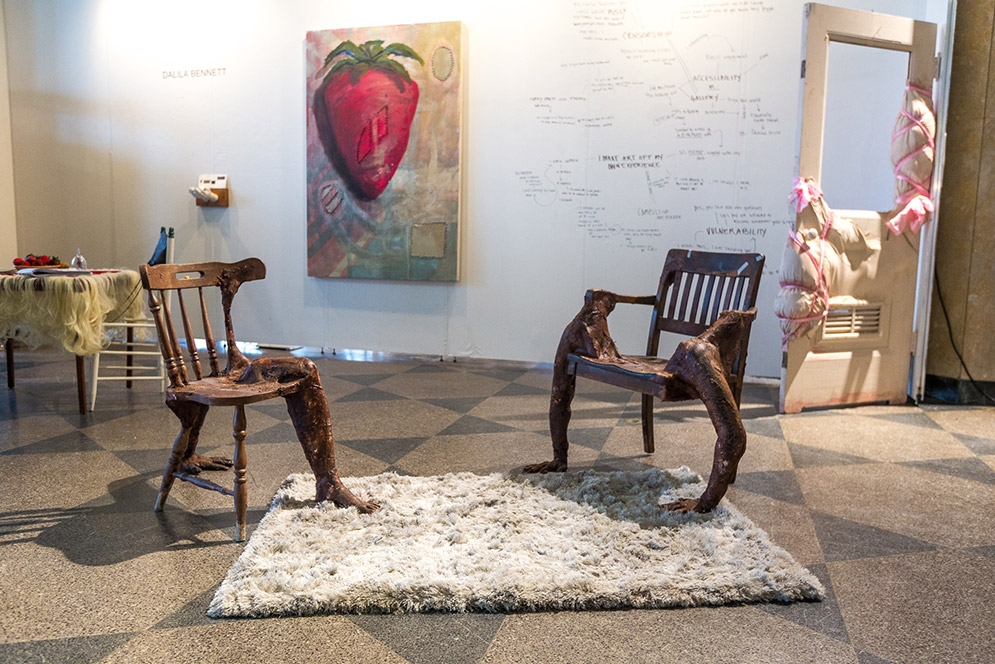 The title, Cobblestones, alludes to the cobbled streets that once graced the city. The piece comprises glossy tiles arranged map-like on the gallery floor, all printed with images—of people, places, newspaper clippings, and more—both old and new, representative of many of Boston's neighborhoods. Sections of tiles are devoted to a particular area. One section, for instance, has a tile that reads "Southie," and around it are other tiles printed with old black-and-white photos of the neighborhood's architecture, and even one printed with what looks like a snippet of a local newspaper's online comment section. "My show pays homage to the Boston of yesterday and today," Dee says, "as well as communicates the importance of honoring our history and the people who made this the great city it is."
The work the graphic design students have displayed in this year's thesis exhibition "is an indicator of the shifting design landscape," says Kristen Coogan, a CFA associate professor of graphic design. "It is expansive and pushes our notion of what is familiar, from generative textile design, interactivity as a form of learning, craft as social critique, branding via cultural appropriation to a DIY silk screen shop, book design, type design, and animation. The body of work presents a community of well-informed designers who are making relevance. I am very proud of each and every student."
The 2017 BFA Thesis Exhibition is on display at the 808 Gallery, 808 Commonwealth Ave., through Thursday, May 11. Gallery hours are noon to 5 p.m. Wednesday and noon to 8 p.m. Thursday.
Mara Sassoon can be reached at msassoon@bu.edu.