University Mourns CAS Student
Jai Menon was economics major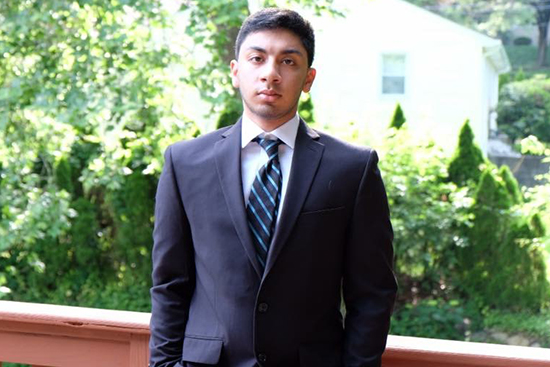 The identity of the male freshman found dead at Kilachand Hall on Bay State Road Wednesday morning has been released. Jai Menon, from Briarcliff Manor, N.Y., was majoring in economics at the College of Arts & Sciences. He lived at Warren Towers. His death is not considered suspicious, says Scott Paré, BU deputy police chief and deputy director of public safety.
A Kilachand Hall resident assistant notified the Boston University Police Department and the Boston police at 8:30 a.m. Wednesday after a student reported seeing a body on the roof of Kilachand Commons.
According to David Zamojski, assistant dean of students and director of Residence Life, a representative from the BUPD met with Kilachand Hall residents last night at 7:30 p.m. in the hall's Commons area to give an update on the investigation, and counselors were there and available to meet with students. Zamojski and Charles Dellheim, director of Kilachand Honors College, emailed all hall residents Wednesday morning about the incident and alerted them to the availability of counseling. 
President Robert A. Brown sent an email yesterday to all students and staff about the death. "First and foremost, our thoughts and prayers are with immediate family and friends who will, of course, be deeply affected by a sudden loss," he wrote.
"Jai was a smart, hardworking, and kind student," says Paloma Pueyo (GRS'15,'21), a teaching fellow in Menon's Spanish class. "His classmates and I will sorely miss him and his wonderful presence in our class. Our hearts and thoughts are with his family and loved ones."
Individual counseling support for students, faculty, and staff, on campus or abroad, can be arranged at any time through the following resources:
Marsh Chapel chaplains can be reached at 617-353-3560.
Behavioral Medicine providers at Student Health Services can be reached at 617-353-3569.
Sexual Assault Response & Prevention Center (SARP) counselors can be reached at 617-353-SARP (7277).
Counseling is also available for faculty and staff through the Faculty & Staff Assistance Office, 617-353-5381.
Center for Anxiety and Related Disorders, 617-353-9610.
BU Today will provide updates as they become available.