Sprinting Her Way to Rio
Former Terrier Gemma Achaeampong competing for Ghana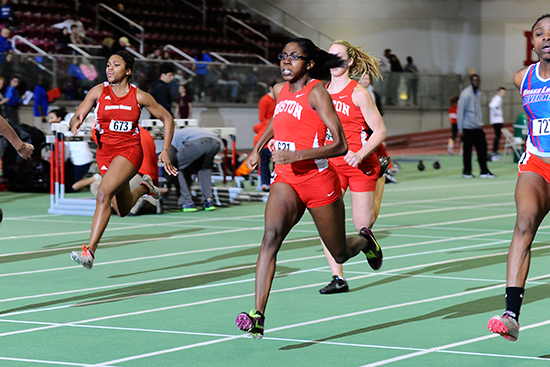 For Gemma Acheampong, the road to the Rio Summer Olympics started almost five years ago with a question: could she try out for the Boston University track team?
That conversation, with Robyne Johnson, director of track and field for the Terriers, began a journey that now sees Acheampong (CAS'15) headed to Brazil as a member of the Ghana 4×100-meter relay team. (She is not the only BU representative at the games—Johnson is an assistant coach for the US women's track team.)
From that day as a walk-on in fall 2011, Acheampong trained her way to the top of the Patriot League, and in her senior year she was named best female track athlete at both the indoor and outdoor championships. She won the 100- and 200-meter dash at both events and set a new league record with her 100-meter time of 11.49 seconds at the outdoor meet. She also holds the school record in the 60-meter dash (7.49 seconds).
Since her arrival at BU, Acheampong's story has been one of personal transformation. The coaching she received here, she says, turned her into a better athlete. "I came in more of a natural talent, with speed and a good leg turnover. But I had to really learn the technique and gain some strength."
During her sophomore year Acheampong, whose father is from Ghana, was invited by the African nation's track team to discuss participating in the 2016 Summer Olympics. She demurred then because of her course work, but seized the chance when she was a junior. Since then, she has run for Ghana's 4×100-meter relay team at the 2014 Commonwealth Games and at the African Championships in 2014 and 2015.
After finishing her degree in English, Acheampong stayed on at BU, working as a volunteer assistant coach for sprinters while also holding down a marketing job at HelloToken, a Boston-based tech start-up that seeks to make online publishing sustainable.
Acheampong is a disciplined athlete who understands the commitment needed to compete, says former coach Johnson, adding that she's become an effective role model for current BU athletes. "She is a well-rounded kid and it's transferred to our young sprinters. She helps them get at it a little quicker. She can speak from experience. She works hard on the track. She watches her diet and does everything she can to be a better athlete. For her to keep working at it and make the Olympic team is phenomenal."
Sprinter Ebony Brown (SAR'19), from Fort Lauderdale, Fla., says the opportunity to work with Acheampong has been wonderful. "As a freshman coming in with a brand-new coach, I loved having Gemma take me under her wing and allow me to grow as an athlete," says Brown says, who finds it exciting to watch her coach move forward as a professional.
That feeling is echoed by other Terriers. "Gemma and I were training partners my freshman year and her senior year," says Maya Marshall (COM'18). "When I found out last year that she was going to become a volunteer coach and continue to train with us, I was really happy. She gave me even more advice and support than she did my freshman season. I'm so proud and happy for all she's accomplished. I know how hard she worked in pursuit of this opportunity."
This summer, Acheampong was back in Africa training with her teammates and competing in meets to qualify for the Olympics. A silver medal at the African Championships in Durban, South Africa, and a meet held in Ghana in July put her team in the Rio games as one of the top 16 in the world, a qualification that she celebrated on Twitter.
Acheampong has been posting blogs on her website, Actively Gemma, and videos like one about her Durban trip on YouTube.
How does she rate her chances in Rio? Prior to last year, she says, she was hesitant to believe she'd even have a chance to make it to Rio, but she notes with a nervous laugh that her team's recent times were better than they'd expected. "We really do hope to at least make finals, and then, in a relay, anything can happen," she says.
And she knows many will be watching. "I've always had so much support from my teammates, my family, my friends. That is just something that helped me get through all these years," she says.
Michael S. Goldberg can be reached at michaelscottgoldberg@gmail.com.