Dinner, Made Easy, and by You
MET lecturer cofounds store selling preassembled meals to cook at home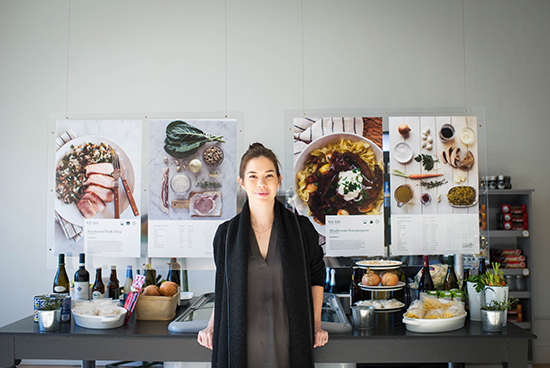 Dinnertime is full of hurdles—deciding what to make, shopping for the various ingredients, and rushing to get the meal on the table.
Enter Pantry, a new store in Brookline that simplifies all of that by selling preassembled meals with premeasured ingredients, many that can be prepared in fewer than 45 minutes. Pantry was cofounded by Amanda Mayo (MET'08, GRS'17), a Metropolitan College lecturer in the Gastronomy Program, who is currently working toward a PhD in the College of Arts & Sciences American & New England Studies Program. As Pantry's chief gastronomic officer, she designs each of the recipes featured in the store.
Pantry works a lot like the popular meal subscription programs Blue Apron and Plated, but with a twist. "We are the recipe kit store," says Mayo, who opened Pantry last August with business partner Dennis Lasko. Gone are the costs of the subscription model, a required number of meals a week, and packaging and mailing.
"Everything is preportioned, so there's zero food waste," says Mayo. "We often hear that we make people feel like they're on a cooking show, because everything is premeasured, so you just have to chop a few vegetables and dump everything into a pan."
A step-by step guide, with pictures, accompanies each meal. Mayo says her customers can make gourmet recipes for less than what they would cost as take-out.
Mayo got her culinary start working in restaurants as an undergrad at the University of Southern California. After graduating, she became a creative director at the record label Interscope Geffen A&M—and hated it.
"We were all given TVs for our offices and were supposed to have MTV or VH1 on, and instead I was watching the Food Network," she says. Next, she took a job that required her to study the Chinese beer market to help a company break into it. She loved the work, and while still in China she applied for the MET master's program without ever having visited Boston. In 2014, Lasko, who had formerly consulted with another meal subscription program, approached Mayo with the idea of opening their own store.
Inside Pantry's Washington Square location, 20 poster-size recipes and photos hang from the ceiling. They read like an expensive dinner menu: a scallop miso soup with soba noodles and bok choy; shaken beef with a red watercress salad and pickled onions; and a tofu pad thai with roasted peanuts and scallions. For dessert, there's brownies à la mode with personalized toppings. Mayo describes the meals as restaurant quality, and many are in the $11-a-person range. At a restaurant, she says, a serving for one would be upwards of $22. Pantry works with a sommelier who suggests beer and wine pairings (on sale at the store) for each dish.
Under each pictured meal is its ingredients spread out on a table or inside a cooler. The miso hake, for instance, calls for three cloves of garlic, which are already pulled off the bulb, and the soy sauce is poured inside a small plastic container. This type of "shopping" means there's no waste, and encourages customers to try an unusual ingredient, something Mayo keeps in mind when she writes recipes. Pantry's salmon with spinach barley dish, for example, calls for half an ounce of red-veined sorrel leaves. "It's almost like a rhubarb, a little citrusy," she says. "Most people wouldn't know what it was if they came across it in a grocery store, and good luck finding it in a grocery store. You would use it in one recipe, and it would cost you $15 for a bunch of it."
To find her recipes, she studies what top chefs are doing by reading a lot of magazines, restaurant news, and menus. She asks her vegetable distributors what produce is in season or exciting and builds recipes around them. She insists on her ingredients being organic and sustainable whenever possible, and says they have been tested dozens of times on a critical judge—her two-year-old daughter.
Mayo says the ease of preparation makes her products popular with families and empty nesters. How easy are they? She says the schnitzel is one of the more difficult dishes because it requires pan frying pork. "My husband, who literally once burnt a pot of boiling water, can make it," she says. "If he can cook it, anyone can cook it."