ACSRI Proposes Creation of Broad Climate Plan
Includes divestment from companies seeking new fossil fuels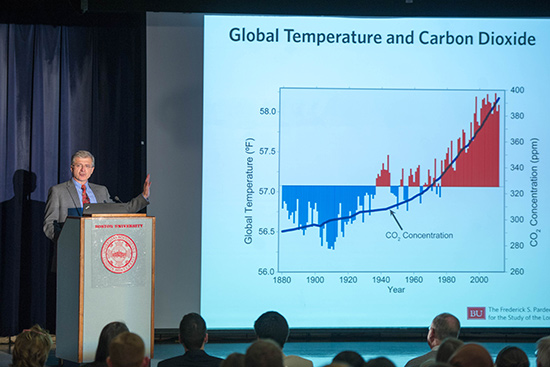 The BU Board of Trustees was presented on Friday with a broad-based proposal to expand the University's sustainability initiatives, as well as a recommendation to divest from companies that continue to explore for new fossil fuel reserves or that extract coal and tar sands. The proposal, put forth by the University's Advisory Committee on Socially Responsible Investing (ACSRI), also recommends that the University hire endowment investment managers with expertise in renewable energy sources and incorporate a comprehensive Climate Action Plan (CAP) in BU's Strategic Plan. Following the established practice, the proposal has been referred to the trustees' Executive Committee for discussion, with further deliberation by the full Board at the next trustees meeting in the fall.
Trustee Rick Reidy (Questrom'82), ACSRI chair, says universities have a responsibility to take action that addresses climate change. "Universities should play a significant role in addressing climate change where divestment may be part of it, but education and research are where we can make our greatest contribution," says Reidy. "Universities should also be prepared to walk the talk and become as green as we can be while fulfilling our educational and research mission. If we choose to divest, it is not the end of this discussion or of the University's actions on climate change in the future."
ACSRI member Steve Brady, a School of Medicine associate professor of psychiatry and chair of the Faculty Council, says the committee's study, which included presentations from several experts and a close look at the actions of other universities, ultimately persuaded them to expand their proposal beyond its initial focus on divestment to include investment, education, research, and operations. Brady says that the ACSRI believes that the University's current sustainability efforts "are terrific," and that notes from a recent committee meeting "applaud the University's commitment to reduce its carbon emissions by 35 percent in an additional four million square feet of buildings by 2020, and reduce its energy consumption between 2012 and 2017 by 10 percent."
Brady points out, for example, that BU supports many researchers doing cutting-edge climate studies. "We would like to see the University create an environment where those researchers can be as successful as possible," he says. "We should also consider that the city of Boston has a 2050 climate plan, and we should make sure that we find ways to link to our community and the city. That means encouraging things like taking public transportation, creating a biking program for faculty, and being mindful of the effects of travel, especially travel by air. It also means designing buildings for the future. We know that the seas are rising. That means building buildings that don't have mechanicals in the basement."
"Another thing," he says, "is we would like the University to support investment advisors with expertise in clean energy. These investment opportunities are expanding, and the goal is for the endowment to invest in those opportunities that meet the University's return objectives."
He says that the ACSRI proposed divestment from companies exploring for new sources of fossil fuel because "we think the world has enough known fossil-fuel reserves, and if we continue to look for new reserves, that is problematic."
The committee's recommendations also call for the development of a Climate Action Plan outlining strategies for increasing the University's green energy supply, reducing its power needs, teaching students to understand the ramifications of, and adaptation strategies for, climate change, and expanding cross-disciplinary research related to climate change. And the committee recommends teaching all community members that one's individual choices have a profound impact on carbon footprints, and preparing for the effects of climate change on the University's physical plant.
Benjamin Thompson (GRS'18), one of three students and the sole graduate student on the committee, says he is most proud of the ACSRI's recommendation concerning fossil fuel exploration. "There is no doubt that humans are driving climate change," says Thompson, "but there is immense uncertainty as to how to best create the social change to combat climate change. Even in hindsight 50 years from now, we will not really know what measures were most effective. And so because the world has been so slow to respond to climate change, I don't believe we can afford to invest all of our efforts into just one response. We must use every tool in our wheelhouse, be it divestment, investment, research, or education."
The ACSRI proposal notes: "Recognizing that the operating budget is a zero-sum proposition and that preservation of intergenerational equity for endowment distributions is a fiduciary responsibility for the University's trustees. The entire community will bear the burden of the compensating operating budget pressures caused by shifting our energy usage from fossil fuels to green alternatives. Hopefully, the savings generated by the University's efforts to reduce overall energy demand should partially offset this burden."
Read the ACSRI recommendations here.
In developing its recommendations, the committee sponsored four speaker forums and a panel discussion, heard presentations from two faculty groups and one student group as well as from the director of sustainability@BU and the senior vice president for operations, and received feedback that summarized student perspectives shared during a listening session.
Reidy says the Executive Committee's consideration of the ACSRI proposal will be guided by principles, previously established by the Board, which include whether divestiture would risk undermining the University's commitment to freedom of inquiry and whether the degree of social harm caused by the firms in the asset class is clearly unacceptable. Those principles state that:
When the Board, acting on behalf of the University, is asked to prohibit investments of the endowment in a given industry or in companies doing business with a particular government, it is being asked to express an opinion or take action on an external social or political issue that, in the overwhelming majority of cases, is not directly related to the operations of the University.
A fundamental goal of Boston University is to create an environment in which an academic community can productively consider, discuss, and debate a variety of viewpoints on social and political issues and that encourages freedom of inquiry. Such conditions allow scholars to pursue knowledge according to standards of evidence and logic without the encumbrance of an institutional position that may dampen discussion of alternative views. When the University, as an entity, adopts a single viewpoint or takes action relating to divestment, it risks undermining that goal. Therefore, non-investment or divestment actions based on social or political principles should be very rare and occur in only the clearest of circumstances, and should be judged to withstand the test of time in terms of how the wisdom of the University's decision will be judged by future generations.
Such circumstances exist only when (i) the degree of social harm caused by the actions of the firms in the asset class is clearly unacceptable; and (ii) any potential negative consequences of the decision (including the risk of censorship of competing views within the University or the risk that the wisdom of the decision will fail to withstand the test of time) are clearly outweighed by the importance of taking the divestment action in order to lessen or mitigate the social harm.
The ACSRI is made up of three trustees, three faculty members, and one graduate and two undergraduate students.