2016 Beanpot Tournament Begins Tonight
Goals for men: repeat last season's win, for women: snag first title in 35 years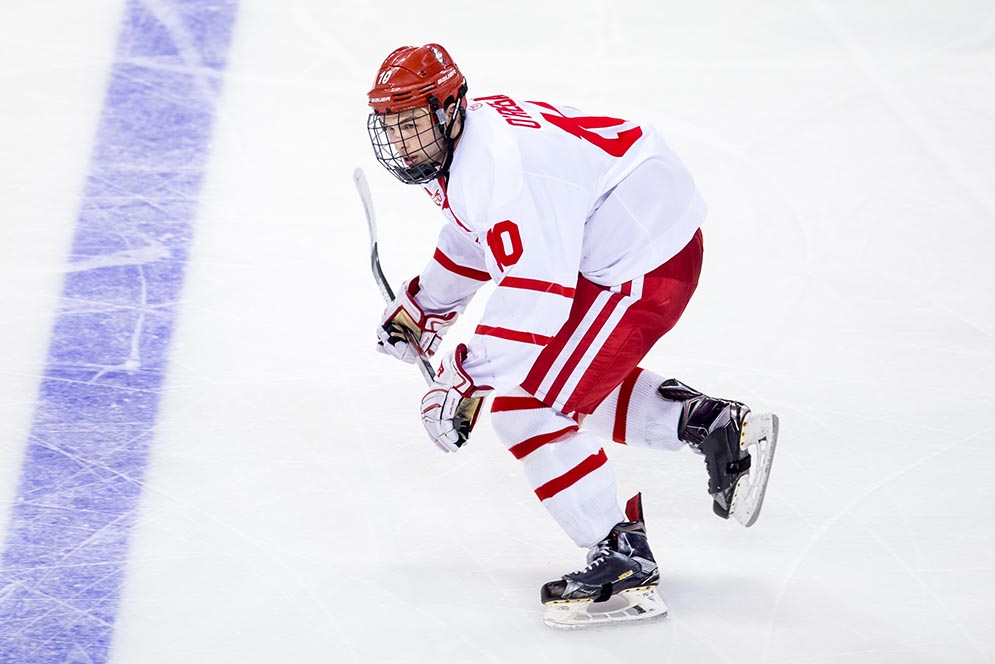 What does February in Boston mean? Arguably the biggest—and most storied—local college athletic competition: the Beanpot Tournament. Since 1952, the BU, BC, Harvard, and Northeastern men's varsity ice hockey teams have battled it out to claim title to best ice hockey team in town. The women's Beanpot, now in its 37th year, has become an equally fierce competition.
Men's ice hockey
When the Terrier men take to the ice against Northeastern in round one of the 64th Beanpot Tournament tonight at TD Garden, they'll be hoping to add a notch to their record 30 Beanpot victories.
Despite the absence of last year's star rookie Jack Eichel, who left BU to play for the Buffalo Sabres, the Terriers are confident they have a shot at keeping the Beanpot trophy.
"We're more focused on how we're playing and some of the things we're doing," says head coach David Quinn (CAS'89). "We feel like we're in a good spot right now and have been playing better hockey. We know we can match up with anyone."
With 3 of the 4 schools ranked in the top 10 nationally, this year's tournament promises formidable competition. Tonight number-four Boston College takes on number-seven Harvard at 5 p.m., and the number-nine Terriers (14-7-4) go up against unranked Northeastern—a squad that hasn't lost a game since early December—at 8 p.m. Tonight's winners will go head-to-head in the championship game next Monday, February 8, at the Garden.
The Terriers come into the tournament on a roll—winning six of their last eight games—and looking for their first back-to-back Beanpot title since 2006–2007.
Captain Matt Grzelcyk (COM'16), along with teammates Danny O'Regan (COM'16) and Ahti Oksanen (COM'16), is expected to lead the Terriers tonight. Grzelcyk, who scored the winning goal in last season's championship game, is currently third in the nation among defensemen in points per game (1.08), while O'Regan, who shot in the game winner in the overtime semifinal game, leads the team in points this season, with 29. Oksanen ranks first in the conference in shots on goal, with 130, 15 more than the next highest.
But the BU men are keenly aware of the challenges they face heading into the tournament. While the Terriers are undefeated against Harvard and Northeastern so far this season, two of those three wins were decided by a lone goal. And their matchups with BC resulted in a 1-1 tie and a 5-3 loss.
One thing the team hasn't had to worry about so far this season is the weather. The series of blizzards that paralyzed the city last year delayed the Beanpot's first round by a day, and proceeded to knock the championship game to two weeks after that. "It's really nice," says forward Matt Lane (Questrom'16). "Last year, we didn't expect it, but I think we had five snow days. It's nice knowing things won't change going into the tournament this time."
Women's ice hockey
When the BU women's ice hockey Terriers compete in round one of the 38th Women's Beanpot Tournament Tuesday night, it will be with the long-held goal of capturing their first varsity title. Their only Beanpot championship was back in 1981, when they were still a club team. To advance to this year's final game, the 17-9-2 Terriers must first beat fifth-ranked Northeastern. The two will face each other at 8 p.m. at Walter Brown Arena. Boston College, ranked number one, and Harvard will meet in the first semifinal game at 5 p.m.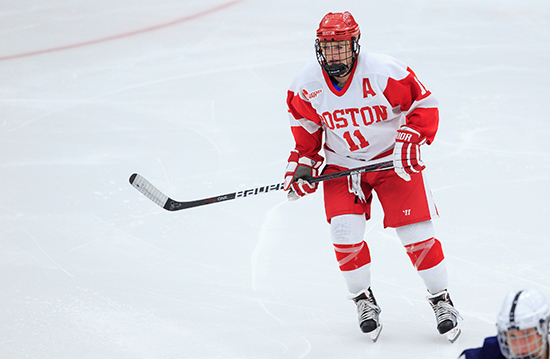 A win would make it the Terriers first time playing in a Beanpot championship game since 2012, when they lost to Northeastern 4-3 in overtime.
"We're really trying to not overhype it," says assistant captain Dakota Woodworth (COM'16). "We've tended to do that in the past and it obviously hasn't worked out for the best. We really just want to think about it like any other game."
Despite losing two-time Olympic gold medalist Marie-Philip Poulin (CAS'15) to graduation, the Terriers remain upbeat heading into this year's Beanpot. Forward Victoria Bach (CGS'16) ranks 10th in the nation in goals, with 17, while fellow forward Rebecca Leslie (Questrom'18) is tied for 5th in the nation in assists, with 28. The dynamic sophomore duo and fellow Canadians lead the sixth-best offense in the country.
Sarah Lefort (SAR'16) and Kayla Tutino (COM'15, MET'17) are expected to bring their veterans' experience to Tuesday's game. During their tenure, the two players have helped guide the program to three consecutive Hockey East championships as well as a national championship appearance in 2013.
Despite their talented roster, the Terriers have gone winless against Northeastern and Boston College this season. And they dropped an early-season matchup with their competitors tomorrow night, the Northeastern Huskies, 7-1.
But after just one loss in their last six games, players say they are well positioned as they prepare for round one of the Beanpot. "We've played a lot better as of late," says team captain Tutino. "It's an exciting time of the year—we know anything can happen. We didn't play well in that first game against Northeastern this season, but we know we're good enough to compete with them. I'm excited about the matchup."                
The 64th annual Men's Beanpot Tournament: BU plays Northeastern University in the second game of the semifinal tonight, February 1, at 8 p.m., preceded by the semifinal between Harvard and Boston College at 5 p.m., both at TD Garden, 100 Legends Way, Boston. Purchase tickets on Ticketmaster or Stubhub. Beanpot second round: consolation game is at 4:30 p.m. Monday, February 8; championship game at 7:30 p.m.; both at TD Garden. The games will be televised live on NESN and broadcast live on WTBU Radio (640 AM and 89.3 FM) and the Terrier Sports Radio Network.  
The 38th annual Women's Beanpot Tournament: BU plays Northeastern University in the second game of the semifinal Tuesday, February 2, at 8 p.m., preceded by the semifinal between Harvard and Boston College at 5 p.m., both at Walter Brown Arena. Purchase tickets here or call 617-353-GOBU and choose option 2 or at either the Agganis Arena or Walter Brown Arena box office on game days. Ticket prices for each round are $10 for the general public and $5 for youths. Students, faculty, and staff from the participating schools get one free ticket per valid school ID, available only in person. Beanpot second round: consolation game is at 4:30 p.m. Tuesday, February 9; championship game at 7:30 p.m.; both at Walter Brown Arena. The games will be streamed live on Terrier TV.
Emmanuel Gomez can be reached at mannygo@bu.edu.