What's behind the Success of Canada Goose?
SMG prof on how the upscale clothing company markets itself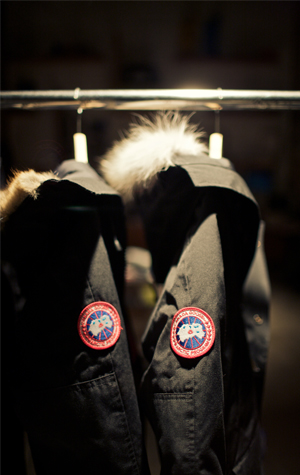 Look anywhere this winter and chances are you can find someone wearing a Canada Goose down jacket, parka, or vest. The Canadian-based clothing retailer has been so successful at marketing its puffy, doughboy jackets as elite winter wear that they're one of the season's most popular brands. The company's parkas, identified by the round, two-inch patch on the left sleeve and the coyote fur–trimmed hood, once warmed arctic explorers and Canadian Rangers, but today are commonly spotted on celebrities like Emma Stone. More recently, like North Face fleece jackets and L.L. Bean bean boots, the white goose down–filled jackets have become popular among college students.
What sets Canada Goose apart from other outerwear companies are its exorbitant prices—$745 for a women's coat, $245 for a hat at Bloomingdales. Prices can go as high as $1,700.
But those steep price tags haven't hurt business a bit. Fortune magazine reports that over the last decade, Canada Goose has seen revenues explode from $5 million to more than $200 million, with some experts predicting that figure could rise to $300 million by the end of this year.
Part of Canada Goose's success can be attributed to playing up its humble founding five decades ago in a small warehouse in Toronto (the outerwear is still made in Canada). And when private equity firm Bain Capital acquired a majority stake in the company in 2013 for a rumored $250 million, it had to promise to keep the manufacturing there.
Canada Goose is a marketer's dream, says Susan Fournier, School of Management Questrom Professor in Management and faculty director of the MBA Program. Fournier invented a subfield of marketing on brand relationships and researches how companies create value through their branding.
BU Today spoke with Fournier about Canada Goose's ultrasuccessful brand and the ways it has formed relationships with its customers.
BU Today: Why is Canada Goose such a popular brand right now?
Fournier: I don't have their marketing campaign in front of me. All I know is that their marketing comes from grassroots. They had a strong narrative, and then it started getting picked up by certain groups. People started to think about hardcore Canadians braving the cold, and so it became a fad and then transitioned from a fad into a strong brand. I think it's mostly about that and keeping prices high, not going crazy with sublines like making lighter fall jackets, for instance. Also protecting distribution so they don't show up at a discount store like TJ Maxx or an outlet. It's that, being smart enough not to kill it.
So you're saying that some brands damage what they have by expanding too fast?
I think that's the case with tons of things. Burberry has come back now in popularity, but they were in danger for a while, and the same thing was true with Calvin Klein. They made their brands too available. If you're going to be exclusive, availability—both distribution and pricing—is the opposite of that, so you have to balance that tension really carefully.
In a marketing campaign, you have the four Ps: product, place, price, and promotion. The pricing and the distribution are the most important for a brand like this. It's growing, everyone wants it, so it's hard to say, "Well, we're not going to make it available for everyone," because you always want to serve shareholders and make the largest profit.
Is price the main barrier for accessibility?
I think distribution, too. Barriers to accessibility would also be, "Can you get your hands on it?" You have to work a little harder to find it. This brand has exclusive distribution; it's not everywhere. Those are two barriers.
There's a lot of hardy outerwear out there—L.L. Bean, North Face, Patagonia. How have those brands convinced people that winter gear is fashionable and even a luxury item?
That's interesting too. The North Face has grown hundreds and hundreds of percent over the last few years, and they could risk blowing the whole thing up. But people are still into their ultra down coats, so they are still hanging in there. But they're kind of at that close edge.
At some point, many of these brands were only found in small communities, like L.L. Bean used to be for fishermen and hikers, but then they broadened. I think that's step one; you start to shift the category frame that you think of this as. It's not hard-core expedition wear, it's about outer fashion. Outerwear is still outerwear, but you don't have to go on an arctic expedition anymore.
The first step is transitioning the brand to fashion. Remember Swatch? The innovation in Swatch was that watches used to be about timekeeping, and then they made it about fashion. They told customers that if they bought a Swatch watch, it was actually like they had 10 watches because of the interchangeable bands. Same thing with eyeglasses. You used to have one pair, and now people often have several with different designs.
Then it's part of a trend that people are willing to pay more for. People are paying more for good quality things in general. Look at the iPhone as a great example. Who in their right mind wants to spend $800 on a phone? But we're doing well enough as an economy, and it's become a little easier for a lot of people.
What about the backstory for companies like Canada Goose? Is it important to form a narrative around a brand to be successful?
In these narratives you feel like you get to know the founder as a person. They're adventure seekers. It's the same thing with Patagonia and L.L. Bean. I think that's a huge factor. Maybe more in contemporary consumption, even more so in the past 10 or 20 years, this idea of a narrative is critical. There are so many brands out there that if you don't have a story, and a character in your story, you're behind. Like in your English classes, you need a character and a plot to make a good story.
Having a story differentiates you and gives your brand authenticity, which is critical for brands today. Harley Davidson is a great example—they have this founder myth. The founders of Snapple were hugely important for getting Snapple off the ground; they were window washers. If you dig into some of your top brands, they all have these mythologies. And they have some credentials when it comes to authenticity.
Canada Goose doesn't do a lot of advertising; it relies instead on product placement in movies and word-of-mouth. What's so effective about that type of advertising?
That's kind of what I was getting back to. The beauty here is they don't have a marketing campaign with a capital M, meaning traditional stuff. Instead, they're doing cultural branding. Cultural branding means you want your brand to naturally become part of the culture—in other words, placing the products into the audience where you want it to gain traction.
The technique is you try to get people to use the product and talk about it with their friends. That's not in the hands of the marketing team; that's in the hands of the consumers. It's much more powerful and credible, much more approachable. You want to become part of culture. When you become part of culture, then you might get into a movie with a scene where the characters are in a really cold climate. Hollywood wants brands that are hot because they convey a lot of meaning, and it keeps going. People who are fashion bloggers want the brand because it's something that keeps going. It has authenticity; it's not going to seem commercial, and it's not pushing a product.
Why has Canada Goose decided to target the college market?
I don't know the answer to that without seeing their marketing plan. I could see young adults as a target; I don't know if it's just college. But you figure college students might have the ability to afford these things, and that it's a good target audience, one that's hip. They're not targeting younger kids.
A BU student created a parody patch and raised money on Kickstarter to manufacture the patches. Does Canada Goose benefit from parodies like that?
It depends on the parody, but 80 percent of parodies are kind of good. If they're going for your main message, and discrediting you, that's probably not a good idea. For example, Matthew McConaughey did a series of Lincoln car spots, and people made parodies that hit a little too close to home.
But take the case of Snuggie. Those blankets were being sold on infomercials, then the parody world got ahold of them, and tons of parody commercials got loaded onto YouTube and that's when that brand went nuts. A brand wants people to accept them as part of today's cultural fabric.
Every brand wants to have this product that everyone wants, so the challenge is to keep it cool. The test for Canada Goose will be coming up, and let's see if they can ride this wave and not kill it.