POV: Sorry Patricia Arquette, Women Are Doing Better Than You Think
Less pay inequality, with lingering differences mostly because of job choices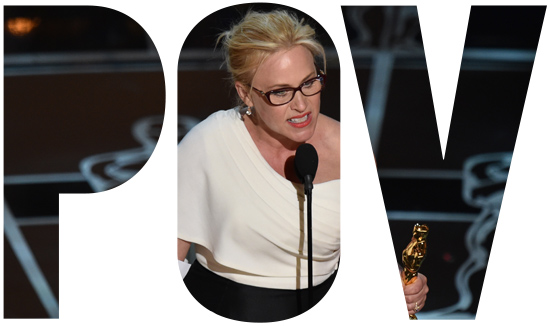 I had two emotions when I heard Patricia Arquette's acceptance speech last week for her well-deserved Oscar for Boyhood. First: good for her to want to spend her speech trying to improve the world by calling for pay equity between genders instead of reveling in her own fame.
Second, however: what a shame that she believes the same old pseudo-facts instead of thinking for a second about what the statistics really mean. Why can't people learn to be critical about statistics?
One day after the annual observance of International Women's Day, here's the real scoop. The average of 77 cents on the dollar that women receive compares the median annual income for full-time, full-year 25-to-69-year-old women and men. That average is much better than it was as recently as 1980 (when women made less than 60 percent). But that's not a fair measure. If you compare women and men doing the jobs with the same kind of job history and for the same time devoted to their current job, you get numbers closer to 92 cents on the dollar. While that's not 100 cents, it leaves a very different taste in your mouth than 77.
Why has the gap closed as much as it has? Because women used to have less education and much less experience than men. Every new generation becomes more similar along those lines. In fact, women now are getting more education than men, as the 57 percent ratio of women to men in US universities attests. Women also make different choices about their careers and their majors and their jobs, and until men and women make the same or similar choices, they'll get paid differently.
For instance, take a look at the facts in my recently published article about women in science academia. If you compare salaries of women in the same field at the same academic rank in major research universities, women earn slightly more on average at entry level (assistant professor) tenure-track jobs, as well as at the most senior jobs, and slightly less in the intermediate level jobs (associate professor). But non-tenure-track jobs pay much less than tenure-track jobs, and women dominate that group.
So those interested in equality need to do two things. They need to understand why men and women are choosing different careers (even within academia) and then decide if this is something they want to change. And they want to identify the relatively few occupations where identical-seeming women and men get paid differently, and figure out why and what they can do about it. In this latter category, I include my own field (academic economists) and Arquette's (filmmaking, both actors and most others whose credits we see scrolling down the screen).
Understanding the first part is far more important, because it affects far more women. If different career choices depend on people's true preferences as to what they want to spend their time doing, so be it. If the choices depend on the kinds of jobs people believe they can get (based on stereotypes, financial limitations, actual or perceived discrimination, and the like), then as a society, we need to figure out how to reverse that.
But if the different choices result from women (more than men) wanting the flexibility of time they need to raise their children and go to parent-teacher meetings, things won't completely change until more employers pay a lot more attention to offering flexible hours in the interest of attracting talented women. Or until fathers want to take an equal role in child rearing and mothers let them.
Shulamit Kahn, a School of Management associate professor of markets, public policy, and law, can be reached at skahn@bu.edu.
"POV" is an opinion page that provides timely commentaries from students, faculty, and staff on a variety of issues: on-campus, local, state, national, or international. Anyone interested in submitting a piece, which should be about 700 words long, should contact Rich Barlow at barlowr@bu.edu. BU Today reserves the right to reject or edit submissions. The views expressed are solely those of the author and are not intended to represent the views of Boston University.