COM Gets a New Production Studio
More than double the space for directing, cinematography classes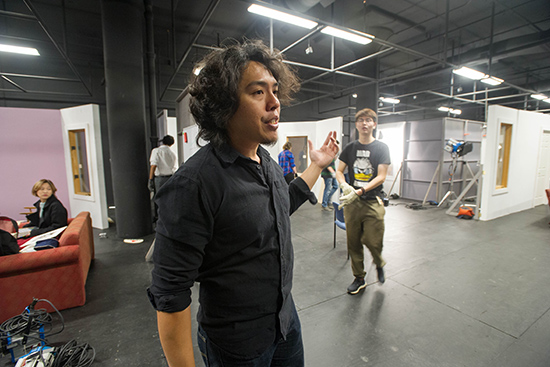 A former storage area for surplus refrigerators and mattresses has been transformed into a production studio that will give College of Communication students a chance to create their own film sets and to explore the art of cinematography and directing in a way they haven't been able to before.
Built in 1912 as an automobile dealership, the COM building was "never intended for film and TV work," says Paul Schneider, a COM professor of the practice of film and television and department chair. Prior to the construction of the newly designed studio at 300 Babcock Street, the department shared a 1,200-square-foot space with BUTV10, COM's student-run television station, but there wasn't enough room for film and television students to experiment with cinematography and lighting or for directors to work at length with actors. And COM had no space available to build the kind of studio the department envisioned.
Schneider says the new 2,900-square-foot Film & Television production studio represents a breakthrough for the department. Facilities Management & Planning began gutting the space early this fall. The two-month renovation included raising the floor two feet and building shelving and storage. The sprawling room is painted black so light won't reflect off of floors and walls, and a ventilator was installed to make sure that lights don't overheat. Speaking of lights, the newly installed lighting grid is "strong enough to hold the weight of an elephant," says Joel San Juan, a COM associate professor of the practice of film and television, who is already using the space for his cinematography and directing classes.
On a recent weekday afternoon, San Juan was helping seniors and graduate students in his cinematography class set up their final projects. The room was divided into five separate sets with the help of stage or scenery flats—large, reusable set pieces that can be configured in different ways and are easily stored. Switching out a plain stage flat with one adorned with a brick wall, door, or window, for instance, can completely transform a set. The windows of stage flats are made of depressurized glass, allowing light to filter through and preventing them from exploding from the heat.
Joe Curtin (COM'17) was serving as director of photography for a scene where a man was about to break up with his girlfriend. As he dressed his small set using a dorm bed (and his own sheets), a window, and a desk littered with books, the four other members of his production team adjusted lighting and the camera lenses. The edited scene will wind up being no more than a minute long.
"I'm quite happy with the new studio space, and it's definitely an improvement," Curtin says. "It's much larger and more spacious than the previous options we had. It provides ample space for several people to film their projects at once, which is necessary due to the nature of the class."
San Juan boasts that BU is one of the first schools in the Boston area with this kind of space. "It means freedom to do much more," he says. "One of the main things that stopped us bringing our cinematography classes to the next level was the space. Our projects were getting in everyone's way. Now students can really explore cinematography, play around with different lenses, explore depth and focus. Now, there's so much freedom for them to try whatever they want."