A Walk in the Park
Take a guided tour of Harvard's Arnold Arboretum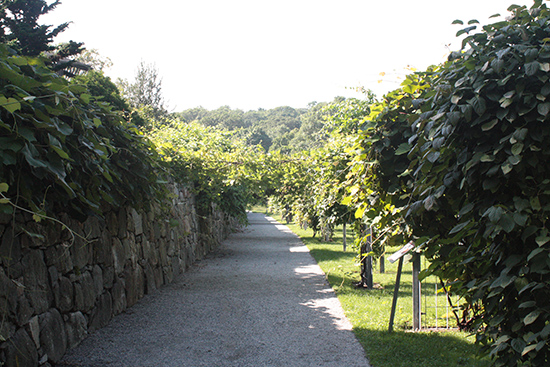 With nearly 15,000 trees, shrubs, and flowering plants spread over 281 acres, the Arnold Arboretum offers city-dwellers a chance to escape the summer heat and revel in 4,000 species of native and exotic woody plants—all just minutes from downtown Boston in Jamaica Plain. Every week from May through early November, the arboretum offers 90-minute walking tours led by volunteer docents on Mondays and Thursdays, beginning at 10:30 a.m. The tours include information about the arboretum's history, its world-class collections, and topics of seasonal interest.
Founded in 1872, the arboretum is part of Boston's park system, one of the jewels in the Emerald Necklace, a seven-mile-long network of parks and pathways designed by prominent 19th-century landscape architect Frederick Law Olmsted, best known for his design of New York City's Central Park. Owned by the city of Boston and overseen by Harvard University on a 1,000-year lease, the arboretum today is a leading educational and scientific institution. It is designated as a National Historic Landmark.
The tour (also offered on weekends) takes visitors past the recently redesigned rose garden, the wildflower-planted Cosmopolitan Meadow, and other sites of special interest. Afterwards, take some time to meander about the arboretum's collection of maple trees, crab apple trees, rhododendrons, and the spectacular seasonally displayed Larz Anderson bonsai collection. Search for rare New England species in the hidden Explorers Garden beneath the summit of Bussey Hill.
Plants are grouped by family and genus and labeled with identification tags for easy classification. Botany enthusiasts can also direct questions about a particular plant to the arboretum's hotline (617-384-5235) between 1 and 3 p.m.
Head back to the Hunnewell Building Visitor Center to view the Science in the Pleasure Ground exhibition, featuring original Olmsted landscape drawings, then-and-now photographs, and a 9-foot-by-25-foot scale model of the grounds. Visitors can also see a traveling art exhibition, Arboretum Inspiration: Image and Word, a collaboration between photographer Philip McAlary and poet Holly Guran.
The grounds are open every day from sunrise to sunset. Picnicking, barbecuing, smoking, and organized group sports are forbidden to protect the plant specimens. Bicycles can be ridden on paved paths only and dogs are allowed if leashed.
Weekday tours of the Arnold Arboretum are on Mondays and Thursdays at 10:30 a.m. and weekend tours are on Saturdays at 10:30 a.m. and Sundays at 1 p.m., at the Hunnewell Building, 125 Arborway, Jamaica Plain, through November 1. Take an MBTA Orange Line trolley to Forest Hills and walk along the Arborway to the arboretum's main entrance gate, or take an MBTA 39 bus from Copley Square to the South Street and Custer Street stop, and walk left on Custer three blocks. Tours and admission are free, but donations are appreciated. Find more information about the arboretum here or call 617 384-5209.
Ashley Mayrianne Jones can be reached at ashjones@bu.edu.