Huntington's A Confederacy of Dunces Stars Nick Offerman
Parks and Recreation actor plays eccentric protagonist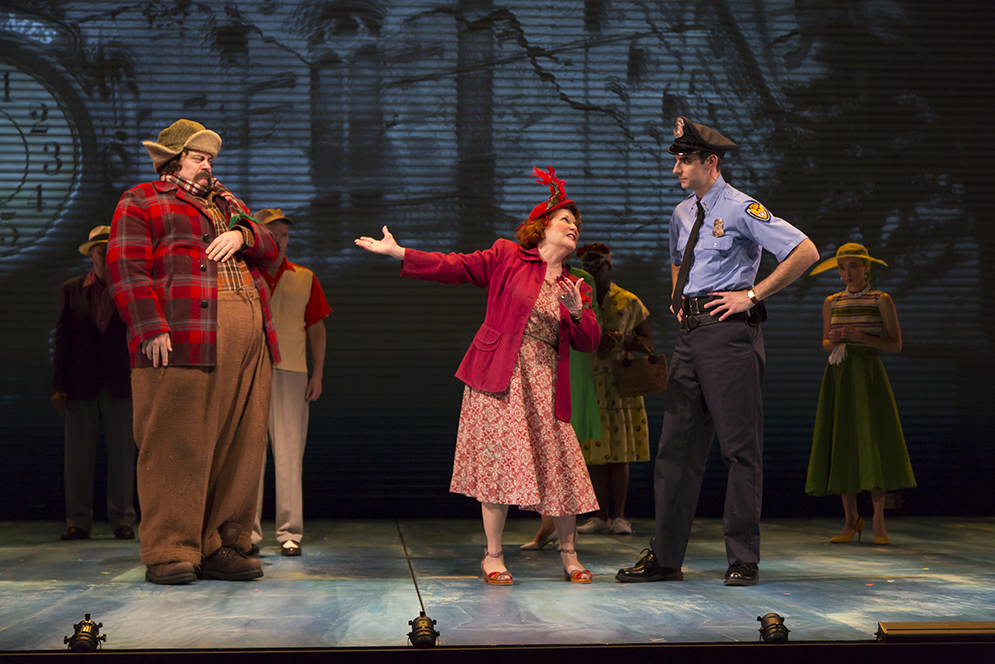 Do you speak Yat?
Several characters in the Huntington Theatre Company's much-anticipated world premiere of A Confederacy of Dunces, opening tonight, speak in the Yat dialect of working-class New Orleans.
"The reason it's called Yat is because of that rather famous greeting New Orleanians say, 'Hey, cher, where y'at?" says Amelia Broome (CFA'03), the production's dialect coach. "People say it's a bit of an existential question, meaning, 'How are you? Where are you at, as far as your life is concerned?'"
As far as Ignatius J. Reilly's life is concerned, it's a mess. The fat, slovenly, arrogant, deeply eccentric protagonist of Dunces, sometimes called the Don Quixote of the French Quarter, Reilly lives with his mother and is forced by circumstances into a variety of misadventures—at a strip joint, a pants factory, and a hot dog cart, where his erudition and disdain can seem out of place, if not entirely delusional.
The play is a hot ticket in part because Reilly is played by Nick Offerman, known to millions as the manly misanthrope Ron Swanson in Amy Poehler's Parks and Recreation. Playwright Jeffrey Hatcher adapted the late John Kennedy Toole's novel, and David Esbjornson directs.
The novel is a comic picaresque, bolstered by its colorful and loving depiction of New Orleans in the early 1960s. But the poignant story of how it came to be published also burnished its reputation. New Orleans native Toole, if not as outrageous as his character, was nevertheless a misfit. He wrote the novel in the early- to mid-1960s, but couldn't get it published. His mother found the manuscript after his 1969 suicide and enlisted novelist Walker Percy in her campaign to get it published, which took 11 years. In a stunning turnabout, Dunces became a best seller and went on to win the Pulitzer Prize.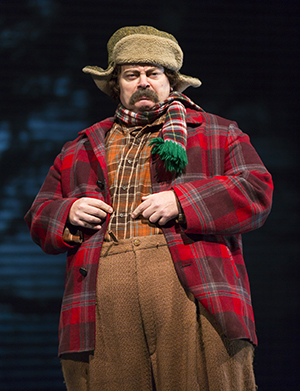 A movie version of the book has been bandied about ever since, but cameras have yet to roll, and the Huntington production is now a Broadway hopeful. It helps to have a star of Offerman's caliber, who can talk up the play on The Tonight Show Starring Jimmy Fallon, where he recently touted a comically meat-heavy diet he says he's using to bulk up for the role. (Reportedly, a fat suit is also involved.)
Offerman also displayed his deadpan delivery at a press event, talking about the challenge of a long stage run. "I've worked a lot of my life as a laborer, pouring concrete, blacktopping roads and parking lots, framing houses," he said. "So it's easy for me, if my attention flags, to just imagine that I am in Chicago, roofing in August, and I am suddenly, immediately invested in the work at hand."
In fact, Offerman's Reilly is one character who doesn't speak Yat. Although he was raised a Yat, he has distanced himself from family, modernity, and his native society.
"He has erased it," Broome says of Reilly's Yat. "Ignatius' words are multisyllabic, with many references to figures in history. It's all in the text. In the fine hands of a good actor like Nick Offerman, it's playing itself. I'm not saying he's not working terribly hard—he is—but that part of it seems to be taking care of itself."
Veteran voice teacher Broome, who is also an actor and an Emerson College faculty member, was charged with teaching the actors to speak Yat and other accents and dialects required by the show. The sound of New Orleans has accumulated flavors of French and Spanish, Cajun and Creole, all mixed together in a unique verbal gumbo.
"There are sounds in the Yat dialect that are actually the same sounds that some New Yorkers and folks from New Jersey make, the oi sounds, moider (murder), thoid (third)," she says.
"Amelia has an amazing ear," says veteran actress Anita Gillette, who plays Reilly's mother, Irene. "Yat has almost a Brooklyn kind of sound mixed with a little Baltimore and Southern. I didn't want Southern or my hometown Baltimore to get too much dominance. She kept my mix on track. She's really great."
Broome earned a master's degree in theater education at BU and is a designated Linklater Voice teacher. For the Huntington, the Lyric Stage Company, the SpeakEasy Stage Company, and many others, she has helped performers master accents such as New York, Irish, Italian, and German along with her native Southern accent. The longtime Boston-area resident is originally from Georgia.
"I am a lucky person in that my husband happens to be a Cajun chef," she says. That's John Silberman, who studied with the late legendary New Orleans chef Paul Prudhomme. In the 1980s Broome and Silberman ran Cajun Yankee in Inman Square, the first Cajun restaurant of note in the Boston area. "We get to New Orleans at least once a year to eat and visit all the folks that my husband knows down there, so I've been attuned to this way of speech for a long time," Broome says, "even though this is the first time I've coached it."
When they visited in August, she listened more carefully than usual, took notes on pronunciation, and interviewed a few people about Yat.
She has met with Offerman a couple of times and has come away thinking, like many people do, that he has his own way with words.
"He said, 'I love tutelage,'" she says and laughs. "Isn't that a beautiful thing to say?"
The Huntington Theatre Company production of A Confederacy of Dunces is playing at the BU Theatre, 264 Huntington Ave., Boston, through December 20. Tickets may be purchased online, by phone at 617-266-0800, or in person at the BU Theatre box office. Patrons 35 and younger may purchase $30 tickets (ID required) for any production, and there is a $5 discount for seniors. Military personnel can purchase tickets for $20 with promo code MILITARY, and student tickets are available for $20. Members of the BU community get $10 off (ID required). Call 617-266-0800 for more information. Follow the Huntington Theatre Company on Twitter at @huntington.