Where the Wild Things Are
CAS researcher lends voice to app about Arnold Arboretum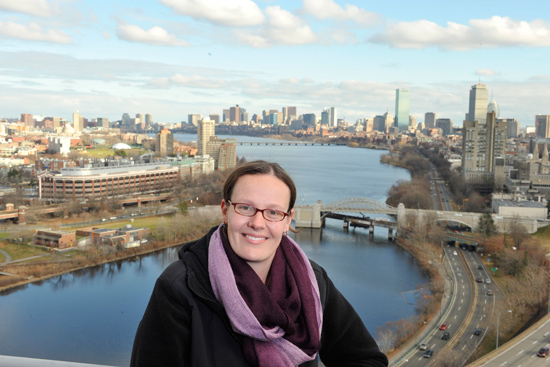 "Recording artist" typically isn't part of a climate change researcher's job description, but Lucy Hutyra recently loaned her voice and knowledge to a new app describing her work at Harvard's Arnold Arboretum.
Hutyra, a College of Arts & Sciences assistant professor of earth and environment, and Stephen Decina (GRS'20), a PhD student working with her, are BU's representatives on the app, which features about a dozen contributors. The app, available October 18, was developed by Teri Rueb, an artist in residence at Harvard's metaLAB, a research group studying connections between and among the humanities and the arts. The free app will be available for downloading from Google Play and the App Store.
Hutyra's work centers on Bussey Brook Meadow, designated an "urban wild"—a piece of largely untouched nature and the least manicured and managed of the arboretum's 281 acres. The meadow has a paved trail and is located next to the Forest Hills subway stop in Jamaica Plain, but its trees also share space with stinging nettles and poison ivy rather than showcase flora, says Hutyra, who studies the environmental benefits of plants growing in an urban space.
"We've measured what biomass is," she says. "We've measured chemistry of the plants, of the leaves of the plants, we've measured how quickly plants are growing, we've measured soil chemistry." That's what Harvard asked her to discuss on the app, which she calls "a walking tour through this portion of the arboretum." Plaques installed at points along the trail have codes that users can scan with their phone to hear that portion of the app's narration.
BU Today chatted with Hutyra about the app and her research at the meadow.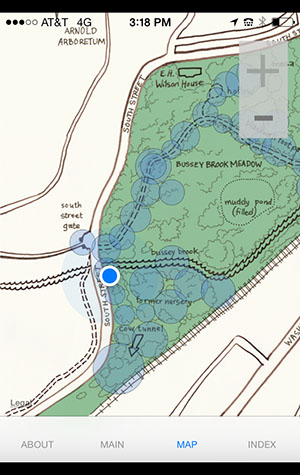 BU Today: What do you say in your presentation?
Hutyra: I talk about my research in general and the role of Bussey Brook. I also talk about environmental change within the city and what this tract of forest is experiencing relative to what a natural forest might experience. I talk about urban wilds, urban forests, global environmental change, and how plants experience a different environment, as well as the value of a place like Bussey Brook. I'm not the only person doing research there. There are some other scientists, from Harvard, interviewed on the app.
The app also includes birders and commuters who just walk through here and talk about how having a portion of their commute go through a forest influences their day and their perception of the environment.
If you want wilds, you can drive not far from Boston and find them in New Hampshire or Vermont or the Berkshires.
You could drive an hour and escape the city and have this experience in nature—that's great. But it's different if you can see it every day—having your notion of urban include more than just buildings and pavement. The other thing is, these patches of forests do a lot for the city. They provide habitat for birds and animals; they are changing the water flow. If water hits pavement, that water moves very fast and then goes into our wastewater system. If water hits forest, the water goes down through the ground. Chunks of vegetated land with soils actually do water filtration. It reduces the load that is going into wastewater treatment facilities. It's also storing carbon and it's exchanging carbon. It's cooling the city. The city as a whole has an urban heat island effect because of all the pavement that we have and the dark colors that we have. Forest creates something of a cool island.
Those urban influences on forests are big. You have carbon dioxide concentrations that are dramatically enhanced, you have these urban heat island effects, you have differences in species composition. Bussey Brook is like a little petri dish where we can study some of the phenomena that are happening globally. We can study them in an accelerated way there because all those phenomena about increasing temperatures, that extra CO2, are happening much faster in cities.
How did the app's developers find you and ask you to be a part of this?
The Arnold Arboretum knows that we're doing work there. A former faculty member from the arboretum called me and said I would be perfect to talk about this. I think there are a dozen contributors.
How many folks in your field participate or produce apps for things like this?
I haven't heard of this particular thing, especially as a sound installation. In my mind, what I have done by participating in this is scientific outreach, where I'm taking my science and putting it into a different context and exposing what we're doing to a different body of people than would normally hear about it.
How long has Bussey Brook Meadow been a research site for scholars?
Since 1996. It has your typical assemblage of New England oak trees. There are also some invasive species—Ailanthus altissima, which is a tree from China, They've left it there because they're trying to let this be an urban wild where they're not cherry-picking and planting trees and so forth.