POV: Why BU Should Divest from Fossil Fuel Companies
Taking responsibility for ourselves—and away from corporate powers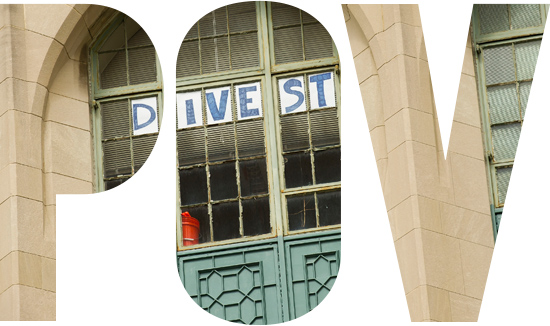 While fossil fuel company divestment is a positive strategy to move us to renewable energy, it also provides a pathway to empower people—at BU, in Boston, and across the nation and globe. Here at home, powerlessness pervades our daily lives, from being helplessly stuck in gridlocked traffic to having our personal information harvested from us with our every move. But we've become accustomed to and accepting of this in our daily life. The comforts of life allow it.
Two events, Hurricane Katrina in 2005 and Superstorm Sandy in 2012, exposed our powerlessness in the face of a greenhouse gas–fueled expression of nature. While President George W. Bush, then arguably the most powerful person on the planet, surveyed Katrina's wreckage from the comfort of his airplane, those with only limited choices and resources were dying in the streets of New Orleans or stranded in the Superdome waiting for help that, for many, came too late.
My in-laws on Long Island were stranded for over a week during Superstorm Sandy. They had it lucky. The powerlessness on display in the Queens community of Breezy Point was stark—more than 80 homes were destroyed by a fire, fed by gas lines that residents could not shut off and that authorities did not shut off until after all the homes burned to the ground. People were powerless to get gasoline into their cars because of the lack of electrical power needed to pump the gas. People could not charge their mobile devices, which they needed to use so desperately to communicate.
Over my 47 years, I've matured into a world of increasing powerlessness. I've come to learn that the root cause of this is an economic, political, and energy infrastructure system increasingly built around an ever-increasing centralization of power. Power of all these kinds is increasingly held by distant corporate or public entities and the few people who control the fossil fuel repositories and pipelines that are literally our energy lifelines. This leaves the rest of us increasingly vulnerable, for when there is a disruption in the supply of power that they dole out, we lack the independence and resilience to take care of ourselves.
We get blamed for our powerlessness. Students and faculty who speak out for changing our fossil fuel–based economy are told with contempt to stop using their laptops and lights. Consumer culture is a huge problem, and BU is leading the way nationally, from a strong student bike culture to our outstanding Sustainability@BU program. But consumption is only half of our problem. Right now, global corporate interests are planning to lay a massive pipeline network across our country and world that would lock Earth into a dirty-energy economy through the century. This is not about serving demand; it is about creating demand domestically and exporting it, while keeping control of power away from people like you and me. It's like dangling cigarettes in front of an addict while blaming them for their addiction.
Divestment from oil, coal, and gas companies would make a powerful statement that we will not continue to commission the Keystone XL pipeline, which would deliver the dirtiest crude oil from the Alberta tar sands across sacred indigenous lands and family farms into the lungs of communities of color on the Gulf Coast. Divestment says "no, thank you" to the Kinder Morgan gas pipeline being pushed through Massachusetts, which taxpayers were to pay for until we spoke up. Divestment says we will not stand idly by while oil extraction devastates indigenous communities and biodiversity near the Yasuni/Tiputini rain forest in Ecuador, where BU teaches a semester abroad program about ecology and environment.
Divestment says that we must stop commissioning a decades-to-centuries lock-in of fossil fuel infrastructure, and proclaims that we have the power to do so—to conserve and build cleaner, decentralized energy and power systems. We will build political empowerment, social empowerment, economic empowerment, energy empowerment.
On the heels of Katrina, I was so compelled by my own feeling of helplessness that I took my office off the grid and literally pedaled my own energy. In the days following Sandy, I watched energy resilience emerge on the streets of New York when a bike generator was used to charge mobile phones. At BU, I am inspired by people like Claire Richer (CAS'15) and her EmPowerMe project, which literally gives pedal power to the people of BU. I am inspired by the School of Education building a solar, wind, and pedal-power station.
Science has documented with little doubt that storm surges like those that devastated New Orleans and New York were worsened by a sea level rise that increasingly threatens our coastal cities and communities. But let's buy into the denier argument for a moment—putting aside how unscientific it is—that the devastations of Katrina and Sandy had nothing to do with the 40%-and-rising increase in carbon dioxide we've spewed into our air in the last 150 years. Let's suppose that BU's investment in the Keystone XL pipeline really doesn't matter in terms of climate change. Even ignoring that climate change is the defining issue of our time, Katrina and Sandy demonstrated our dangerous dependence on systems of highly centralized power and our collective, utter powerlessness as citizens and communities.
For that reason alone, I believe that fossil fuel divestment is a powerful step that the entire BU community will take to empower us and the world. Yes, I believe this. As a scientist, I don't care anymore when people tell me that I'm not supposed to believe in things, because I know, as a human being, that empowerment begins with belief.
Nathan Phillips, professor of earth and environment at the College of Arts & Sciences, can be reached at nathan@bu.edu. He is among the signatories to a faculty petition urging BU trustees to divest from oil, coal, and gas companies.
"POV" is an opinion page that provides timely commentaries from students, faculty, and staff on a variety of issues: on-campus, local, state, national, or international. Anyone interested in submitting a piece, which should be about 700 words long, should contact Rich Barlow at barlowr@bu.edu. BU Today reserves the right to reject or edit submissions. The views expressed are solely those of the author and are not intended to represent the views of Boston University.