POV: Who Mourns for Brianna?
Marathon memorials appropriate, but don't forget other violence victims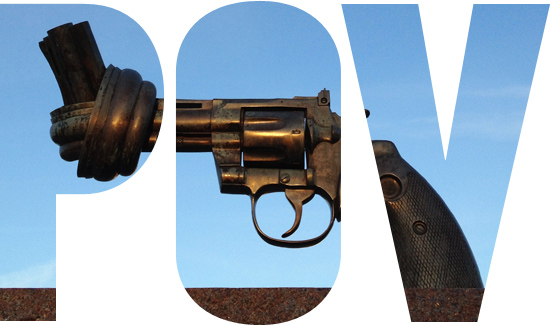 When the Red Sox hosted the Baltimore Orioles at Fenway Park on April 21, 37,000 fans and hundreds of thousands of viewers stopped to honor the victims of the Boston Marathon bombings. In the week leading up to the Marathon, a host of public events and media coverage recalled the destruction wrought by a single act of violence that shook the city, the state, and the nation. We all remember what happened on April 15, 2013.
But what was the public and media response in the week leading up to the Red Sox game against the Tampa Bay Rays on June 1? (More to come about the significance of that date.) Was there a series of events and memorials to commemorate the tragic event of that day a year ago? Did the family affected by that tragedy tell their story on Meet the Press? Does anyone other than the community directly affected by the violence that occurred on that day even know what happened on June 1, 2013?
As of the middle of this week, acts of violence in Boston had killed 57 people in our community since April 15 of last year—3 were killed on April 15 and another 54 died in the weeks and months after the Marathon bombings. For most of us, violence caused by firearms or explosives is an event that we witness a few times in a lifetime, making it that much more memorable and explaining why communities that experience these tragedies so infrequently devote such attention to remembering them.
But there are communities within our city that experience fatal violence on an almost daily basis. There have been more than 200 shootings in Boston since last year's Marathon, and they have caused more than 50 deaths. Of that number, 42 occurred among young people age 25 and under; 2 of the victims were youths; 3 were young women.
However, the surviving victims of these tragedies, their families, and their communities do not have the opportunity to share their stories. They are not invited to speak on Meet the Press. They are not honored at Red Sox games. They are not memorialized at public events and ceremonies. Their stories are not shared on the front pages of newspapers. To these communities, violence, shootings, and tragic deaths are a way of life, not an occasional horrific event that causes normal life to stop. The victims of, and witnesses to, this urban violence, largely caused by firearms, simply have to live with it. Worse, they have to accept that no one is going to tell their story, no one is going to memorialize their children, no one is going to honor them at Fenway, and seemingly few politicians are going to have the courage to take action to put an end to their tragedies.
I am not arguing that there is anything wrong with the many memorials to the victims of the Boston Marathon tragedy. However, seeing the destruction to our entire community wreaked by a single act of violence should sensitize us to the hundreds of acts of violence that occur each year. Perhaps the Marathon bombing victims are not the only victims of violence who should have been remembered and honored at Fenway Park this past Marathon Monday and in the media during the preceding weeks.
Joseph Stalin reportedly said, "The death of one person is a tragedy; the death of millions is a statistic." Somehow, there is a human tendency to pay more attention to a single tragic event than to a pattern of fatal violence that occurs on a regular basis. Maybe we need to reconsider what counts as a tragedy worthy of commemoration, versus a "normal," everyday occurrence that we merely accept as a way of life.
Perhaps, too, we need to rethink what we mean by "our community." Does that include only the Back Bay? Does violence that occurs in Roxbury and Dorchester count? Is where you happen to live a criterion for whether your community's experience with violence qualifies to be covered prominently in the media, or does your zip code confine tragic events in your community to a small paragraph in the Metro section?
While Marathon bombing victims at Boston Medical Center were being treated to special dinners, victims of "routine" tragic events in Roxbury and Dorchester were eating hospital food in the adjacent rooms. The special attention given to victims of tragic violence in our community was entirely appropriate. But is that attention warranted for all victims, or only for some? And do your address and the frequency of violence in your community constitute valid criteria for determining the difference?
On June 1, 2013, Brianna Bigby, age 23, was shot to death in Roxbury. Brianna was described as "a precious angel," a good kid who "did everything right, nothing wrong." A METCO student who graduated from Concord-Carlisle Regional High School, Brianna was remembered by her teachers and fellow students as a young woman who "everyone knew would go on to do great things."
Just two days after the Marathon bombings, a six-month-old girl in Mattapan lost her father, Cliffy Townshend, to a horrific shooting. There was no lockdown to help police find the person who killed Alaysia's father. Her family is not appearing on national television shows to tell their tragic story. And there is no One Fund to collect donations to support her and perhaps help her achieve the dream of pursuing a college education.
It is a beautiful thing, and a testament to the strength, resilience, and unity of the greater Boston community, that we devote our thoughts, prayers, donations, and time to the commemoration of the Boston Marathon tragedy. However, should we not also spend at least a little time remembering and honoring the victims, families, and communities touched by the more than 200 violent shootings that have occurred in Boston since that tragedy? Taking some time to tell the story of Brianna Bigby, Alaysia Townshend, and the families of more than 50 other victims of violence during the past year would give an even more glorious meaning to our declaration: "Boston Strong."
Michael Siegel, a School of Public Health professor of community health sciences, can be reached at mbsiegel@bu.edu.
"POV" is an opinion page that provides timely commentaries from students, faculty, and staff on a variety of issues: on-campus, local, state, national, or international. Anyone interested in submitting a piece, which should be about 700 words long, should contact Rich Barlow at barlowr@bu.edu. BU Today reserves the right to reject or edit submissions. The views expressed are solely those of the author and are not intended to represent the views of Boston University.