Mr. Spock, the Photographer
BU show displays Leonard Nimoy's talent behind the camera
Leonard Nimoy is best known to television audiences for his iconic performance as Mr. Spock, the half Vulcan–half human star of the original 1960s Star Trek series—a role that earned him three Emmy nominations. Others may know him as the host of the popular series In Search of and Ancient Mysteries or his more recent work as Dr. William Bell on the Fox series Fringe. But what many fans don't know is that Nimoy is also an accomplished photographer, one whose work hangs in the Los Angeles County Museum of Art, the New Orleans Museum of Fine Art, and the Museum of Fine Arts, Houston.
Growing up in Boston's West End, Nimoy (Hon.'12) became interested in photography at age 13. He recalls that one of his first photographs was of his grandfather on the banks of the Charles River in 1944. A self-described "conceptual photographer," Nimoy comes up with a topic that interests him and then decides to explore it through photography. "I don't carry cameras. Rather, I wait until something intrigues me and I want to photograph it," he told BU Today in 2011.
The actor and director's photography projects invariably concern the human body. The Shekhina Project is a series of photographs exploring the feminine presence of God in human form. The Full Body Project probes society's ideas about beauty, sexuality, and social acceptability by focusing on plus-size nude women.
Nimoy's latest conceptual project is the subject of a provocative new show at the Sherman Gallery, Leonard Nimoy: Secret Selves. The idea for the project came to Nimoy after he heard a story on National Public Radio about the ancient Greek playwright Aristophanes and his belief that humans had at one time been double selves, with four legs and four arms, until Zeus, angered by their growing arrogance, cleaved them in two. Ever since, Aristophanes posited, humans have been in search of that lost part of themselves.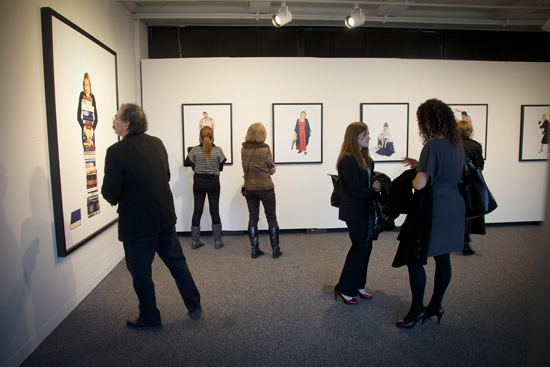 The idea fascinated the photographer in Nimoy, who reached out to longtime collaborator Richard Michelson, who has shown Nimoy's work over the years in his gallery, R. Michelson Galleries, in Northampton, Mass. The actor-photographer told Michelson he wanted to explore the idea of people's secret selves and asked him to come up with a group of subjects willing to reveal something of their "other" self—the side they were looking to find.
Over the course of three days in 2008, Michelson and his wife lined up approximately 100 Northampton residents, who came to the gallery to be photographed by Nimoy. The group included religious leaders, waitresses, authors, educators, and artists. Michelson's wife even pulled in passersby from the sidewalk to participate.
Nimoy shot his subjects standing against a neutral background. Many arrived nervous—anxious about meeting a bona fide star and about revealing intimate details of their lives.
"What we didn't expect was how seriously people would take it, how much they would open their souls," says Michelson.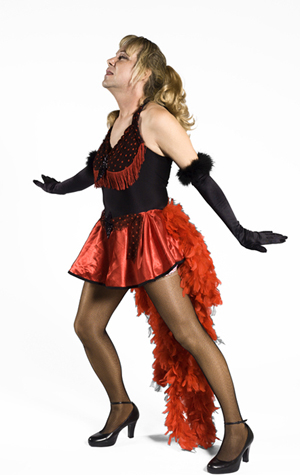 Secret Selves represents a departure for Nimoy. His previous projects were shot in black-and-white, and he did his own printing. Here, he chose to use a digital camera and that the subjects would be in color. And because the images were to be life-size, commercial printing was necessary. In the past, Nimoy had always begun a project with definite ideas about what he was after. But when Michelson pressed him before the Secret Selves shoot, asking, "Do we want this? Do we want that?" Nimoy said he'd decided to work more organically, that he wanted people to surprise him. He left what each subject chose to reveal to the camera up to the individual.
The Sherman Gallery exhibition contains 17 photographs, culled from 25 that Nimoy and Michelson selected for a 2010 show at the Massachusetts Museum of Contemporary Art. Each tells its own fascinating story, some humorous, others heartbreaking. Each photo bears only the first name of the subject and his or her profession. We see middle aged, well-dressed Kathleen holding a chainsaw; Dawn, another well-dressed, middle-aged woman and a former Junior League president, wearing boxing gloves; David, a rabbi, wearing a yarmulke and leather vest as he lights candles; and Aimee, a half-naked tattoo and body piercing artist with both a full beard and large breasts.
The images are tantalizing. What are we to make of Tammy, the ex-Marine and teacher of behaviorally challenged children, who sports a five o'clock shadow, but appears, eyes closed, dressed as a burlesque queen? Or of Matt, who paints portraits of men and women who have witnessed war in Iraq and Afghanistan and is captured by Nimoy's camera dressed as a woodland nymph, covered in mud and leaves? Or of Natalie, the middle-aged foster care mother wearing nothing but a full-length, partially opened fur coat that reveals a glimpse of her naked body?
For answers, viewers must turn to a video playing in the gallery that shows Nimoy conversing with his subjects during the shoot, putting them at ease as they reveal their inner selves. The video is a revelation. It shows a funny, compassionate, and gentle Nimoy teasing out each person's story—stories that are by turn amusing and poignant. "He's a very good listener, a very kind man," says Michelson. "He gave each person permission to expose themselves."
The initial idea was to include only photographs in the show. But Nimoy and Michelson decided beforehand that they would videotape each subject as well. "After one or two tapings, we realized that the video was going to need to be an integral part of the exhibit," says Michelson. "The video provides the answer to what's behind each person's portrait, why they came as they came."
Watching, we learn that former Junior League president Dawn was physically, emotionally, and psychologically abused by her much older husband, and that she lost custody of her children during a nasty divorce during which her husband outed her as a lesbian. Explaining the boxing gloves she's donned for the photo shoot, she says that the inner self people who meet her on the street don't see is that she's a fighter. Similarly, we learn about ex-Marine Tammy, responding to Nimoy's sensitive questions about life as a transgendered teacher and occasional stand-up comedian. "I live life as Clark Kent, but I'd rather be Rita Hayworth," Tammy notes.
Some of the secret selves reveal a sense of longing. Natalie, the foster care mother who takes in adolescent boys who are sexual offenders, reveals to Nimoy that she's been alone and celibate for seven years following the death of the man she describes as her "soulmate." She tells him that she's decided to strip naked (but for the aforementioned coat) because she wants to "feel really beautiful and sexy and show that I have a lot of female in me….I want to be me. I want to be able to take off my clothes in front of a man." Finding the courage to pose for Nimoy, she says, is a kind of therapy, an opportunity to assert her beauty, a way of hopefully resuming a more fulfilling life. And portrait artist Matt confides that he'd "rather not think about war at all. I'd rather be living a simple life in the woods, in harmony with nature and forget about everything."
Secret Selves was brought to BU by Benjamin Juárez, dean of the College of Fine Arts. "This series of photographs offers a liberating look at humans in flux," says Juárez. "Nimoy captures his subjects in a space that is free from judgment and reveals inner selves that are sometimes whimsical and sometimes perplexing. His work reflects the zeitgeist of the 21st century as a time of change and evolution."
"What began as a lark for many of the subjects turned into a truly revealing, emotional experience," writes Michelson in the show's catalogue. "Just at that moment when they were most themselves—and often off-guard—the shutter snapped. And snapped again."
Lucky for us. This show lives on in your brain long after you've seen it. You can't help but applaud the courage of these men and women in sharing so much of their secret selves—and you can't help but admire Nimoy for capturing those secret selves with such vivid clarity.
Leonard Nimoy: Secret Selves is on view at the Sherman Gallery, George Sherman Union, 775 Commonwealth Ave., second floor, through May 9. The gallery is open Tuesday to Friday, 11 a.m. to 5 p.m., and Saturday and Sunday, 1 to 5 p.m. The show is free and open to the public.