Finding an Affordable Way into Fenway
Strategies for saving on Red Sox tickets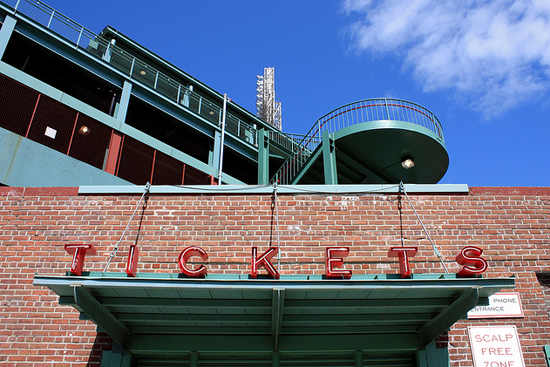 Success comes at a price. And in the case of the Boston Red Sox, that price has been passed on to fans. The reigning World Series champion team now commands the highest average ticket prices in Major League Baseball. Team Marketing Report lists a 4.8 percent price hike in ticket sales over last year, with an average ticket costing $52.43—well above the national average of $27.93 in other major league ballparks.
So what's a fan to do? To ensure that fans can afford to attend at least some games, Red Sox management has implemented something new this season—a "variable pricing" structure for home games during the 2014 season: tickets for "high demand" games will cost more, "low demand games" will cost less. The new policy divides home games into five tiers. The season home opener earlier this month, all nine games against the Yankees, and the first series after July's All-Star break fall into the first tier, which means even bleacher seats cost $40.
There are a few upcoming series in the fifth tier that represent real bargains. The Red Sox host the Tampa Rays Tuesday through Thursday next week (April 29 to May 1), the Cincinnati Reds on May 6 and 7, and the Toronto Blue Jays on May 20 and 21—all tier 5 games. Those tickets can be had for as little as $10.
The Red Sox are also offering some deals this season designed to attract students. High school and college students with a valid ID can get standing-room tickets to any Red Sox home game for $9—continuing a program begun last year.
Fenway Park also has designated College Themed Nights April 29, May 1, May 18, and May 29, where seats throughout the park are available to students for $20 on a first-come, first-served basis. Each game includes contests, prizes, and other special features. Tickets through this special offer will be available 48 hours prior to each game. Simply log in to My Tickets Mobile via the MLB.com At the Ballpark app to view your ticket. Scan it directly from your phone when you arrive at the park.
Another affordable way for students to get to a game is to volunteer as a member of the Red Sox Poland Spring Green Team. The team solicits up to 75 college students to gather recyclable items at each home game. Volunteers begin before the game starts and work between innings until the seventh inning stretch. In return, they get a Poland Spring T-shirt, a food voucher, and to see a game free. Not bad for a three-hour commitment. Interested students should email their name and the dates they'd like to volunteer to greenteam@redsox.com.
A word of warning for those thinking about buying tickets from resale platforms like Stubhub and AceTicket. You can end up paying more than a seat's face value, and sites such as these charge a 7 to 10 percent commission.
More information about buying tickets to Red Sox games can be found here.
Nate Weitzer can be reached at nweitzer@bu.edu