Boston Playwrights' Theatre Stages Monica Bauer's Chosen Child
BU alum explores abandonment, forgiveness in her new autobiographical play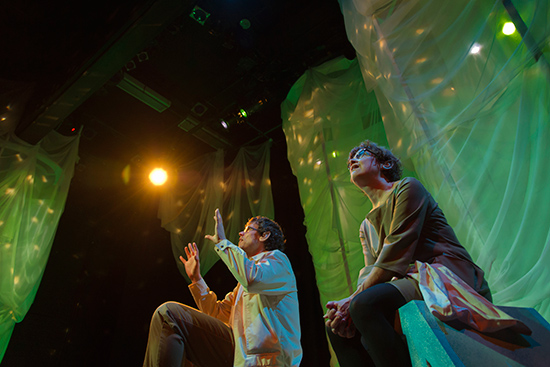 Chosen Child, the new drama currently at Boston Playwrights' Theatre, is an intergenerational family drama that explores some big themes: adoption, abandonment, secrets, and forgiveness—all played out over more than six decades. Written by Monica Bauer (GRS'05), a graduate of BU's playwriting program, the play follows the efforts of a mentally ill man in his 50s, David (Lewis D. Wheeler), to reconnect with his older sister, Donna (Debra Wise), after being separated for nearly 45 years. The two share the same birth mother, Claudia, but Donna was put up for adoption as a child. The two met briefly when Donna was 15 and Claudia brought David to visit—and maybe remain—with her and her adoptive parents. But Claudia ultimately decided to return to New York with David (the "chosen child" of the play), beginning a lifelong grudge on Donna's part over being abandoned by her birth mother.
As the play opens, Donna has been summoned to a hospital and told her mother has died and that she must take charge of David, who is schizophrenic. At the mention of his name, Donna sharply answers, "He's not my brother." She wants no part of the family that abandoned her. As Bauer's one-act drama unfolds, we become privy to a family's lies and subterfuge and the psychological damage they have inflicted on both siblings.
Bauer says she based the play on her own painful experiences as an adopted child.
"In order for me to stay sane, in order to feel whole as a person, I had to forgive the mother who abandoned me," she says. "It took me 25 years to let go of that rage and forgive her."
When Bauer was born, her biological mother asked Bauer's grandfather to raise her. The family agreed to never inform her about her birth mother. She eventually learned the truth from her step-grandmother. When she finally came face-to-face with her mother at age 12, the encounter did not go well. In what Bauer describes as the "worst day of my life," her mother refused to acknowledge her presence, leaving her hurt and without the answers she was looking for.
From that point on, Bauer says, she turned to writing to vent her feelings. She began by writing and performing songs. Music, she says, was "my way of working through my emotions." After one performance, an audience member told her that her music was self-pitying and suggested that writing for the stage, where the characters could express what she was feeling, might be better.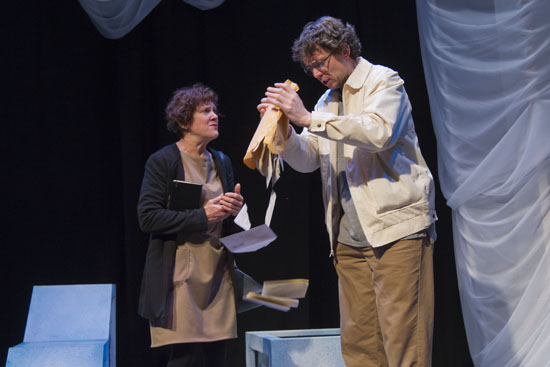 Bauer, who has had plays produced Off-Broadway (My Occasion of Sin) and at the Edinburgh Fringe Festival, where she performed her own autobiographical show, The Year I Was Gifted, spent a decade trying to shape the material included in Chosen Child into a memoir, but ultimately felt that it worked better on stage.
"It's easier to write a memoir, but the play just kept knocking on my door," Bauer says. "It wanted to be born. Every time I'd start writing the memoir, I stopped. But this time when I stopped, the play came."
The play's title holds special resonance for the playwright. It was the term of endearment her adoptive parents used during her childhood. "'Chosen child' was often used and is still used by some adoptive parents to make their kids feel special," she says. "I was told this as a kid but it never made any sense. It seemed like a lie from the first time they told me."
As she began to write Chosen Child, Bauer attributed parts of her own life to both of the siblings. She considers herself a much nicer version of Donna but says she sympathizes with the turmoil she feels as a victim of parental abandonment. She also sees parts of herself in David, because he is considered the chosen child in the drama.
Bauer has compared Chosen Child to Tennessee Williams' play The Glass Menagerie, which was based on his life with a difficult mother and mentally ill sister. She considers Chosen Child a "memory play," the term Williams used to describe his masterpiece.
At its core, Chosen Child is about seeking the truth, a recurring theme in Bauer's work. While confronting the truth ultimately makes it possible for Donna and David to reconnect, the journey they undertake to get to that point is fraught with anguish and soul-searching.
Writing the drama, which Bauer says is still a play in progress (it's being given a workshop production by Boston Playwrights' Theatre), has proven therapeutic, she says. "What I learned from all of this was how satisfying it is to take something from the past that's ugly and create beauty out of it."
Chosen Child runs through Saturday, November 22, at Boston Playwrights' Theatre, 949 Commonwealth Ave. Tickets are $30 for adults, $25 for seniors, and $10 for students with a valid ID. Tickets can be purchased here. To get to the theater via public transportation, take the BU Shuttle to the last stop or take an MBTA Green Line trolley to Pleasant Street.
Brandon Lewis can be reached at bmlewis@bu.edu.