A Magical Journey: CFA's Florencia en el Amazonas
Catán opera inspired by novels of Márquez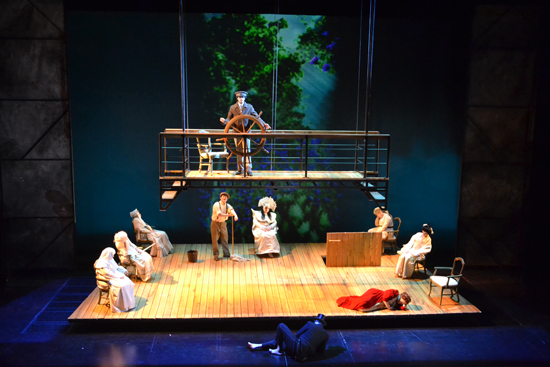 With its lush melodic score, sultry Amazonian backdrop, and dreamlike notes of magic realism in a libretto inspired by the novels of Gabríel Garcia Márquez, Florencia en el Amazonas beckons even to those (you know who you are) resistant to experiencing opera. The College of Fine Arts is staging the final, and most accomplished, work by the contemporary Mexican composer Daniel Catán through February 23 at the Boston University Theatre.
A joint production of the CFA Opera Institute, School of Music, and School of Theatre, the opera, conducted by William Lumpkin, a CFA professor and Opera Institute artistic director, and directed by Nic Muni, brings together 44 musicians, with the marimba playing a starring role, and CFA student set designers, who have visually captured Catán's moody, impressionistic world. Muni, who teaches stagecraft at the Academy of Vocal Arts in Philadelphia, has directed major productions across the United States, including the Boston Lyric Opera's Carmen in 2009.
Sung in Spanish with English supertitles, Florencia was the first Spanish-language opera to be commissioned by major US opera house (the Houston Grand Opera, the Los Angeles Opera, and the Seattle Opera). It premiered in Houston in 1996. Catán, born in 1949, was the first Mexican composer to have his work produced in the United States, beginning with the 1994 San Diego debut of his opera Rappaccini's Daughter. An accomplished film composer known for his rich, neo-Romantic scores—Lumpkin likens them to the work of Ravel—Catán died in 2011 at age 62, shortly after the premiere of his last opera, Il Postino, based on the popular Italian film. At the time of his death, he was at work on a new piece, Meet John Doe, inspired by Frank Capra's classic film of the same title.
The libretto for Florencia, by Marcella Fuentes Berain, reflects the sensual fiction and magic realism of the Colombian-born Márquez, winner of the 1982 Nobel Prize for literature. Much of the two-act opera is set on a steamboat, the El Dorado, the famous opera singer Florencia is traveling down the Amazon on to perform at an opera house in Manaus. There she hopes to encounter her lost love, a butterfly hunter who entered the jungle and never returned. The dramas aboard the steamboat weave love, conflict, loss, a violent storm, and ultimately a cholera epidemic that keeps the passengers quarantined and Florencia's dream apparently dashed. But in a Márquez-style tale afloat with magic and the unexpected, that isn't quite true.
The opera (Florencia in the Amazon in English) posed a challenge for its CFA cast of aspiring opera professionals, who are are schooled in Italian, the language of the best-known classic repertoire of Puccini, Verdi, Rossini, and Mozart. And while they describe Catán's pleasing score as "Puccini-esque"—the central character being an opera diva—the singers initially had to focus on not sliding between Spanish and Italian. "Getting the Spanish—that was the hardest thing for me," acknowledges baritone Nickoli Strommer (CFA'14), one of two students alternating the part of ship's mate and narrator Riolobo, a role that bridges the real and mystical worlds. He and fellow cast members were coached by Elizabeth Lozano, a College of Arts and Sciences Spanish lecturer. "I told the Opera Institute's Italian coach she'd get time off for this one," Lumpkin says.
The CFA singers describe the work as beautiful, touching, otherworldly, an exotic journey, and a treasure. "You go to the theater to be transported, and Catán does that," says Strommer.
The role of Rosalba, a journalist trailing Florencia in the hope of writing a book about her, is being sung by soprano Katrina Galka (CFA'14,'16), who recently won second place in the Metropolitan Opera National Council's New England auditions. Now in the company of a group of young aspiring opera singers deemed by the Met council to be "exceptionally talented" and promising, Galka earned a master's in music at BU and is in her first year at the Opera Institute. She has appeared in several CFA opera roles, including Donna in Jonathan Dove's Siren Song, Servilia in Mozart's La Clemenza di Tito, and Carolina in Domenico Cimarosa's Il Matrimonio Segreto.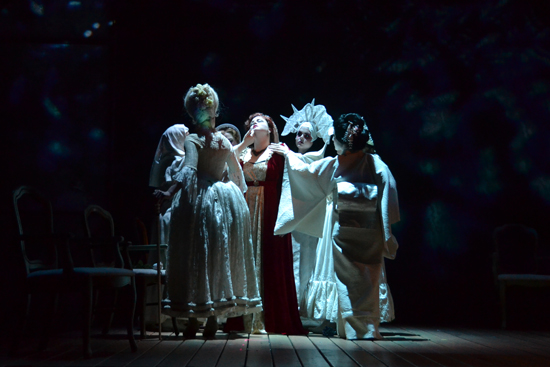 None of the cast members had seen a production of Florencia, and the fact that it is rarely produced, they say, works to their advantage. "It's liberating," says soprano Kelley Hollis (CFA'15), who alternates in the role of Florencia with Kasey King (CFA'14). "There's no expectation as to how it's supposed to be performed the way there is with a Violetta," she says, referring to the lead role of Giuseppe Verdi's often produced La Traviata. Isaac Bray (CFA'14), who shares the role of Riolobo, finds it "fascinating and freeing" to sing a role that "blends two worlds together." And, says King, spirit characters, pink rain—"all are accepted as something that's happening, the way it is" in Márquez's books.
The students singing Florencia are sure it will rise out of relative obscurity to become an important opera. "It's easy to listen to and it paints great pictures," Bray says.
"Catán gives you so much," says King. "The music tells you what to feel, which is the sign of a really great composer. It's terrible that he left us so soon."
Florencia en al Amazonas runs tonight, February 20, Friday, February 21, and Saturday, February 22, at 7:30 p.m., and Sunday, February 23, at 2 p.m., at the Boston University Theatre, 264 Huntington Ave., Boston. Tickets are $20 for the general public, $15 for BU alumni, WGBH members, Huntington Theatre Company subscribers, and senior citizens; $5 for students with ID. Members of the BU community can get two free tickets with BU ID at the door on the day of performance. By public transportation, take an MBTA Green Line trolley to Copley Square or the Orange Line to Back Bay. Purchase tickets here or call 617-933-8600.