New Cycling Safety Measures on Comm Ave
University, city plan improvements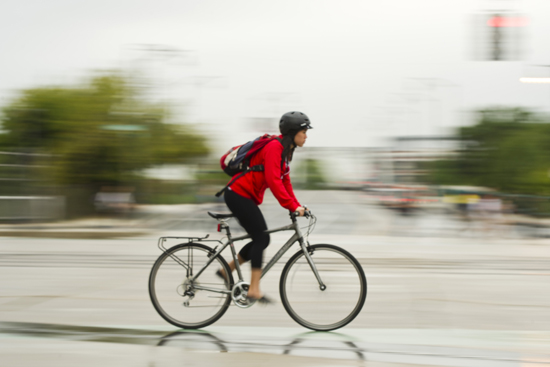 More warning signs, better bike lane markings, and highway reflectors will be added to the campus' mile-and-a-half strip along Commonwealth Avenue to improve safety in the wake of the death of a student cyclist in December.
Those improvements, recommended by a joint BU-city working group, will be made by the city. Safety advocates, including Craig Hill, chairman of BU's Bike Safety Committee, commended the measures, while cautioning that additional improvements may be necessary in the future.
"I'm hopeful that these changes will help protect bicyclists and pedestrians traveling along this very busy stretch of Commonwealth Avenue," says BU President Robert A. Brown. "I am also extremely grateful for the city's continued support of bike safety initiatives that safeguard all people who use the city streets that pass through our campus."
The improvements will include:
Signs. New signage will designate a "High bicycle and pedestrian activity zone," and instruct drivers to "Share the road" and "Yield to bicycles when turning right." Other signs will post a 25-mile-per-hour speed limit. Part of the stretch had been posted for 30 mph.
Pavement markings:. The existing bike lanes, installed five years ago, will be painted at intersection crossings with skid-resistant, high-visibility green paint, and white bike-shared-lane markings will be added within the green paint at busy intersections and at long crossings. The width of the bike lanes' edges will be increased to six inches, from the present four inches.
Reflectors. Highway reflectors, recessed into the pavement, will be installed along the outside of bike lanes between intersections, and more closely spaced before each intersection crossing.
Hill, associate vice president for auxiliary services, says the improvements "will result in more clearly defined bike lanes, especially at night, and raise the awareness of motorists that this corridor is a high pedestrian and bicycle area."
The ultimate solution for bicyclists would be separated cycle tracks," says Hill, "where bicyclists have some sort of a protection barrier from moving and parked vehicles. This solution is not feasible in the near term." (Boston has such a lane on Western Avenue, where cars park by the lane, not the sidewalk; the parked cars buffer cyclists from the auto travel lane.)
Hill says his committee is studying other possible improvements, including the removal of metered parking spaces "that are too close to busy intersections."
David Watson, a Metropolitan College lecturer on city planning and director of the advocacy and safety group MassBike.org, also touts cycle tracks as a possible project for a "major redesign" of Commonwealth Avenue. Meanwhile, he says, the agreed-to improvements "sound like they will help remind motorists to look carefully for bicyclists along Comm Ave. If the city is actually reducing the speed limit from 30 to 25, that will increase safety for everyone by giving drivers more time to look around and react to the people around them, and will help reduce the severity of injuries" in crashes.
Jonathan Simmons (GRS'91), boston.com's On Biking columnist and author of the book Here for the Ride: A Tale of Obsession on Two Wheels, says additional changes should be made. The improvements will be "helpful but in no way sufficient," says Simmons, who believes that lowering the speed limit further, to 20 miles per hour, "won't appreciably slow people's commute, and it will make it significantly safer for pedestrians, cyclists, and drivers, too."
Steve Miller, a Harvard School of Public Health administrator who blogs about transportation, credits the city for agreeing to "real improvement over current conditions, a creative way of bringing the bike lanes to the next level without having to do expensive construction.…Better still would be protected bike lanes, created either by installing rubber posts, removable during snow season…or by a curb separation." He also suggests special traffic lights for cyclists only, synchronized with those for cars, Green Line trolleys, and pedestrians.
Boston Mayor Thomas Menino (Hon.'01) says the improvements expand the city's effort to boost cycling and make it safe. Previous work includes the installation of 58 miles of bike lanes citywide and the 2011 launch of Hubway, which rents curbside bikes to riders at several locations around the city. As a result, he says, the number of bike commuters jumped 82 percent between 2007 and 2011, "and ensuring safety for all of these cyclists is a top priority in the city."
The mayor says the partnership with BU on the new Comm Ave improvements "will result in keeping BU's cycling community safe on this busy roadway."
Two students died last fall in cycling accidents. Christopher Weigl (COM'13) collided with a tractor-trailer at Comm Ave's intersection with St. Paul Street, and Chung Wei Yang (CAS'15) was hit and killed by an MBTA bus at the intersection of Harvard and Brighton Avenues in Allston.