Muslim for a Day
BU women take Islamic Society's hijab challenge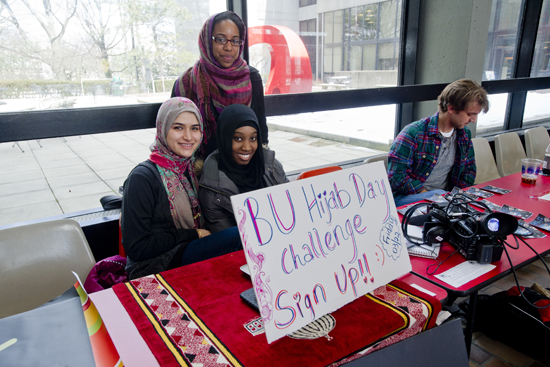 Sonia Perez Arias' friend giggled when he saw her and total strangers greeted her on Commonwealth Avenue with the word "Salaam." Anya Gonzales gained what she calls "a new-found respect" for Islam. For Richa Kaul, an initial sense of fear gave way to understanding and confidence.
Perez Arias (CAS'15), Gonzales (COM'15), and Kaul (CAS'16) were among 40 non-Muslim women at BU who volunteered to spend a day wearing headscarves as part of the BU Hijab Day Challenge, one of several events sponsored by the Islamic Society of BU as part of March's Islam Awareness Month.
BU students often cover their heads, with such things as Terrier watch caps, Red Sox baseball caps, and faith-based skullcaps. But there is something about hijab, the headscarf worn by Muslim women when they are out in public, that can stir emotion, prejudice, and consternation. Wearing hijab—Arabic for "to cover"—is restricted in schools in some countries, like France, and in Turkey it is prohibited in public schools, universities, and government buildings. Here on campus, women in hijab are a familiar sight. Sakina Hassanali (COM'14), president of the Islamic Society, said her headscarf draws notice, but rarely in a negative way. "It's mostly the assumptions people make," she said. "For example, people assume I speak Arabic." In fact, Hassanali is from Tanzania, where the main languages are English and Swahili.
So when a group of Islamic students invited classmates to don headscarves on March 22 as part of an awareness-raising all-day hijab challenge, they were ready to hear some compelling tales.
They were not disappointed. Like all of the other activities planned for Islam Awareness Month, the hijab challenge emphasized a theme of "common ground" and aimed to "dispel some of the stereotypes and misconceptions attached to Islam," Hassanali said, "and answer some of the questions people have about the religion."
The women, who signed up at their dorms or at the George Sherman Union Link, were given links to instructional videos and pink buttons that read "BU Hijab Day Challenge—Ask Me About My Hijab." Hassanali said that while some of the women "got negative comments from friends and colleagues, most of them got positive feedback."
The experience was a positive one for Perez Arias. "I like to do things that challenge me," she said. She wore a printed headscarf throughout the day and found that BU was the accepting community she had assumed it to be, despite some initial good-natured laughter by a friend who couldn't fathom why she'd agreed to participate. What did surprise her was the succession of greetings from strangers along Comm Ave. "Muslim people were greeting me in Arabic," said Perez Arias, who describes herself as an atheist. "I didn't know how to respond." The experience provided a fascinating opportunity to observe "how others put you into groups," she said.
Kaul is a Hindu, and she joined the challenge out of curiosity and to show "solidarity with the Islamic culture," she said. "The only time I felt scared or anxious was right before I opened the door to my classroom, a School of Management class, and some people turned their heads. I could see that people see the hijab first and then you." The day's oddest moment came when a gust of wind on Bay State Road blew the scarf off her head, causing a male onlooker to react with a stunned expression before turning away in embarrassment. "I think he thought it was the first time I was uncovered in public," Kaul said. "His face was priceless."
An international student from Trinidad, Gonzales is a Christian who has known many Muslims during her life. "I'm really happy I did this," said Gonzales, who embellished the effect by covering her arms and "trying to be modest" for the day. It's easy to maintain modesty when it's freezing out, she said. The day made her realize that it's a bigger deal to cover up year-round. "I have a new-found respect for Muslim women," she said.
"I applaud Boston University students who willingly took up the challenge of the Hijab Day and decided to experience the subjective rewards that may come with their personal choice or the hazard of becoming the object of hostile public gaze," said Shahla Haeri, a College of Arts & Sciences associate professor of anthropology, who has written extensively on religion, law, and gender dynamics in the Muslim world. Haeri stressed that choice is key—both to wear the headscarf, or choose not to in countries where Muslims are the majority.
Throughout March, the Islamic Society has sponsored a series of events, including Petals from the Prophet, the sharing of flowers on Marsh Plaza, an evening of prayer on the plaza, a #WhatisIslam? discussion at the Howard Thurman Center, and a Light the Night event on Marsh Plaza. The monthlong observation concludes Sunday with a free, open invitation spring dinner at the GSU Metcalf Ballroom.
"The turnout has been great," says Hassanali, recalling that at the Petals for the Prophet event, "even though we were the ones giving out the flowers, one guy actually came up to give us flowers. It really warmed our hearts. It just goes to show you the kind of community we have at BU."
The Islamic Society Finding Common Ground Spring Dinner is from 7 to 9 p.m. Sunday, March 31, at the George Sherman Union Metcalf Ballroom, 775 Comm Ave; it is free and open to the BU community. For more information, email isbuact@gmail.com. Follow the Islamic Society on Twitter @islamicSBU.
An earlier version of this story was updated to clarify a point about restriction of hijab in some countries.—Ed.