Lu Lingzi, Roommate Were Like Sisters
SED grad student speaks about a lover of Boston, music, food
It was supposed to be a pleasant day. Jing Li and her roommate, Lu Lingzi, were sharing breakfast, as they always did, and chatting in their Allston apartment about what they would do that day. Lu, who had taken a major exam on Saturday, was looking forward to a day off and considering going to the Boston Marathon. Jing (SED'14) knew she couldn't go: she needed to spend the day at Mugar Memorial Library studying for a Tuesday exam. Shortly before 9 a.m., the two friends said good-bye to each other.
Lu (GRS'14), a gifted mathematician who loved Boston, music, and American ice cream, was one of three spectators killed last Monday in the Boston Marathon bombings. BU held a standing-room-only memorial last night at the George Sherman Union Metcalf Ballroom for the Chinese graduate student, who was eulogized by President Robert A. Brown, her father, Jing and other friends, and BU faculty and clergy.
Jing and Lu met just over a year ago on QQ, an online chat group created by BU alumni from China. Lu, from Shenyang, and Jing, from Qingdao, were each fishing for a roommate. Lu was the first to reach out. Jing remembers that she received a message in the same font and color (pink) that she had used. She saw that as a promising sign.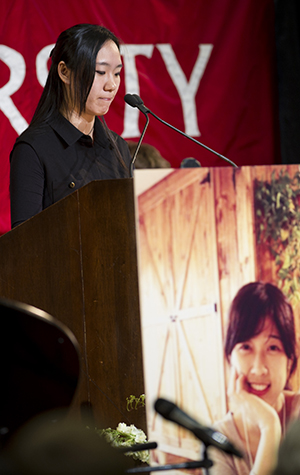 They met each other last fall, and spent weeks discovering how much they had in common: they were both only children, the same height (5'4"), played the guzheng—a Chinese traditional instrument—and loved piano.
Neither knew much about cooking, but they were eager experimenters, trying new things in their little kitchen. Jing made pancakes, Lu baked cookies, and they shared their creations.
They enjoyed comparing notes about their frenetic schedules, and they commiserated about their lack of time to "meet some really nice boys." Lu ribbed Jing for eating noodles for breakfast, while Jing accused her roommate of being overly fond of American ice cream.
"If you eat so much ice cream, you will gain some weight," Jing would say. Lu had an answer: "We need to take advantage of eating the ice cream here. When we go back, we won't have it anymore."
Even though Lu was not religious, she went with Jing on a Christian retreat to New Hampshire, where they hiked, canoed, and devoured local food—including a gigantic plate of meatballs that Jing says her roommate finished all by herself.
Sometimes, they would go to the Park Street Church, where Lu once volunteered to make dumplings for a celebration honoring the Chinese New Year.
Jing told her family all about Lu, describing her as a sister. "'You are sisters,'" she says her parents replied. "'You support each other and take care of each other.'"
Jing got back to the apartment around 8 p.m. on Marathon Monday and was surprised to find that Lu wasn't home. She texted her friend, telling her to come back early because it was "not safe." She tried to call, and got no response.
At midnight there was still no sign of Lu, who usually went to bed early and rose with the sun. Frightened now, Jing emailed friends and sent messages on the Chinese version of Twitter, asking if anyone had seen Lu. Half an hour later, a friend replied that a BU student was injured in the Marathon bombings, but that person was later identified as Danling Zhou (MET'14).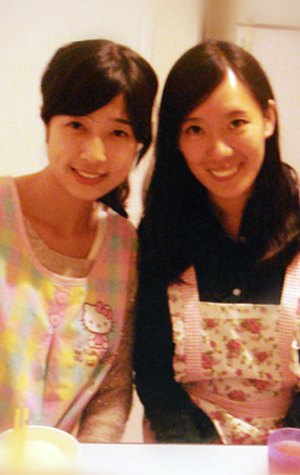 Surely, Jing thought, Lu was sitting at her friend Danling's bedside. After reporting to Boston University Police Tuesday morning that her roommate was missing, she and friends contacted city hospitals. None had any information about Lu.
Learning of Jing's distress, Melissa Holt, a School of Education assistant professor of counseling psychology, came by to keep her company. Later on Tuesday, Jing got a call from the BU Chinese Students Association saying that a female BU student was at Boston Medical Center.
Holt drove Jing and several friends to BMC, where they waited in a conference room, joined by Lu's aunt and uncle from Rhode Island. Scott Solberg, SED associate dean for research and a professor of counseling, and Kimberly Howard, an SED associate professor of counseling, arrived to offer support. Around 4:30 p.m., Jing tried BUPD again for an update. The officer on the other end of the line had bad news: her roommate was in the coroner's office.
"I really didn't understand what he meant," Jing remembers. So the officer repeated himself. "He just clearly stated again, 'Your roommate, Lingzi, passed away from the Marathon bombing Monday.'"
Jing doesn't remember much about the rest of the week. She fielded calls and messages from friends and professors, and spent part of the week at her pastor's house. She went to the Thursday interfaith service at Boston's Cathedral of the Holy Cross, where she listened to President Barack Obama eulogize her friend, and was hugged by Massachusetts Governor Deval Patrick.
"I gained much strength, energy, and power from the people who loved and cared for me," she says. And she is grateful, she says, for all the support she's received from her church, professors, and BU friends: "I could not make it by myself."