Kahn Awards Launch Careers of Three CFA Grads
$10K prize awarded to a conductor, a painter, and a playwright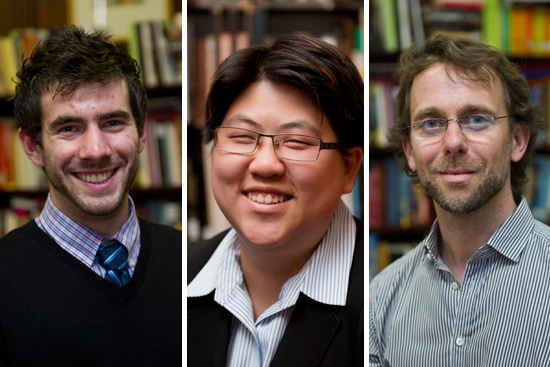 When Tiffany Chang arrived at BU four years ago to pursue a doctoral degree in orchestral studies, she wanted to create a project that would allow young musicians to play in an orchestra. Today, her dream has become a reality. The ensemble Chang founded—the New England Repertory Orchestra (NERO)—which initially drew only BU students, now has more than 300 musicians (students and recent graduates) from all of Boston's music schools, as well as from institutions such as the San Francisco Conservatory and Oberlin Conservatory. This past year alone, NERO presented six full orchestral concerts.
For Chang (CFA'13), who is the ensemble's conductor and sole administrator, the project is demanding. She plans each program, recruits musicians, even tracks down sheet music and rehearsal space.
"It generates a tremendous amount of work," the School of Music student says. "But the musical and professional rewards for me and all the musicians involved are absolutely worth my time, energy, and stress." Some concerts have involved as few as 8 musicians, others as many as 90. "It provides invaluable experience that prepares the musicians for the rigors of a professional performer's life."
Earlier this month, Chang learned that she was one of this year's three recipients of an Esther B. and Albert S. Kahn Career Entry Award, valued at $10,000. She says the award will help to finance NERO's concerts in the coming season, providing the financial support necessary "to fuel the logistical needs that allow any ensemble to exist."
Established in 1985, the Kahn Awards are funded by a $1 million endowment from the late Esther Kahn (SED'55, Hon.'86). They are presented each year to three College of Fine Arts students who are in the final semester of their undergraduate or graduate studies. This year's other recipients are Luca de Gaetano (CFA'13), who is completing a master's degree at the School of Visual Arts, and Sam Tilles (CFA'13), a graduating School of Theatre student.
The directors and faculty of the Schools of Theatre, Visual Arts, and Music choose eight finalists from their school for consideration. The CFA dean and the directors then select three finalists from each school to advance to the final selection. Winners are chosen by a committee, this year comprising Steven Locke (SMG'84), a painter and assistant professor at the Massachusetts College of Art and Design, Louise Kennedy, former Boston Globe theater critic and director of community engagement at WBUR, and Aram Chobanian (Hon.'06), BU president emeritus and dean emeritus of the School of Medicine and former Medical Campus provost, along with the Kahns' daughters, Linda Green (SED'63) and Deborah Kahn (SED'67).
Winners are chosen based on their artistic talent and personal statements about their role as an artist in contemporary society, their concern for social issues, and how they would use the award to help launch their career.
Chang says she felt "exhilaration and gratitude" when she found out that she'd been selected. She earned undergraduate and master's degrees from Oberlin Conservatory of Music, but wanted to come to BU for doctoral work after studying with David Hoose, a CFA professor and director of orchestral activities, while she was a high school student attending the Boston University Tanglewood Institute. "He is the most incredibly inspirational conductor I have ever met," says Chang. "He transformed the way I thought about and performed music."
For actor and playwright Sam Tilles, who hopes to launch a theater collective of "young local artists dedicated to telling the stories of our generation," the Kahn Award will help fund an ambitious theater project titled Exit, Pursued by a Bear. The play "wrestles with modern humanity's relationship with energy and the planet," he says, and the project will explore "epically vast questions" such as whether "humans today have a relationship to energy that is scientifically sustainable, ethical, and responsible."
The award will pay a team of "devisors," young people who "will help me create some scenes that are really personal in the storytelling," Tilles says. "Now I have a great chance to independently create a piece that represents who I am and the kind of art I am most excited to share."
Tilles, who admits to being "overwhelmed with emotion" when he was told of the award, hopes one day to perform in a Shakespeare play in London and to travel extensively. "I would love to experience how communities in other parts of the world tell stories," he says. "I would also like to advocate for communities that are disadvantaged in today's world, and bring support to them from all sides of the globe."
For Luca de Gaetano, the Kahn Award will not only pay for studio space and provide him with the time to paint, he says, but it also serves as a confidence booster.
"Such a recognition pushes me to further believe in myself professionally and to work more and push myself to grow further," says de Gaetano, who is graduating with a Master of Fine Arts degree. He earned a postbaccalaureate certificate from the School of the Museum of Fine Arts and a master's degree in architecture from Politecnico di Milano in Milan, Italy.
An artist who enjoys straddling the theatrical and the political, de Gaetano says that his imagery "often addresses the uncanny, the ugly, the carnival-esque, and the demented, as facets of a deeper desire of care, responsibility, and participation in the celebration of life." Much of his work is a meditation on the destructive forces of war and power, but he says he tries to infuse "corners of hope for tolerance and nonreferential thinking about social rights" into his paintings.
"Tiffany, Sam, and Luca are the voices of the next generation of artists, committed to artistic excellence as well as bringing forth positive change in the world in which they live," says Benjamin Juárez, dean of CFA. "Tiffany speaks about developing new opportunities for young musicians, Sam about environmental social reform, and Luca about broadening discussion and perspective of life via visual art."
More information about Commencement can be found on the Commencement website.