Junior Faculty Win Career Development Professorships
Profs from MED, CAS, and SMG honored for passion, scholarly work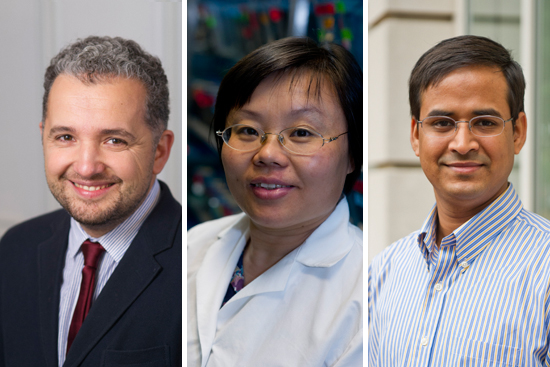 Hui Feng spends a lot of time staring through zebra fish. Through because these vertebrates, which have a great deal of genetics in common with humans, are transparent. In fact, one particular breed, called Casper—after the Friendly Ghost—is so phantasmal that Feng says that "you can read newspapers through this fish."
Feng doesn't read the news through them, though. The School of Medicine assistant professor of pharmacology and medicine is more interested in tracking the pathways of dyed tumor cells as they metastasize through the zebra fish's vasculature, which is tinted a contrasting color. In the less than two years since her tank-filled lab opened, she has identified genes that, when blocked with targeted treatments, could prevent the metastasis of certain types of cancer, like the most stubborn forms of leukemia.
In recognition of her groundbreaking work, Feng was awarded the Ralph Edwards Career Development Professorship, which recognizes MED researchers. The award was made possible this year by the estate of obstetrician and gynecologist Ralph Edwards (MED'52).
Feng, director of the Laboratory of Zebrafish Genetics & Cancer Therapeutics, says the honor reminds her that University officials appreciate faculty research and they want to support it. "It's not just about the money," she says. "The spiritual or mental support really means so much to us."
Karen Antman, MED dean and Medical Campus provost, recalls the researcher's discoveries early in her career, which found their way to top-tier research journals, including Nature, Cell Biology, Cancer Cell, the Journal of Experimental Medicine, and PNAS. A graduate of Beijing Medical University, Feng completed a master's in cardiovascular pharmacology at Peking Union Medical College and a doctorate in cellular biology at the University of Georgia.
"Since joining the School of Medicine faculty," Antman says, "Dr. Feng has demonstrated an exceptional level of scholarship, mentorship, teaching, and collegiality and quickly established herself as an independent research scientist, effectively and efficiently setting up a robust research program."
Feng is one of three assistant professors who were given career development awards, which recognize junior faculty who have been at the University for less than two years and have held no prior professorships. Cornel Ban, a College of Arts & Sciences assistant professor of international relations, received the inaugural Stuart and Elizabeth Pratt Career Development Professorship, dedicated to CAS scholars. And Nachiketa Sahoo, a School of Management assistant professor of information systems, was awarded the Reidy Family Career Development Professorship, which has recognized faculty members in SMG and the College of Engineering in alternating years since 2010.
Contributions from BU trustee Stuart W. Pratt (CAS'69) and his wife, Elizabeth, and trustee Richard D. Reidy (SMG'82) and his wife, Minda G. Reidy (SMG'82, GSM'84) made the professorships possible.
Each award comes with a three-year nonrenewable stipend used to support scholarly or creative work and to cover a portion of the faculty member's salary. Deans of the respective schools or colleges nominate faculty for these honors, and the Office of the Provost makes the final selections.
"We are extremely grateful to Stuart and Elizabeth Pratt, Richard and Minda Reidy, and posthumously, Ralph Edwards for their generosity and for the vision they've shown in supporting the future of these very important fields," says Jean Morrison, University provost and chief academic officer. These three professors were recognized for "their extraordinary accomplishments in areas of study, passion for the creation and transmission of knowledge, and their efforts to enhance the student experience."
Ban's research has focused on economic issues in Brazil, Spain, and Romania, and spans three principal topics: international finance, international economic organizations, and the diffusion of international economic ideas. He describes his first book, Governing Crises: The International Politics of Crisis Economics from Bretton Woods to the Great Recession, not yet published, as "a cautionary tale about how much we don't know about how the financial markets work." He is an expert on the failure of economic models used by governments or international banks to predict the financial crisis that swept the world within the past decade.
Ban earned a bachelor's from Babes-Bolyai University, in Romania, a master's degree from the University of Delaware, and a doctorate in political science from the University of Maryland. He says the award will give him the time and funding to launch his next book project, which will focus on the dynamics of international finance over the past couple of decades. "Without this kind of support," he says, "I could not get it done."
Andrew Bacevich, a CAS professor of history and international relations and acting chair of international relations, calls Ban an "emerging superstar" in the department. "Since his arrival a year ago, he has become a valued asset," he says. "His performance as a teacher and scholar has demonstrated that he is precisely the sort of young faculty member for whom the Stuart and Elizabeth Pratt Career Development Professorship is designed."
Sahoo holds a master's degree in knowledge discovery and data mining and a doctorate in information systems and management, both from Carnegie Mellon University. His current research focus is on improving personalized information filtering techniques, such as that used by Netflix and Amazon, to help customers find products that best match their past interests. Recognizing that people are dynamic and that their preferences change over time, he has adjusted these filtering techniques so that they show more accurate recommendations across a variety of platforms.
In a separate branch of research, Sahoo is analyzing the messages exchanged between individuals on corporate social media, such as blogs, to identify expertise that exists inside a company.
"New technologies to help people connect to each other are exacerbating the problem of information overload at a personal level," says Sahoo. "There is too much information to sift through and there is limited time. It's important to develop tools and techniques that help us find the bits of relevant information faster."
Sahoo says he will use the award to hire a research assistant to help with data collection and analysis.
"Dr. Sahoo is a wonderful addition to our faculty: a productive researcher, a great colleague, and a committed teacher," says Kenneth Freeman, SMG's Allen Questrom Professor and Dean.