Helping Women in India without Leaving Boston
Technology makes SAR long-distance collaboration possible
When Eileen O'Keefe signed on to lead a women's health study in Gujarat, India, she knew she'd face a few challenges. Conducting a survey in a foreign language was one; navigating different cultural norms was another. But those were minor compared to the biggest obstacle of all: managing the study without ever setting foot on the research site 7,000 miles away.
Using Skype, email, and two intrepid research assistants, O'Keefe, a Sargent College clinical associate professor and director of the health science program, has been leading the India Research and Outreach Initiative for nearly two years, without ever seeing Gujarator Charutar Arogya Mandal (CAM), the teaching hospital partnering with Boston University on the project. The team has already completed a 700-person study, recorded the data, and planned on-the-ground interventions in the rural villages where she hopes to have a long-term, if virtual, presence.
Both O'Keefe and Somashekhar Nimbalkar, the head of critical care at CAM and the study's principal investigator in Gujarat, acknowledge some initial skepticism about such a long-distance collaboration. But at this point, Nimbalkar says, "we believe that we have exceeded our expectations and that many such future projects can be taken up across various research fields."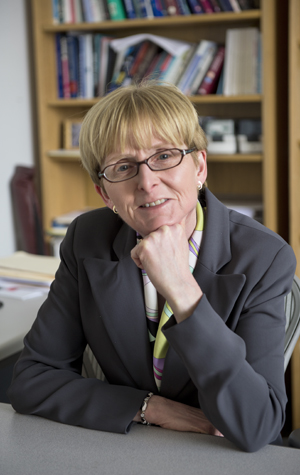 "The big difference was, this really took a lot more preparation," O'Keefe says. "But now we can offer our expertise to establish good solid research in a way that our students and faculty can really contribute. And this is an interesting one to work on—a country that's changing so quickly is exciting."
The potential for collaboration with CAM was brought to O'Keefe's attention by two undergraduates in her epidemiology course, Apurv Soni (CAS'11) and Nisha Fahey (CAS'11). Both aspiring doctors had traveled to India in 2010 with their respective families, where Soni met Nimbalkar through a cousin who was a CAM professor and surgeon. The students had an interest in international health and were eager to have an impact before they completed their medical training.
When they learned that CAM's researchers were receptive to a research partnership with an American university, they began discussing what kind of health survey would be most effective. They focused on women's health, O'Keefe says, because in a community with multigenerational households, a woman's physical and mental well-being often affects a large circle of relatives and friends. Working with input from the CAM team, O'Keefe developed a 76-question survey to assess health-care needs in the villages near the medical center. Researchers at CAM were eager to develop and implement new programs right away, she says, but her experience with such studies in Hartford, Conn., and in Massachusetts school-based health centers had proven that interventions without strong research behind them are rarely effective in the long run.
"I really felt I couldn't have conducted an intervention without background data, trying to understand what their needs are, what decisions they make about health care," O'Keefe says.
Soni and Fahey, who both took a year after graduation to continue the research, traveled to Gujarat in fall 2011, funded by the Dudley Allen Sargent Research Fund, to begin training interviewers and start the survey. Researchers at CAM told them that their initial plan, to hire local men and women as interviewers, wouldn't work; women wouldn't answer questions about their health with a male interviewer. Eventually, they hired a team of female social workers from the hospital. But even after addressing the gender issue, they found other challenges, such as the interviewers' reluctance to visit the poorest parts of the villages to collect data.
Now, with the survey completed and the data analyzed, O'Keefe and her research team can begin collaborating with CAM to develop new policies and programs to address the most critical needs. Their research revealed that 80 percent of the surveyed population had no knowledge of existing outreach programs and that the majority of those who qualified for free health care didn't know it. They also gained insights into typical health-seeking behaviors in these rural villages: women make cost a priority when seeking care for themselves, but emphasize quality when seeking care for their children. It's all data, O'Keefe says, that provides an in-depth understanding of a population in need, which in turn allows the local medical community to be strategic in creating the most effective health-care programs for the surrounding villages.
"We were aware of the direction, but not of the magnitude, of these results," says Nimbalkar.
The results may be in, but the work is far from over. Having mastered the art of long-distance project management, O'Keefe wants to move implementation forward slowly, eventually visiting the site and then putting interventions in place by fall 2013. "For me, this is an ongoing collaboration," she says. "We're trying to set up something that other people can build on."
A version of this story was published in the 2012–2013 edition of InsideSARGENT.