Eyewitness to Terror
Firsthand accounts of Marathon tragedy from BU doctors, volunteers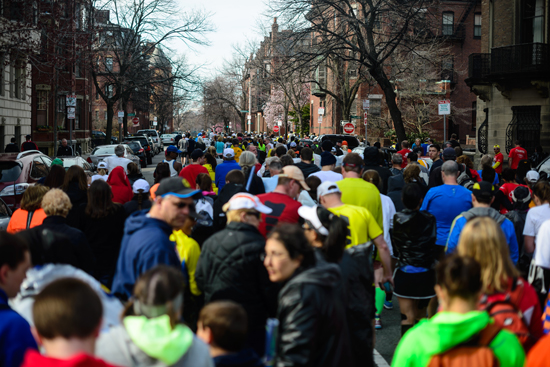 Andrew Ulrich had never handled so many trauma cases at once in his 20-plus years as an emergency room doctor at Boston Medical Center (BMC). In all, 23 people streamed through the doors at BMC following two explosions at the Boston Marathon on Monday. They filled trauma rooms and spilled out into any available space.
"Unfortunately, a lot of us who do this become accustomed to dealing with difficult cases," says Ulrich, the executive vice chairman of BMC's emergency department and a School of Medicine associate professor of emergency medicine. "What makes this one more difficult was the intentionality behind it." The Marathon, he says, is "part of Boston's big smile; it's something people enjoy. There's a vulnerability aspect" to the attack.
The two bombs, which police say were placed in pressure cookers and hidden in black duffel bags, exploded in rapid-fire succession on Boylston Street just before 3 p.m. The attack left more than 170 injured and 3 dead: a BU graduate student who hasn't been identified, 8-year-old Martin Richard of Dorchester, Mass., and 29-year-old Krystle Campbell of Arlington, Mass. Boston University Police are working with Boston Police on the investigation, which has been taken over by the FBI.
Richard DesLauriers, the FBI's special agent in charge of the agency's Boston division, says the investigation remains active, and that there are "no known additional threats." Officials have not yet arrested any suspects. The Associated Press reports that police searched a Revere apartment early Tuesday morning and carried away several large bags from the Ocean Avenue unit.
Police presence was heightened around the city on Tuesday, with Massachusetts State Police vehicles lining Storrow Drive early Tuesday morning and National Guard troops stationed outside MBTA stops, randomly searching riders and their bags as they entered the stations.
At BMC, most of the victims were marathon spectators, and they ranged in age from 8 to 76, Ulrich says. They suffered injuries from the force of the explosions and from small metal projectiles that had been packed in the bombs. Some came in with legs and feet that had been severed at the scene, while others had injuries so serious they later required amputation. Of the 23 patients who came in, 19 remained hospitalized as of Tuesday afternoon.
Ulrich says people are searching for a reason for the violence. "It's one thing to say, 'I was fighting this guy and he shot me.' But there's no reason why an eight-year-old kid watching a marathon is now dead," he says.
Friends and colleagues from around the country, especially those based in New York City, have contacted Ulrich with messages of condolence. He even fielded a call from a Connecticut hospital that took care of victims of December's Sandy Hook Elementary School shooting.
Several BU students witnessed the tragedy. Derrick Kwok, a first-time marathon volunteer, was supposed to usher tired runners to beds in Medical Tent A, just half a block from the finish line. But his role quickly changed. Soon he was vacating beds to make room for victims who were covered in blood.
"It was definitely something I will remember forever," says Kwok (ENG'16), who volunteered with 14 other BU Lambda Phi Epsilon fraternity brothers. "None of the brothers were really traumatized. We tried to stay mature and benefit the situation."
Alex Kwok, another fraternity brother, says he and other volunteers heard and felt both explosions, but they thought a tent had collapsed or that the generator had failed. "I don't believe that a bomb was the first thing on anyone's mind," says Kwok (SMG'12).
Once news of the attack spread, Alex gathered supplies for attending physicians and moved sore runners out to make room for blast victims. "The worst was when kids were wheeled in, and we had to set up a morgue in the tent," he says. "Sometimes, the most we could do was to tell the person that everything would be OK."
Fraternity brother Bowen Zhou, a past president, saw victims whose injuries ranged from scrapes to missing limbs. At one point, he helped apply pressure to a wounded runner's leg before a paramedic took over. Despite the traumatic situation, Zhou says, he was impressed by the courage of the emergency responders. "Images of the blood and gore will forever be replaced by images of Boston firefighters, police, and EMS personnel running headfirst into the smoke and debris to save the victims of this attack," says Zhou (CAS'13).
In another medical tent, Yeon Woo Lee was among 50 BU medical student volunteers who had been treating runners for blisters and sprained ankles.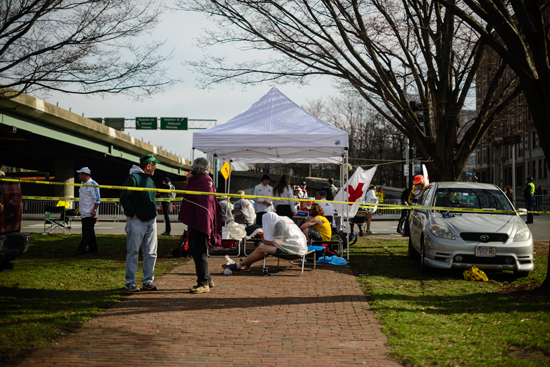 "After the explosions, we helped people into wheelchairs," says Lee (CAS'15, MED'15). "Everyone sprang into action immediately. We worked to clear the aisles, because people were coming in at full speed. We were helping runners who came in confused and redirecting them out. Eventually, EMS workers came into the tent to help and we left."
Kenshin Okubo, a photographer on assignment for a visual journalism class and the Daily Free Press, had been standing close to the second explosion. "My initial reaction was to run," says Okubo (COM'15). "But after a few seconds, I turned back. I don't remember a lot of it now, but I know that when I was shooting pictures, I was looking for people's faces and their emotions. I was afraid, but it was important to capture" the moment.
When police asked Okubo to leave the area, he raced back to his apartment to upload the photos. News outlets, including the New York Times, started sharing his photos on their websites.
Ulrich was struck by the tragic paradox of Monday's bombing. All these spectators "wake up one day and it's gorgeous," he says. "They're going to go watch the marathon. And the next day they don't have legs. There's no explanation behind this. It's just bad f—-ing luck."
Read an interview with Ron Medzon, a Boston Medical Center emergency room doctor and a School of Medicine associate professor, from WBUR's Here & Now.
Rich Barlow and Amy Laskowski contributed to this story.