When the Mighty Fall, They Call Judy
COM alum is crisis advisor in Sony Pictures debacle
As those in power circles have known for decades, crisis advisor Judy Smith has labored behind the scenes in a litany of cases where the mighty have fallen, from frazzled oil company executives in the wake of an epic spill to the politician who is about to be Letterman fodder after playing footsie in an airport men's room. But now, after the release of her first book as well as providing the inspiration for the star-studded prime-time television series Scandal, the lawyer and public relations expert is, at 54, attracting some headlines herself. According to the Hollywood Reporter, Smith has been hired by Sony Pictures to stem a tidal wave of negative publicity in the wake of the media giant's decision, after a massive and embarrassing cyberattack and subsequent threats from North Korea, to withdraw its comedy The Interview, which depicts the gruesome assassination of Kim Jong Un.
In some ways Smith (CGS'78, COM'80) resembles Olivia Pope, the character played by Kerry Washington (Ray, The Last King of Scotland) in Shonda Rhimes' lusty, smart new ABC network drama Scandal, which premiered last April. The show's co–executive producer, Smith is founder and president of the Washington, D.C.–  and Los Angeles–based strategic and crisis communications firm Smith & Company, which draws its high-profile clients—from Monica Lewinsky to the family of slain Chandra Levy to Michael Vick—largely through discreet word of mouth. The Washington Post reported that when Betsy Beers, another Scandal co–executive producer, did an internet search for the low-profile Smith, the only photo that surfaced was of Smith "pushing a camera out of her face in a Lewinsky media scrum."
These days, discussing her craft on the talk show circuit, Smith is a natural in front of the camera she dodged for so long. Like Scandal's Pope, Smith is glamorous, whip-smart, a benevolent but demanding boss, a shrewd fixer as well as a believer that people deserve second chances. And like Pope, she is perpetually on call in a job she describes as "not for the faint of heart." She often kicks into damage control mode after fielding panicked late night calls from high-profile politicians, athletes, and movie stars about to be outed for their crimes, follies, and naïve missteps. Once they hire her, clients do not go to Smith; she goes to them, no matter where they are. (She habitually carries a valid passport and a change of clothes.)
The kind of person who even as a kid could be trusted with secrets, and kept her own to herself ("Why would you tell someone something and make them promise not to tell? I don't do that."), Smith knows the most intimate details of her clients' lives. As a leader in a profession that demands discretion, she has applied that code since her days as a prosecutor and deputy press secretary during the George H. W. Bush administration. Former coworker Marlin Fitzwater has said Smith's current job is a lot harder.
"What I love about this job is it's unpredictable and I never get bored," Smith says over a recent lunch in Washington. "At 9 a.m. we're dealing with a hostile takeover; at 11 it's a CEO about to get fired; at 11:45 it's a celebrity in crisis—and that's all before lunch." Smith oversees a staff of 20, but shares detailed client information only with her longtime, indispensable assistant Chris Garrett. For the rest of the team, information is on a need-to-know basis, and Smith's operation remains leak-free.
Boom times
These are boom times for the damage control business. From the surfacing of "deleted" emails to the viral pulse of Facebook to ubiquitous video cameras to celebrity-stalking sites like Gawker and TMZ, there isn't anywhere to hide. Knowing this, people mess up anyway, says Smith. The reason? "I think while they're doing whatever it is, people may think for a second about the implications—but generally they don't think about it."
For a few thousand dollars people can tidy up their internet presence with the help of Reputation.com. Or you can hire big guns like Smith, for an undisclosed but sizable price tag, to squelch the unceasing, potentially career-wrecking torrent of blogs, tweets, news sites, and overall internet chatter and to put out a message that ushers everyone beyond the mess.
"Somebody can blog about something; it can be completely inaccurate, and all of a sudden it's on a million sites, and you have to beat that back," says Smith, who admits to a sense of relief when unrelated breaking news blasts her clients off the proverbial front page. "If the market crashes, you're like, oh God, that's great; we've got a little room to breathe."
Aside from being famous, her clients aren't special, says Smith, whom Larry King calls "one of the best crisis managers out there." Her new book, Good Self, Bad Self: Transforming Your Worst Qualities into Your Biggest Assets (Free Press, 2012), imparts the strategies she's developed over the years. You don't have to be as self-sabotaging as Lindsay Lohan to benefit from Smith's expertise. "A funny thing about crisis is it doesn't matter if you're a politician, a celebrity," or a regular person, says Smith. "The stakes are just as high, in different ways. We're all going to make mistakes in our lives and sometimes, as my mom would say, they're going to be whoppers. The key is, where do you go from that point?"
What Smith does is a cousin of public relations, her major at the College of Communication. Addressing clients' "brand issues," honing in on what's at stake, is her sole job, she says. But unlike publicists, "we don't come in from the perspective of wanting to be the client's friend, take him out to dinner."
Building on the PR foundation she received at BU, Smith, who grew up in Washington, D.C., went on to law school at American University, where she was the first African American woman to serve as executive editor of its Law Review. "My first job out of law school was with the Iran Contra investigation, so that was pretty big," she says, "and when I went on to the U.S. Attorney's office, I had no idea I'd be involved in the situation with Washington's mayor, Marion Barry." (Videotaped by the FBI smoking crack cocaine in 1990, Barry ended up serving six months in federal prison.)
Although trained as a lawyer, Smith says she was born to be a crisis manager. As a child she was resolving playground disputes over dodgeball. At age 11 she was called on by a classmate to patch things up with his girlfriend, who'd broken up with him in the wake of a rumor that he'd kissed another girl. In acting as go-between ("I had a reputation as a good listener and problem solver"), Smith intuitively applied some of the tools she is now highly paid for by professional athletes and politicians. "I think it's something in my DNA," she says. "And the reason I do it—now this is going to sound corny—is I like helping people."
Smith is married to television producer Bill Boulware and has two grown sons. She attributes her work ethic to her mother, an administrative assistant who cleaned office buildings at night. When Smith was embarrassed by this, her mother said, "There is no work you should not be proud of."
Although Smith occasionally turns down clients, she won't offer specifics about why. "I know it when I see it," she says of the sense that someone isn't about to come clean with her. "First, I need to establish the facts." Once she's in, she goes the distance—many of her clients are repeat business.
Understandably tight-lipped
Naturally, the writers of Scandal have a field day dramatizing such loyalties. Brought to the small screen by the creator of the popular, often over-the-top series Grey's Anatomy, Scandal has Pope mopping up bloody murder scenes to protect a client and defying a Latin American dictator by rescuing and sheltering the battered wife he hired Pope to find. Pope occasionally goes from tough as nails to limp and dewy-eyed, as she does after a young client's body is recovered, or in a tryst during a campaign-trail affair with a married soon-to-be president, played by Tony Goldwyn. (Storylines such as these were invented, Smith stresses, out of whole cloth.)
Scandal has been generally well received, and it has fostered a close friendship among Smith, Rhimes, and Washington, who often meet in L.A. for lunch. "Like so many ABC series, from Desperate Housewives to Revenge, Scandal is escapist fare with a feminine bent," writes Alessandra Stanley in the New York Times, noting that the show has "flair and even sophistication." Stanley calls Scandal a "suspenseful, juicy romp that holds attention better than many a more high-minded show."
An intense perfectionist—"I drive Chris crazy," she says—Smith admits she rarely makes more than a dent in her nightly to-do list. Her sons, she writes, "regularly express astonishment at my inability to follow driving directions, whether by a human or GPS, and find it hard to believe that anyone sees their mom as a coolheaded, problem-solving pro." But, she adds, "I am the one to call when the loss of direction belongs to someone else."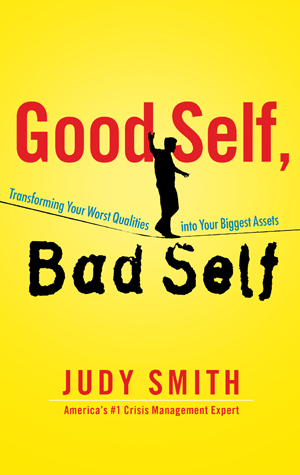 While Smith is understandably tight-lipped about her clients, in Good Self, Bad Self, she is generous with insights about the tone-deaf blunders of tabloid favorites Lohan, who features prominently in a chapter on denial, and Kanye West, and the inspired image restorations of Vick and one-time laughingstock Rob Lowe. Like the fictional Olivia Pope, who occasionally shifts into clipped authoritative mode to save clients from themselves, Smith maintains an undertone of compassion. "You have to gain a person's trust very carefully," she says. "You can't gain it with a judgmental approach, which isn't who I am anyway. When they come to me, it's the worst time in their lives, and they have to tell me all the bad things, and I know how difficult that is."
In addition to acknowledging her family, including her parents, four siblings, and two sons, Smith dedicates her book to "all the people who have made mistakes, screwed up, or gotten into trouble, and for those who face a crisis . . . may you know that there is a way through it and a second act waiting on the other side." She has "been on the front lines and behind the scenes, managing myriad types of crises in the real world for decades," she writes. A prescription for managing one's mistakes, the book breaks down somewhat biblically into chapters titled "Ego," "Denial," "Fear," "Ambition," "Accommodation," "Patience," and "Indulgence." It's laced with observations about inflated egos: "I've heard celebrities wailing about the unfairness of the universe more times than I care to count—even when it's clear to everyone around them that they alone are responsible for their downfall."
Smith tries to help her clients look at crises as teachable moments, "an opportunity to turn things around." At the same time, she believes that "all things are not fixable."
In the chapter titled "Indulgence," Smith does not mince her words of caution to those whose lives could be ruined in a heartbeat. "No matter how much fun you're having or how insulated or comfortable you may feel," she writes, "never say anything you wouldn't want your spouse or boss to hear. Never write anything on Facebook you wouldn't want your mom to read. Never pose for a picture or allow yourself to be in a video you wouldn't want to be shown at your birthday party. Never spend someone else's money in a way you'd have a hard time justifying to your superior, your spouse, and the IRS."
It's advice that, if heeded, could put Smith out of business. Her experience tells her that's highly unlikely.
This story appeared in BU Today on November 27, 2012. A version also appeared in the fall-winter 2012 issue of COMtalk.