To Bus or Not: Boston's School-Choice Program
SED dean leads committee reviewing issue
This past fall, Boston school buses regularly arrived as much as an hour late. Months later, some students still don't make it to school before the first bell, bringing to a head a problem that has dogged the Boston Public Schools for decades: the vast cost, in time and money, of letting parents choose where their children go to school.
The city is divided into three geographic regions, which means families have up to two dozen schools to choose from. Because each region encompasses such a broad physical area, families can choose a school miles away from their home. The current system is the result of a 1974 court order desegregating the city's schools. That order has long since expired, but the school district still grapples with the costs of busing students around the city. This year $80 million, nearly 10 percent of its annual budget, will be spent on transportation. Estimates suggest those costs could climb to more than $100 million by 2014 if nothing is done.
Mayor Thomas Menino (Hon.'01) wants a better system, one that not only reduces transportation costs, but keeps children closer to home, thus fostering neighborhood schools with more parental involvement. So last month, he and Boston school superintendent Carol Johnson appointed an advisory committee to review the current choice system over the next year.
Hardin Coleman, dean of the School of Education, was tapped by the superintendent to head the 27-member committee, which includes parents of Boston public school students and local business and community leaders. The group held the first of many community meetings last Saturday in Roxbury and will present its recommendations to the Boston School Committee in December.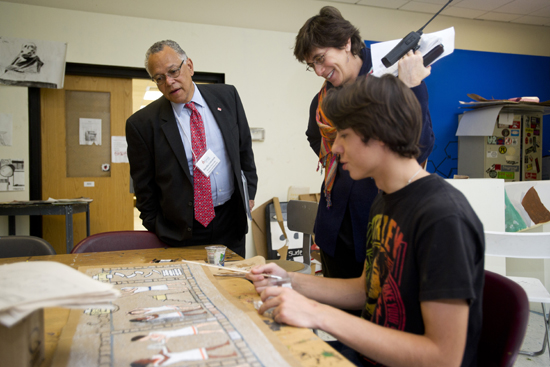 BU Today caught up with Coleman to talk about the committee's work on an issue that could well prove to be contentious.
BU Today: Did you hear anything that surprised you at Saturday's meeting?
Coleman: There were a couple of people with high-school-aged kids who came to talk about how their children have benefited from meeting people from a different social and cultural mix than what is in their neighborhood. They valued the experience of diversity. The distressing comments were from parents feeling that choice was an illusion, that no matter what system is created, there are people with enough social capital to manage it to their advantage.
How big a role does choice play in the quality of schools?
What studies are finding is that it doesn't matter what kind of school it is—for example, if it's a magnet school or whether parents have choice. It comes down to the quality of the teachers. The more high-quality teachers you have in a school, the better it will perform, regardless of the type of students. Poverty in general predicts educational outcome phenomenally, but if you look at a school with a high poverty rate that is performing well, the difference is in the quality of the teachers.
By 2014, the district will be spending $100 million on transportation before it buys a book or hires a teacher. You have to wonder what the district as a whole gains with that. If you put that money into improving the schools by recruiting and retaining good teachers, then students could go to a good school near their home. That would in turn reduce transportation costs. Which is the best investment? Having a quality school or choice and transportation. I might be tipping my hand a little on what I believe.
Is race an issue in this conversation?
Yes and no. My father [William T. Coleman (Hon.'10)] believes the only way to improve educational outcomes is to have desegregated schools. I disagree with him, and we have argued about this for years. I think the most important factor is competent teachers in the classroom. The data support me. But that question is inconsequential here because Boston busing is no longer integrating students. The population is only 15 percent Anglo. You are moving culturally diverse kids around to schools with other culturally diverse kids. So there's no busing pattern that would create integration unless you opened it up to the suburbs, such as Brookline, Newton, Winchester. Then you'd get racial and economic balance. But you can't do that. So busing in Boston serves no purpose when it comes to integration.
But in the big picture, the darker you are, the poorer you are, and if you are male, you are more likely to fail in American schools than if you are white, wealthy, and female. And that data is national. The question becomes, what do we do to reduce the risk factors for our poor black males. Improving schools would be one answer.
Why did you agree to chair the committee?
I think this addresses the issues of our time. And I can go back through generations of my own family who have worked on this issue. My father was a corporate and civil rights lawyer who as a junior lawyer worked on the Supreme Court case Brown vs. Board of Education, which ended legal segregation in the nation's schools. One of my grandfathers was a social worker in Philadelphia and the other was a physician who did social service work in New Orleans. How to better serve African American boys has been a family issue for generations. And it's not solved. That's the scary thing.
What is your biggest hope and biggest concern as the committee reviews the school assignment process?
That the proposals that come forward have strong data support so that people can see why these proposals are made, and that the solutions are given time to work. My biggest fear is that the solutions are generated to assuage various political needs. That rhetoric or ideology come to dominate the process, such as, we have to have choice at all costs. But people on this committee aren't coming in with a history. They aren't already committed to a solution.
In the past, the issue of school choice has often become rancorous. How will you avoid that?
Clearly, Boston has a complex racial history. And when you consider choice in schools, you have to visit that broader history. But this conversation needs to focus on how you make sure parents have access to schools that we'd all want to send our kids to. As I told the superintendent, I think there's an elegant solution out there to be found. If we work together, we will find it. If we break down in acrimony or historical problems, that won't help us.