The Many Meanings of the Constitution
LAW students share knowledge with high schoolers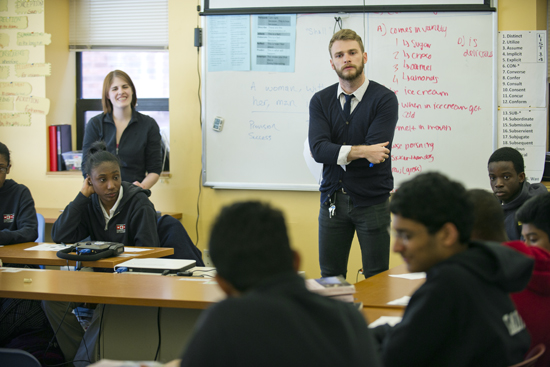 Scott Kane Stukel played the role of provocateur on a recent Tuesday afternoon at the Community Charter School of Cambridge. He asked the roomful of teenagers to analyze a phrase he wrote on the whiteboard.
A woman without her man is nothing.
Junior Shadia Ahmad thought it meant that a woman without a man to support her isn't valuable. Others chimed in. Then the hipster law student turned to the board and added a couple of commas.
A woman, without her, man is nothing.
"Do you see what I'm doing?" Stukel (LAW'14) asked, surveying the crowd of furrowed eyebrows. "Language has multiple meanings."
Stukel was one of six BU School of Law students who volunteered that day for Constitution in the Classroom, a nationwide program that teaches constitutional law and the federal government to high school students. His topic was interpreting the Constitution. LAW's chapter of the American Constitution Society launched its program last fall and has brought together more than a dozen high school students for each of eight after-school lessons over the academic year.
Law students don't need to be constitutional experts to volunteer. But they must leave their politics at the door and encourage the high school students to think critically about how the Constitution applies to their daily lives.
Theresa Perkins (LAW'12) laid the groundwork for BU's program and wrote many of its first lesson plans. Students revisit (or learn for the first time) how bills become laws, explore the branches of the federal government, and review constitutional amendments referring to freedom of speech, unreasonable search and seizure, and cruel and unusual punishment. They are given real-life scenarios and asked to respond. "It shows and demonstrates that the Constitution is important to them," says Perkins.
When she graduates in May, Perkins will hand the program's reins to Stukel, who led the late March class on interpreting the Constitution. He passed around a worksheet with this phrase at the top: 1904 High School Rule: "All students shall have necessary and proper school supplies." Students were instructed to write the rule's meaning and circle those supplies students "shall" have from three rows of items, including an inkwell, crayons, a calculator, and a laptop.
More questions than answers poured forth. Some students got caught up on the meaning of "shall"—does it mean "must" or "should"? Was this rule for a public or a private school? For which type of assignment were they talking—art, math, social sciences? And what time period—nowadays or the early 20th century?
"Do you all agree this rule is pretty general?" Stukel asked. Most heads nodded agreement.
"What if they made rules general so they would last longer?" asked sophomore Biondy Lisieux.
"You are my favorite person!" Stukel exclaimed. That, he said, was exactly the goal of the nation's founders who penned the Constitution.
Greg Whitten (LAW'14) explained that Supreme Court justices use a variety of tools to interpret the Constitution, and they don't all arrive at the same conclusion. He asked students to guess what those tools might be. A dictionary, one said. Google! yelled another. The people around them, added a third student. Whitten nodded and said judges also consider the intentions of the legislators who wrote the law.
Key to understanding a judge's interpretation, he said, is that "there is no one right answer for how we get the meaning to these words. It all depends on which judge you talk to."
Some judges are originalists, Stukel explained. Those judges interpret the Constitution strictly according to a word's meaning—regardless of time or context. Others, said Michael Steinberg (LAW'14), see the Constitution as a "living, breathing" document whose meaning can change over time. Still others see it in a functionalist light, said Janée Johnson (LAW'14). They agree the Constitution is a living document, but look to societal norms to determine what is accepted practice. And some judges are literalists, said Leah Segal (LAW'14). They adhere strictly to the letter of the law, regardless of flaws overlooked by legislators.
"All of these views are represented on the Supreme Court," Perkins said. And, as luck would have it, all were also represented at the Cambridge charter school. Every theory got at least one student vote, with the Constitution as a living document receiving a solid majority.
After the class, Whitten said he was impressed by how engaged the students were and by how similar their comments were to those of his BU colleagues.
"It's really important for children at this age to start thinking about these questions," said Whitten, who used to teach at an inner city school in New York. "Our future leaders of tomorrow are sitting in that classroom."