Should You Shun Energy Drinks?
Deaths possibly linked to two brands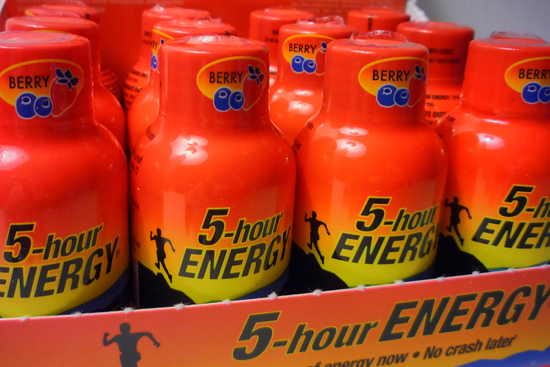 The popular caffeinated 5-Hour Energy drink now has another, tragic number associated with it. As required by federal law, its distributor recently reported the caffeinated beverage's possible involvement in 13 deaths. While the Food and Drug Administration is investigating, should BU students bypass 5-Hour Energy drinks available for purchase in University food stores?
"There is absolutely no need to reach for any of these products for energy," declares Joan Salge Blake (SAR'84), a Sargent College clinical associate professor. Food provides ample energy for the body, she says.
The director of BU's Student Health Services echoes her opinion. Any product promising energy that's "not naturally achieved" through sleep and diet "just seems not to be a great idea," cautions David McBride. Even students who overdo their coffee drinking—a familiar sight to his staff during final exams, he says—can "mess up their sleep schedule. They're basically pushing their bodies beyond what would be considered normal and healthy."
And unlike energy drinks, says Salge Blake, "coffee, because it's served hot, is typically consumed more slowly than gulping a shot or energy drink. Thus, coffee consumption is less likely to cause a person to overconsume caffeine."
In October, the Food and Drug Administration said it had received reports of five deaths possibly linked to another drink, Monster Energy. Such incidents, according to the New York Times, are not confirmations that the drinks indeed caused the deaths. The FDA insists that the science is insufficient at this point to justify stiffer regulations of caffeine or other energy drink ingredients. But U.S. Senators Richard Durbin (D-Ill.) and Richard Blumenthal (D-Conn.) have called on the FDA to act quickly to regulate energy drinks that are marketed as beverages.
The ingredients in energy drinks, Salge Blake says, can include guarana (a caffeine-containing plant) and taurine, an amino acid that can act as a stimulant and is found in 5-Hour Energy. And another key ingredient: "Collectively, soda, sports drinks, and energy drinks are the number one source of added sugars in the diets of Americans," she says. "Even more concerning, these beverages are displacing more nutrient-rich ones, such as bone-strengthening nonfat milk or sugar-free plain water."
Elizabeth Hatch, a School of Public Health professor of epidemiology, has researched caffeine and fertility (although not caffeine toxicity) and wonders whether there might be other factors involved in the deaths, such as drugs and alcohol, as the amount of caffeine in 5-Hour Energy reported in the Times "is not all that much—about the same amount of caffeine as in two strong cups of coffee."
But Salge Blake says that using energy drinks in tandem with other caffeine sources can overcaffeinate a person, potentially causing "jitters, anxiety, a rapid heart rate, high blood pressure, seizures, and even death. There have been reports of middle school–age consumers who had to be taken to a hospital with many of the above symptoms and a teenager who even died after consuming multiple servings of an energy drink." More than 45 percent of reported caffeine overdoses occur in people 19 or younger, she says.
While the FDA already restricts caffeine levels in soft drinks, Salge Blake says, energy drinks and shots (the term with which 5-Hour Energy's manufacturer labels the product) are deemed diet supplements by law and go unregulated.
Bottom line: the Center for Science in the Public Interest (CSPI) warns that "if you drink more than a couple of cups of coffee or several cans of caffeine-containing soda per day and experience insomnia or jitters, are at risk of osteoporosis, or are pregnant, you should rethink your habit." Or as Salge Blake more succinctly puts it, "Moderation is key."
Things may get worse first: the CSPI is alarmed about possible caffeine ODs in kids from a soon-to-hit-the-market product: caffeinated Cracker Jacks.