Renowned Chef Jacques Pépin to Speak Tonight
Gotlieb Center event to include archival exhibition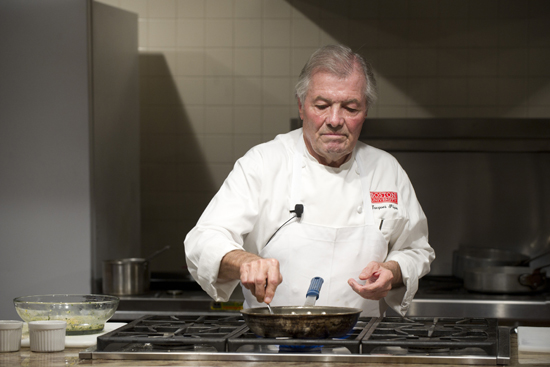 To master chef Jacques Pépin, creativity in the kitchen is akin to jazz—learn your scales and master your tone before you improvise. "You may be very creative and imaginative in the kitchen, but you cannot take advantage of those qualities if you don't know the basics," writes Pépin (Hon.'11) in the introduction to his newly published Jacques Pépin's New Complete Techniques, a lavishly illustrated guide (with DVD) to everything cooks need to know, such as how to cook an omelet, trim tenderloin, or prepare a Hollandaise sauce. The book also includes some less essential techniques, like how to craft cream puff swans.
An instructor at Metropolitan College for 31 years, the renowned author and television cooking show host will speak and sign copies of his new book at the GSU's Metcalf Ballroom tonight as part of the Friends Speaker Series presented by the Howard Gotlieb Archival Research Center.
Pépin is the recipient of three of the French government's highest honors: a Chevalier de L'Ordre National de la Legion d'Honneur, a Chevalier de l'Ordre des Arts et des Lettres, and a Chevalier de l'Ordre du Mérite Agricole. He has hosted a string of popular cooking shows, including the PBS series Julia and Jacques Cooking at Home, with his good friend Julia Child (Hon.'76), which won the duo a Daytime Emmy in 2001. He and Child cofounded MET's Certificate Program in the Culinary Arts and Master of Liberal Arts in Gastronomy. He currently hosts the PBS show Essential Pépin.
Tonight's event also features an exhibition of selected items from Pépin's personal archive, held by the Gotlieb Center.
BU Today spoke with Pépin recently about America's reinvented food landscape, the celebrity chef explosion, and the changing profile of culinary arts students.
BU Today: What will you talk about tonight?
Pépin: I'll talk about my life, about my adventures in the United States since I've been here, and I'll talk about food. I don't see what else I can talk about.
Are Americans generally more sophisticated about food than when you began your career here?
Yes and no. The point is that in some ways people are rediscovering pigs feet, etcetera, getting more and more locavore, getting closer to the way we were 100 years ago, so that's a very good thing for me. But conversely, the supermarkets have never been as beautiful as they are today. I did two series on TV, Fast Food My Way and More Fast Food My Way, and used the supermarket the same way you use a prep cook in the restaurant—slicing mushrooms, washing spinach. The supermarket does the work now. At the store I'd grab filet of sole, then put some mushrooms, shallot, white wine with it. I can do that dish in five minutes now. Or I can go to the supermarket now and get boneless, skinless breast of chicken. It's more convenient. We are getting used to those types of products, but on the other hand, there is a movement that's going back to the earth. At the French Culinary Institute in New York, students spend a week on the farm. So there is a dichotomy.
Is this trend good or bad?
We always tend to go to the extremes here. On one hand, people are discovering the soil, and on the other, for many children, chicken is rectangular. It has no feet or head. A while ago I was with people who have a little kid, and he wanted the green box for breakfast. By the time you get to that extreme, that's really scary. We have no idea what's in that box.
There are so many cuisines in America today. Is French cooking less popular?
French cooking certainly got diluted. It had more of a monopoly 50 years ago when I came here. Back then, when you talked about a continental restaurant, it was French. They didn't even know Italian cooking, and people have now discovered all these extraordinary cuisines. But French food, especially in its simpler brasserie or bistro rather than elegant variety, is still the fare of Zagat's top 10 restaurants.
Your updated Complete Techniques is full of practical suggestions, but some are quite elaborate. Do you think many people, for example, will use an unplugged refrigerator as a smoker?
In some of the dishes, I'd use an old refrigerator as a box to smoke the meat in. In my book Jacques Pépin's The Art of Cooking (1987)—probably my best book, but the least successful—people say, 'My God, the guy goes to fish in Long Island Sound to get a skate,' and then I tell them how to take the wing, or how to go to a pond to get a whole frog. I have a baby lamb with the skin and all and people say, 'Oh my God, I'd never do that.' You don't have to do that. But if you need to know how to do that, it's there. I show you how to bone a 55-pound leg of veal, then continue and do a recipe with each different cut—the knuckle, filet, shank and so on. At least if you are a professional, you need to know this.
What changes have you seen in TV chefs during your career?
For me I still cook—that's what I do on television. I'm sure that some people love me, and some probably don't like me and find me quite boring. Someone recently told me there are 409 cookery shows on TV, but many don't even cook that much, and I'm not saying this in a negative way. Certainly my show is too serious for many people, because that's all I do.
Do you ever contemplate retiring from television?
I'm talking about doing another series next year, and that may be the last series that I do. But I'm still working at the French Culinary Institute and at BU, and I like what I'm doing. When you like what you do, you never go to work.
Do the culinary arts attract a different kind of student today than they did early in your career?
Certainly students over the years are more knowledgeable. There are so many articles and they have direct access to information so fast, like last month there was that horrible article in the New York Times about Guy Fieri. I must have had 10 people talk to me about that article. So they seem certainly to know more about what's new—this new book, that new restaurant. So it's good; still, people want mostly instant gratification, to learn for two weeks and work in the greatest restaurant. But after school, if you work in a restaurant, you realize how long you have to be there to learn.
(Editor's note: Pépin is referring to a lacerating review of Fieri's restaurant, Guy's American Kitchen & Bar.)
How many stick with it?
It's interesting to see which students remain in the kitchen. At least 50 percent of the time they leave. You still work 14 hours a day, including Saturdays, Sundays, and holidays; you don't really make much money on the whole. So unless you really love what you're doing, it's difficult. One thing that has changed is that for me television did not exist and the chef was at the bottom of the social scale. A good mother would want her kid to marry an architect or lawyer, not a cook. But now too many young people want to go into that business, and we have students with ideas for books or TV shows. If you're going into this business to become, quote, famous, it's very likely it won't happen and you might be disappointed. You should go into it for the right reason—because you love to cook.
The Jacques Pépin reception, talk, and book signing begins at 6 p.m. tonight, Wednesday, December 5, in the 
Metcalf Ballroom, George Sherman Union, 775 Commonwealth Ave. The event is open to the public. Tickets are $25, free for BU students with a valid ID. Find more information here or call 617-353-3696.